Samsung are set to unveil the Galaxy S20 Ultra as part of their S20 Series at the Unpacked event on the 11th February 2020 in San Francisco. If you're planning on upgrading to the S20 Ultra, take a look at our top ten cases which are all available to order now!
1. Official Samsung LED View Cover Case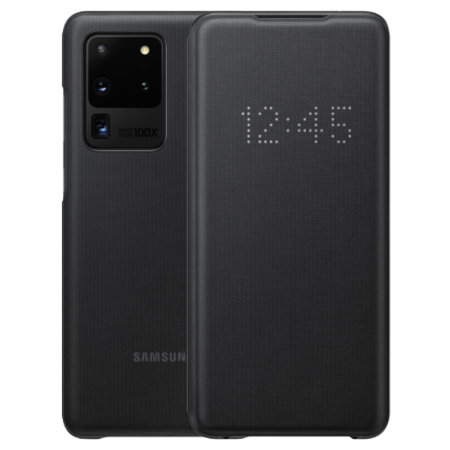 Offering amazing protection and smart functionality, the LED View cover from Samsung is easily one of the best cases around for the S20 Ultra. The full coverage provided ensures that your phone's back, sides and screen stay well guarded, while the extremely smart notifications displayed through the front cover offer an ideal way to keep you informed without the need to directly interact with your phone. However interaction is possible should you wish, with the case allowing you to accept and reject incoming calls for example.

2. Olixar Carbon Fibre Case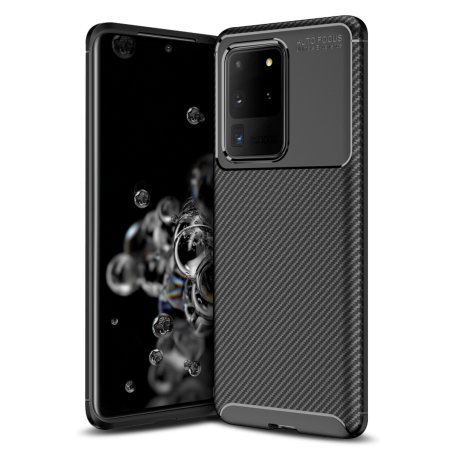 Carbon fibre cases are always in demand and this case from Olixar is no exception, thanks to it's sleek textured design. The case is thin and lightweight, yet provides protection against scratches and small impacts, making it perfect for S20 Ultra owners who dislike bulky cases.

3. UAG Plasma Protective Case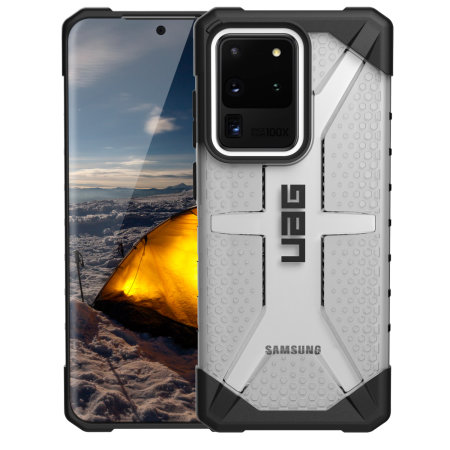 A fantastic hybrid of style and protection, the Plasma series has been a long standing favourite within the UAG range and its clear to see why! The clear textured back, framed with protective bumpers ensure that your S20 Ultra stays looking sharp, while the case allows Samsung's stunning design to shine through.

4. Official Samsung Clear View Cover Case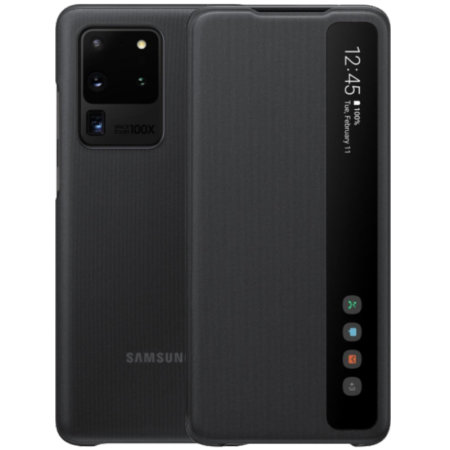 Another Official Samsung case which combines style with functionality, the Clear View Cover Case is always a popular option. The Clear View Case provides all-round protection for the S20 Ultra whilst allowing users to view notifications including messages and calls, without having to constantly open the front of the case.

5. Olixar Soft Silicone Case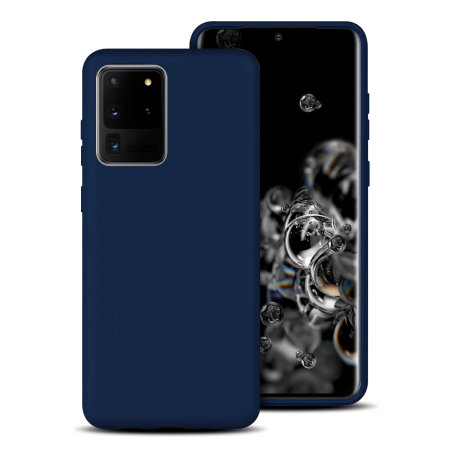 A great alternative to Samsung's own official silicone case but at a much cheaper price, without compromising on quality. With it's custom molded design from liquid silicone, this Olixar Samsung S20 Ultra case provides a slim fitting design, with the added benefit of enhanced grip. Available in midnight blue and pastel pink, the simplistic soft silicone cases are certain to add a splash of colour to the Galaxy S20 Ultra. Additionally access to all ports and features including wireless charging ensures use of your phone is not hindered.

6. Spigen Neo Hybrid Case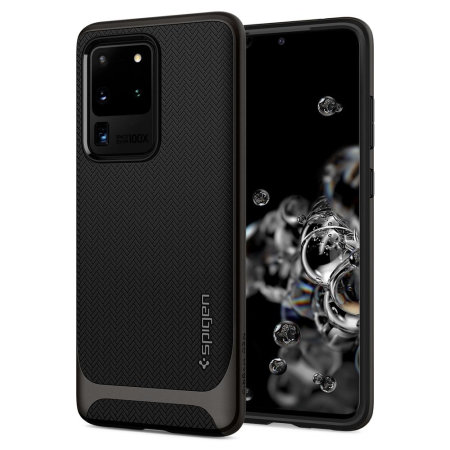 A classic design that continues to look extremely sharp, the Neo Hybrid has been a staple of the Spigen range for many a year now and its clear to see why. The combination of a textured TPU back and metallic polycarbonate frame combine perfectly to create a striking look that also provides a solid level of protection for your S20 Ultra.

7. Olixar Slim Genuine Leather Wallet Case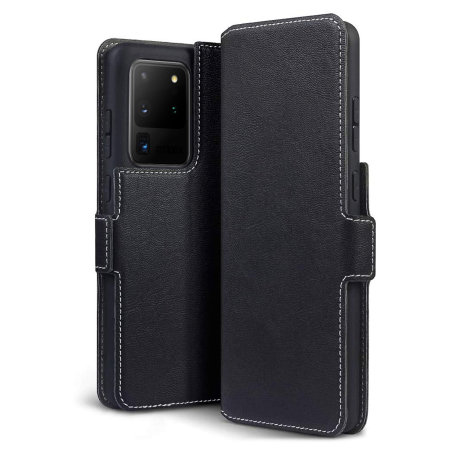 For those who appreciate craftmanship, the Olixar Genuine Leather Wallet Case provides a touch of luxury for your Samsung Galaxy S20 Ultra. Made from genuine soft grain leather and finished with white stitching, this case provides all round protection for your phone with the added security of a magnetic clasp. Additionally, unlike other genuine leather cases, Olixar have made this case relatively slim, making it easy to slip in and out of your pocket. The case is also functional thanks to the addition of two card slots and a built-in stand function, perfect for watching content on the go.

8. Official Samsung Protective Cover Case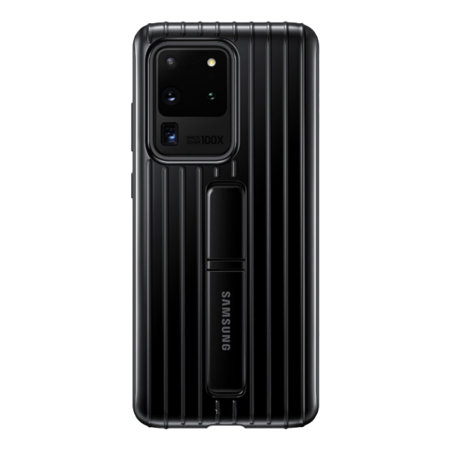 Next up is another official Samsung case, which is always a popular choice among Samsung's loyal customer base. The Protective Cover Case features a unique metallic look with a textured finish, which is great for providing extra grip. It also features Military Drop Test certification which is great for providing Samsung S20 Ultra owner's peace of mind that their phone will be protected. Additionally Samsung have designed this case with a handy integrated kick-stand, ideal for watching media. Colour options for the case are black and silver.

9. Ghostek Atomic Slim 3 Case – Prismatic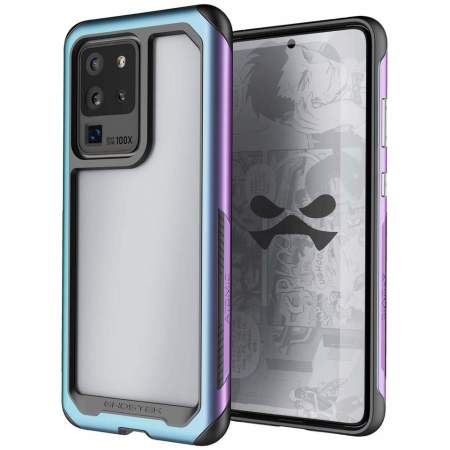 This is by far one of our favourite tough cases, featuring a multiple layer design with rugged drop and scratch protection but in a stylish and eye catching package. With it's transparent back, combined with a chameleon like colour flip frame, you'll be able to showcase your Samsung Galaxy S20 Ultra and certainly gain some attention.

10.  LoveCases Pink Star Case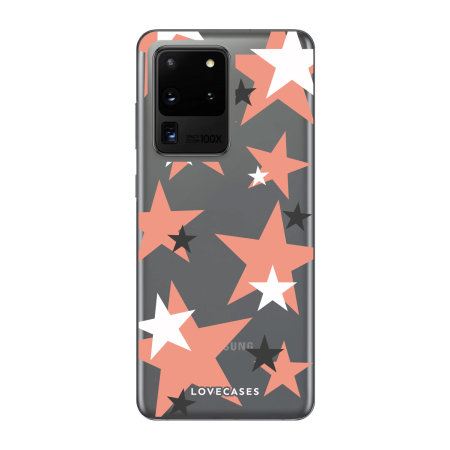 Lastly, we have a unique and colorful design from LoveCases. The Pink Star Case is more of a quirky option for the Galaxy S20 Ultra and combines pink, black and white stars, which will definitely make you stand out among the crowd. This flexible and extremely thin case helps to maintain the lines of the S20 Ultra, whilst showcasing the colour of your unique handset.

Wrapping Up!
That concludes our article on the best Samsung Galaxy S20 Ultra cases,. If you'd like to purchase of the cases featured above, you can do so by clicking on the buy here buttons. We hope you found this article useful and if you'd like to find out more about the Galaxy S20 Series, click here for our comparison on the three soon to be released devices from Samsung.