USB-C is a huge upgrade over traditional USB, but it is messy. Before, you got laptops that had one of every connection you needed, and now you're left with just one or two USB-C ports (and some full-sized USB if you're lucky).
USB-C Multiport Hubs are a nice way to get those missing ports back, but choosing the right one is a challenge. That's why I've broken down our most popular USB-C Hubs into five simple categories, based on the ports they have. We'll start with the simplest hubs and slowly move up to the most feature-filled options. Let's begin!
---
1. Pure Expansion: USB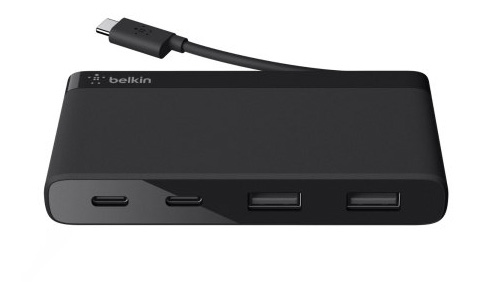 RECOMMENDATION: Belkin USB-C & USB-A 4-Port Mini Hub
£35, black, cable connection
2x USB-C, 2x USB
This Belkin Hub is the perfect way to add more USB ports to your port-starved MacBook… or connect multiple peripherals to your compatible smartphone or tablet. The hub includes two USB-C ports, and two full-size USB 3.0 ports, so you can connect both classic and contemporary peripherals. The cable also has a slot to fold away into while the hub isn't in use, making it quite suitable for packing in your bag without getting tangled up with all the other wires in there.
---
2. Network Pro: USB, Ethernet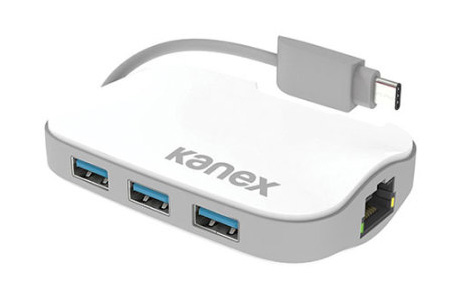 RECOMMENDATION: Kanex USB-C 3 Port USB 3.0 Hub and Ethernet Adapter
£30, silver, cable connection
3x USB, Ethernet
This friendly adapter turns a single USB-C port into three full-size USB 3.0 ports, and manages to slip in an Ethernet adapter in the bargain as well. The low price and small size of this adapter make it an obvious choice for anyone that misses the days when Ethernet was a must-have feature on laptops. This hub is also a nice way to connect Android devices such as the Pixel C tablet to wired networks.
---
3. The Essentials: USB, SD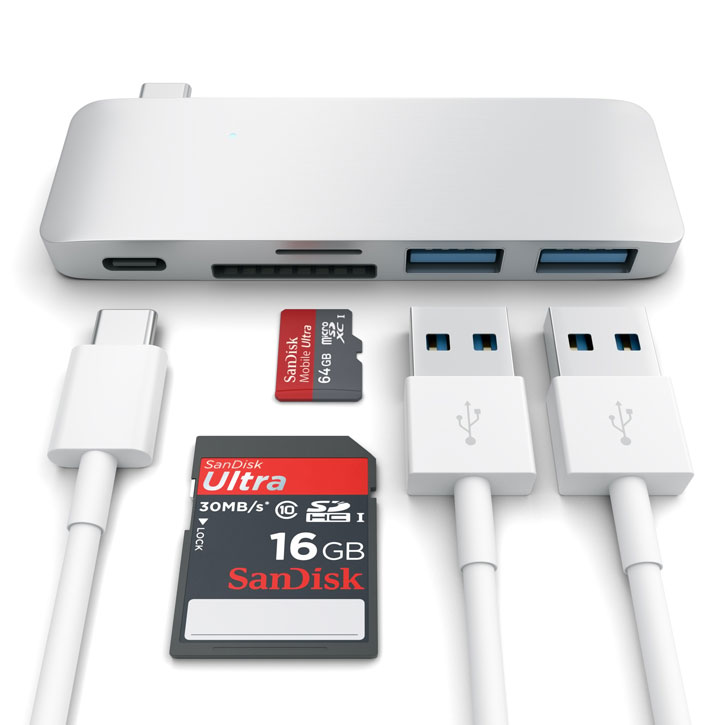 RECOMMENDATION: Satechi USB-C Adapter & Hub with USB Charging Ports
£45, silver, direct connection
USB-C pass, 2x USB, SD, mSD
This hub eschews fancier connections like HDMI and Ethernet for two things only: peripherals and memory cards. There's one slot each for Micro SD and full-size SD cards, two USB 3.0 ports and a USB-C passthrough so you can charge your device while the hub is connected. The shape and materials of this hub should suggest that it is intended for use with MacBooks, but it will work with a wide range of other USB-C devices too.
---
4. A/V Champion: USB, SD, HDMI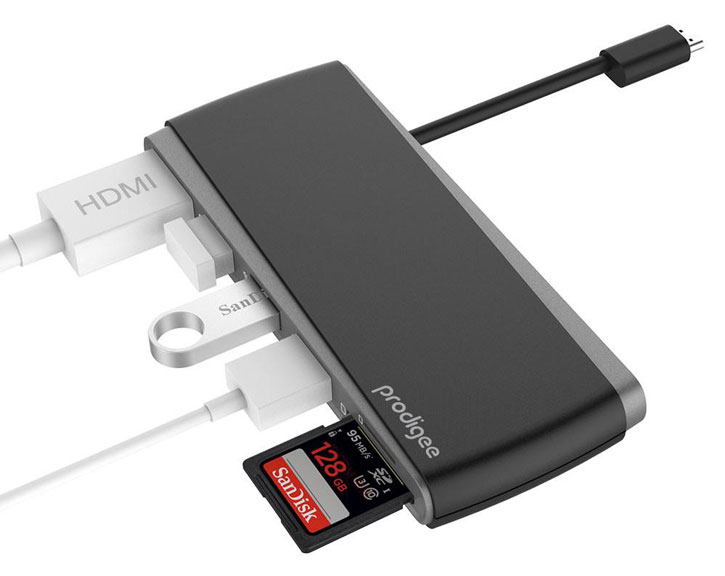 RECOMMENDATION: Prodigee USB-C Adapter & Hub with USB Charging Ports
£80, grey, cable connection
USB-C pass, 3x USB, SD, mSD, 4k HDMI
Now things are starting to get interesting. This hub includes the USB-C passthrough, dual memory card slots and three USB ports of the previous adapter… but it also adds an HDMI port. This allows you to connect compatible devices (including some phones) to TVs, monitors and projectors, while still charging the device and connecting other peripherals. 4K resolution is supported at 30 fps, plus lower resolutions at 60 fps. Awesome!
---
5. The Kitchen Sink: USB, SD, HDMI, Ethernet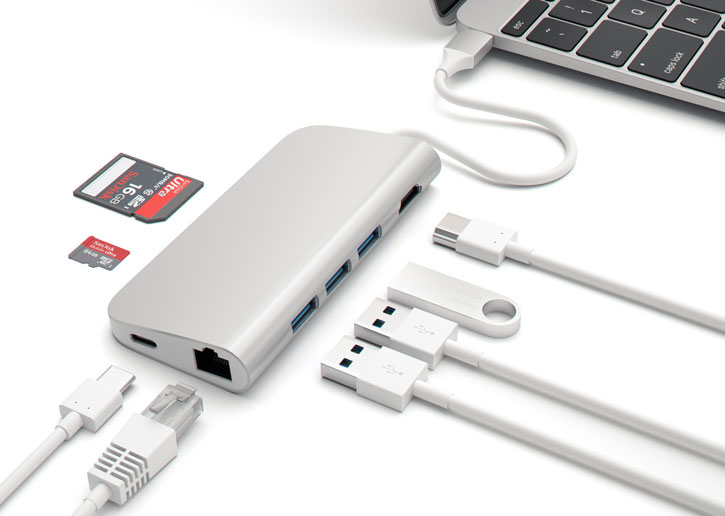 RECOMMENDATION: Satechi Aluminium Multi-Port 4K HDMI Adapter & Hub
£80, silver / space grey, cable connection
USB-C pass, 3x USB, SD, mSD, Ethernet, 4K HDMI
Finally we come to the ultimate hub from Satechi. This bad boy includes it all — USB-C passthrough, a trio of full-size USB ports, both sizes of memory card, HDMI and Ethernet! If you were frustrated with the lack of ports on recent MacBooks and other laptops, this all-in-one adapter will set you straight.
---
Wrapping up
Thanks for checking out the article — I hope this breakdown has proven helpful for you! If you have any questions or feedback, I'd welcome it in the comments below.