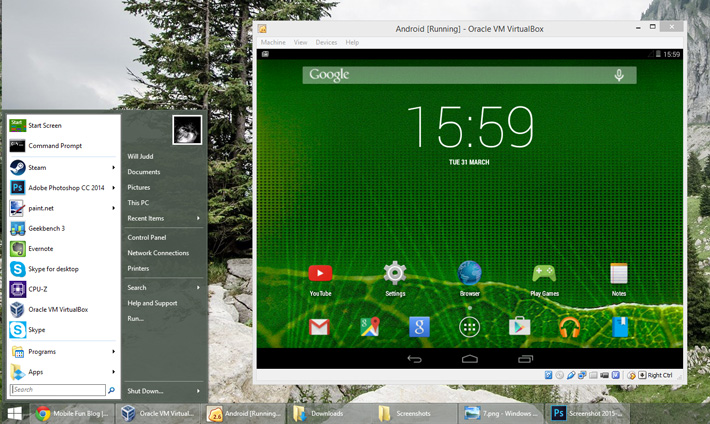 Last week we covered running Android on your laptop with the Android-x86 project. Today, we're back to cover another use for the project – running a full copy of Android on top of your current OS using Oracle's VM VirtualBox.
The advantage of running Android in a virtual machine is that you don't have to worry about messing up your existing installation of Windows, Mac or Linux. Everything runs virtually, so there's no risk of damage and any accidental changes are easy to undo. The downside is that virtual machines are necessarily slower than native installations, and some apps may not run as well here.
Still, it's quick and easy to try for yourself, so you may as well give it a go. Let's begin.
Part 1: Preparation
First, you'll need to prepare your materials. You will need:
The latest 'live & installation' ISO file from the Android-x86 site. I am using Android-x86-4.4-r2.iso.
VirtualBox (available for free here, for Windows, Mac and Linux).

Download both files, then install VirtualBox. Once VirtualBox is installed, launch it, and we can move onto Part 2.
Part 2: Set up the virtual machine
In order to proceed with Android, we'll need to set up the virtual computer that is being simulated within VirtualBox.
Create a New Virtual Machine. Call it something like 'Android', then fill in the Type as 'Linux' and the version as 'Linux 2.6 / 3.x (32 bit)'. Give the VM 1024 MB (1 GB) of RAM. Create a Virtual Hard Disk, of type 'VDI', and choose a fixed size of 6 GB. After this, the Virtual Machine will be created.
Now, with the Android VM selected, go to Settings. Click on Storage, then click on the 'Empty' entry below 'Controller: IDE'. Click on the little CD icon to the right of where it says 'IDE Secondary Master', then 'Choose a virtual CD/DVD disk file'. Select the Android-x86 ISO file you downloaded in Part 1, then press 'OK' to close the Settings window.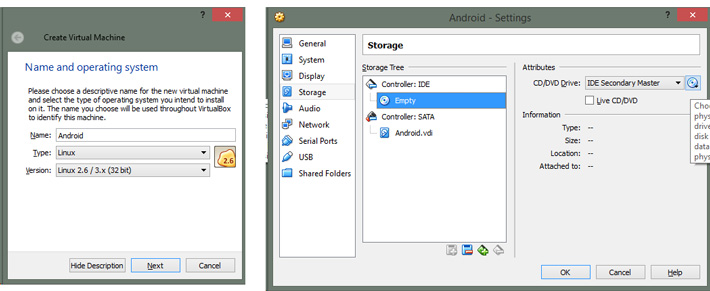 Now we're ready to power on the Virtual Machine for the first time.
Part 3: Install Android-x86 in the VM
Press the green Start button, and the VM will boot. You should immediately see a blue menu, with several options. Choose 'Installation – Install Android-x86 to harddisk'.

Then, you'll go through the installation process. Press Enter to 'Create/Modify partitions', and you'll get to a complicated-looking black window, which is the disk utility. Use the right arrow key to highlight the 'New' option, then press Enter. Press Enter again to make this the primary partition. Press Enter again to choose the size (which will be the maximum size available, 6 GB if you chose that option in Part 2). You'll return to the black screen, and see your partition is there.

Now, make sure the 'Bootable' option is selected, and press Enter. This will add the Boot flag to the partition we just made. Finally, use the right key again to get to the 'Write' option. Press enter, and then type 'yes' to confirm that choice. All data on the virtual drive will be deleted, but as we're running in a VM our actual hard drive won't be affected.
Now our drive is ready, so we're ready to proceed. Move right once again to highlight the 'Quit' option, then press Enter to leave the disk utility.

We are back in the blue screen from before, but now we have a partition to install Android to. Choose that option (which should be listed as 'VBOX HARDDISK' and hit Enter. Press Enter twice more to install boot loader GRUB and make the /system directory read/write. Android-x86 will be copied to the drive, and now we're ready to run Android for real!
Part 4: Android!
You'll see the Android logo flashing as the first boot starts. This is a good time to remove the virtual CD that we inserted earlier. Go to the Devices menu -> 'CD/DVD devices' -> 'Remove disk from virtual drive.' You may need to press your right Ctrl key on your keyboard to be able to click outside of the VM. You should also go to 'Machine' -> 'Disable Mouse Integration' in order to make the mouse cursor appear in the VM.

Once Android has finished booting, you'll need to go through the initial setup as you would on a new Android smartphone or tablet. You can skip the step where you connect to a wireless network, as the VM will provide a virtual wired connection for you by default. You should be able to immediately sign into your Google account, and step through the remaining steps quickly. Once this process is complete, you'll be in Android proper. Congrats!

From here, you can access the Play Store to install new apps, access the internet and mess around with your settings. Not all apps will work, but many will. If you want to get a specific app working, you might try Googling 'Android-x86' and the name of the app, or 'Android VM' and the name of the app.
Questions? Comments?
I hope this guide helped you successfully install Android-x86 in a VM! Please leave a comment below to let me know if it worked or not. I'm happy to answer questions too. If you'd like to try Android-x86 'for real', then you might want to check out my earlier guide to installing Android-x86 on a laptop here.
Thanks for reading and good luck!