Let's have a look into some of the best tough cases for the iPhone 13 Pro & the iPhone 13 Pro Max. Now these models from the iPhone 13 series are the higher end of the device spectrum. With more intricate technology & delicate deign it's a definite must have to keep these two devices preserved & protected in any environment.
1.     SwitchEasy Odyssey iPhone 13 Pro/Pro Max Case With Inbuilt Strap – Black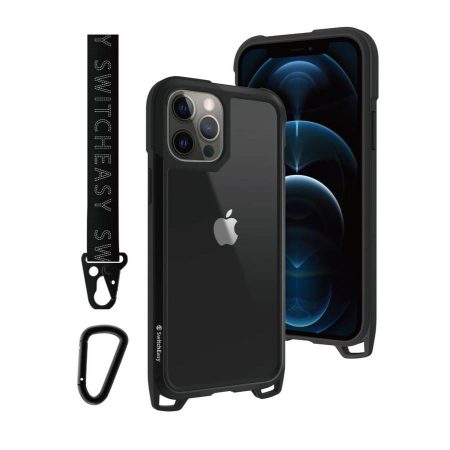 Available for £34.99/$47.83
This case is unique. It not only protects your device, but also provides you with a safe and easy way to carry your device with you whilst on the go. With an inbuilt carabiner, you can attach your phone securely to your belt; your bag or your coat and know that it will securely stay in place whilst on your adventure.
Each SwitchEasy Odyssey case is made from the same high-quality as your MacBook! This makes it the perfect case to accentuate your iPhone 13 Pro /13 Pro Max, as the material is made to last and to offer unrivalled protection for your device.
The ease of this case is almost too good to be true, it's strong with raised bezels; reinforced corners; non-slip coating & it's available for both the iPhone 13 Pro & iPhone 13 Pro Max.
2.     Spigen Rugged Armor iPhone 13 Pro/Pro Max Tough Case – Matte Black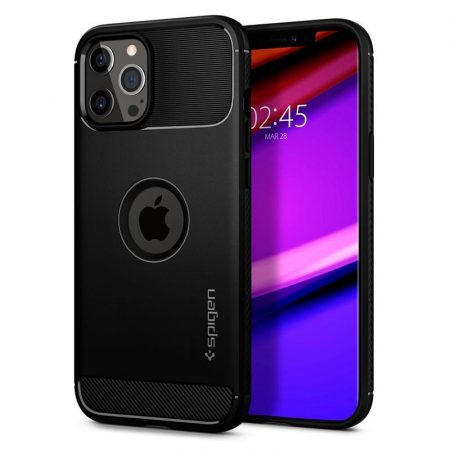 Available for £19.99/$27.33
From Spigen we have this Rugged Armor case that delivers exceptional protection in a slimline package. Made from a flexible TPU case, the Rugged Armor has been fitted with Spigen's trademarked Air Cushion Technology which absorbs shocks and impacts, keeping your iPhone 13 Pro Max safe and secure at all times.
Made from a precision cut single layered pieces of TPU, the Ultra-Rugged case fits precisely around your iPhone 13 Pro/ 13 Pro Max for a smooth, contoured fit. Both lightweight and slim, this case from Spigen is sure to keep your iPhone 13 Pro Max bulk-free whilst well protected. The Rugged Armor compliments your iPhone 13 Pro Max perfectly while providing sufficient protection for the iPhone 13 Pro/ 13 Pro Max's protruding camera.
Built to last and to look good, this case features a new carbon textured design, along with technical detailed lines and a smooth glossed finish, this case delivers a rugged appearance in a slim package.
Available for the iPhone 13 Pro & iPhone 13 Pro Max.


3.     UAG Monarch iPhone 13 Pro/Pro Max Tough Case – Carbon Fibre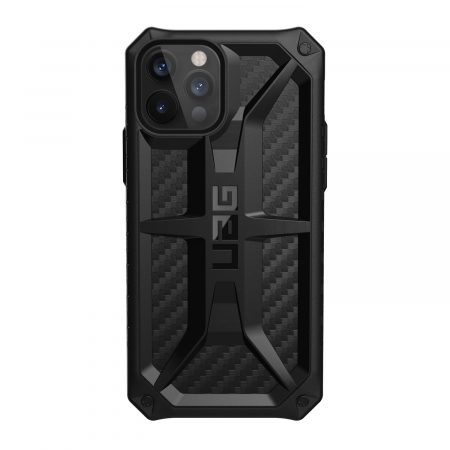 Available for £54.99/$75.17
The Urban Armor Gear Monarch case is well named as it is arguably the king of protective shell cases. With most cases, you may get 2 layers of protection if you're lucky. Here, you get 5, and they're all premium materials too. So not only do they work well together, they look great too – in the over-engineered, tough style that UAG is famous for.
Your iPhone 13 Pro/ 13 Pro Max function buttons are fully protected by heavy duty TPU button covers that are easy to operate even if you're wearing gloves. You will appreciate the tactile response and protection on offer here as the functionality is seamless.
Available for the iPhone 13 Pro & the iPhone 13 Pro Max.


4.     Speck iPhone 13 Pro/Pro Max Presidio 2 Protective Grip Case – Black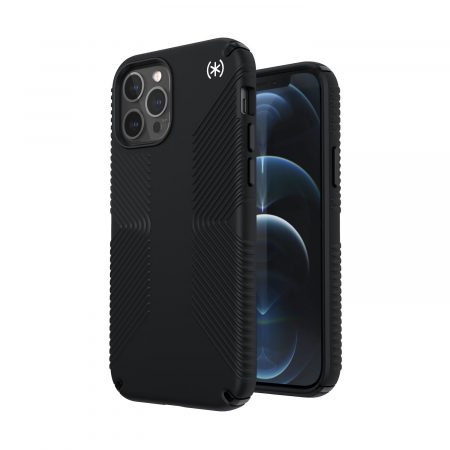 Available for £29.99/$41.00
This is unique to Speck. It provides lifetime product protection against stains or odours, stopping bacteria growth – a really important added feature. Specks antimicrobial product protection delivers a 99% reduction in bacteria growth on the case, creating a cleaner surface. Life gets dirty, we keep your case cleaner.
Another benefit is that it isn't uncomfortable to touch, it won't scratch you nor become uncomfortable in your hands due to the unique soft-touch finish. With raised bezels, this will allow you to put your iPhone 13 Pro/Pro Max down with no worries about scratches or marks. It also adds some protection for if your phone falls and lands face down, helping to resist screen shatters or cracks.
Although this case does allow for normal charging, an added bonus is that if you own a wireless charger or have one in your car, this case won't get in the way of you using it due to its thin, slim design!
Available for the iPhone 13 Pro & iPhone 13 Pro Max.


Wrapping Up
Find more accessories that can & will keep your iPhone 13 Pro & iPhone 13 Pro Max completely safe & out of harms way. With a large selection of tough cases that are made for both everyday wear & those more intense adventures!
We hope you enjoyed the live event as much as we did, thank you for taking the time to read this & if you have any queries/questions, please leave a comment below.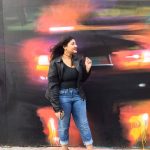 Junita Minhas
Junita is a digital marketing apprentice that is discovering a new found passion in technology & developing her creativity.