The Best Apple AirPods Cases for 2021
Apple's AirPods have proven to be a hit in a market of true wireless earbuds which is ever expanding. If you've bought a set of AirPods, you'll certainly want to protect your investment, considering replacment cases range between £55-£75.
Alternatively, as with smartphones, you may just want to add a unique touch to an otherwise minimalistic design.
Olixar Soft Silicone Apple AirPods Waterproof Protective Case – Black
Lovecases AirPods 1 / 2 Protective Case – Abstract Rainbow
UAG Apple AirPods Silicone Case – Black/Orange
Nomad Airpods Case Genuine Leather – Rustic Brown Leather
---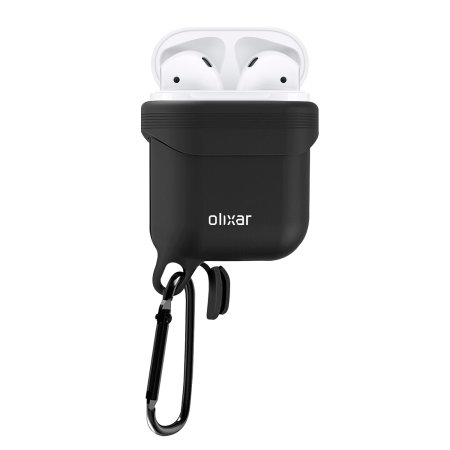 Available for £6.99/$8.49
First up in our shortlist, is the Olixar Soft Silicone Waterproof Protective Case for the Apple AirPods 1 and 2. As the name suggest, the case is made from a flexible and soft silicone material, which ensures the casing is keep relatively slim and lightweight, meaning there's no unncessary bulk added to your AirPods charging case. Additionally, the soft silicone material used brings about a number of protective properties including impact and scratch resistance. Olixar also include a carabiner, useful for attaching to your bag, keys or belt.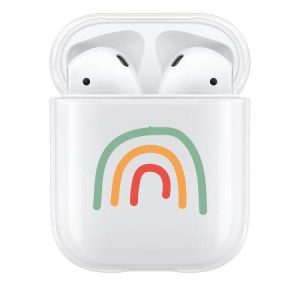 Available for £9.99/$11.99
The Abstract Rainbow Protective Case from LoveCases provides almost insivible protection thanks to its transparent polycarbonate construction and so allows the original design of your AirPods casing to shine through. Paired with a fun rainbow graphic, this is certainaly a case for those who prefer a unique yet simplistic design. LoveCases have created this case with a two part design, allowing for it to be fitted with ease and furthermore meaning there's no need remove the case to use your AirPods.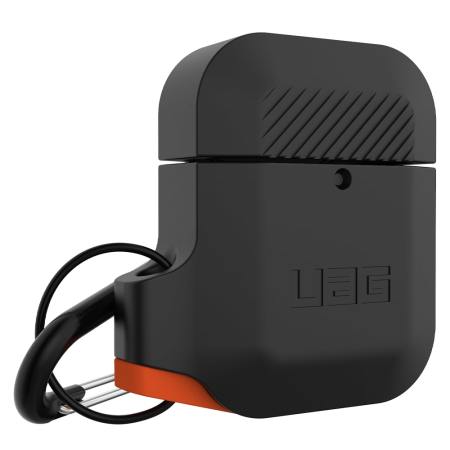 Available for £24.99
UAG; a brand known for their extremely tough, protective and durable cases. Their AirPods 1 / 2 offering is no different and adds water resistance, dust and drop protection to your AirPods charging case, meaning they'll be protected against the elements with ease. This however brings a drawback, with the case being slightly bulky in comparsion to the other cases mentioned above. Overall the UAG AirPods Silicone Case notes a simple yet stylish design that is sure to decrease any potential damage to your Apple AirPods.

4. Nomad Airpods Case Genuine Leather – Rustic Brown Leather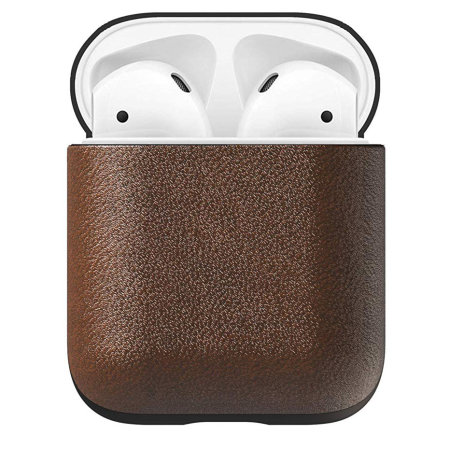 Available for £24.99
If you prefer a much more classic and premium look for your Apple AirPods, then this Rustic Brown case from Nomad is the case to opt for. Crafted from genuine leather, this Nomad case enhances the look your Apple AirPods charging case, whilst protecting it against scratching and scuffs caused from day to day use. Moreover, the genuine leather used will also age overtime, giving it a unique look and effect.

---
Wrapping Up
Thanks for reading this roundup of the best Apple AirPods 1/2 cases and covers for 2021. We hope that you found this useful and if you have any questions, please leave a comment below and we'll get back to you.
---
Amit Patel