Did you know that your smartphone could be harboring potentially dangerous bacteria and viruses? Regular cleaning of your mobile phone will help to keep you and your family healthy in these unprecedented times. This blog will outline some of the most effective ways to clean your smartphone and help to keep nasty viruses and bacterias at bay.
---
1. The Phonesoap will fully sanitise your device with UV light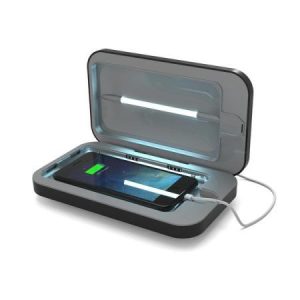 The PhoneSoap 3.0 UV Smartphone Santiser, in my opinion, is one of the best mobile phone cleaning products available on the market. Its powerful UV light kills 99.99% of bacteria whilst allowing your phone to be simultaneously charged. With a universal fit, this will sanitise your handset no ifs no buts. What's more, the PhoneSoap 3.0 isn't just limited to phones. Anything that fits in the device can be cleaned, from credit cards to coins to keys and even smartwatches. If it fits, it cleans!

---
2. Anti-bacterial cleaning sprays to protect and clean
– PhoneSoap Shine Anti-Bacterial 2-in-1 Screen Cleaner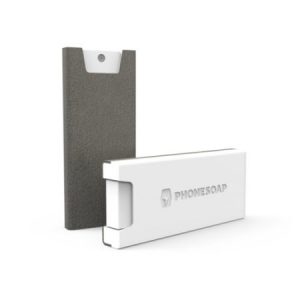 Another great product by PhoneSoap. The PhoneSoap Shine is the first cleaning solution with a bottle housing a flat surface with a built-in microfiber cloth. You no longer need to buy excessive amounts of cleaning solution with a loose cloth that is always lost. Kills bacteria instantly! This pocket-sized on the go spray is great value for money and will keep your protected out and about.

---
– Woosh Screen Shine GO XL Universal Screen Wash Spray – 100ml

The Whoosh! Go XL is a powerful screen cleaner specifically designed to clean your smartphone, tablets and other tech screened devices making them shine like new and protecting them. Part of the Whoosh! Range the Go XL will get rid of stains and dust with ease. It is Scientifically proven to leave your screen surface 99.99% clean of dust, dirt oil and gunk. That's really clean!


---
3. Utilise a good Microfibre cleaning cloth to help with cleaning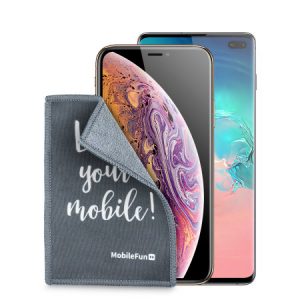 Introducing the new and improved Mobile Fun cleaning cloth. Featuring a thick fleece side for removing lint and fingerprints as well as a microfibre side for polishing your device's screen. The Mobile Fun cleaning cloth makes for the perfect cleaning companion. By simply rinsing in warm water, the Mobile Fun Cleaning Cloth can be rejuvenated in an instant, allowing for long-lasting cleaning potential.

---
Wrapping Up
We hope you found this guide on how to clean your mobile phone and remove viruses helpful. If you would like to know more about the products featured, then please do click through for more detailed information. Additionally, if you'd like to see further mobile phone cleaning accessories and essentials, please click here.
---
Spencer Saunders