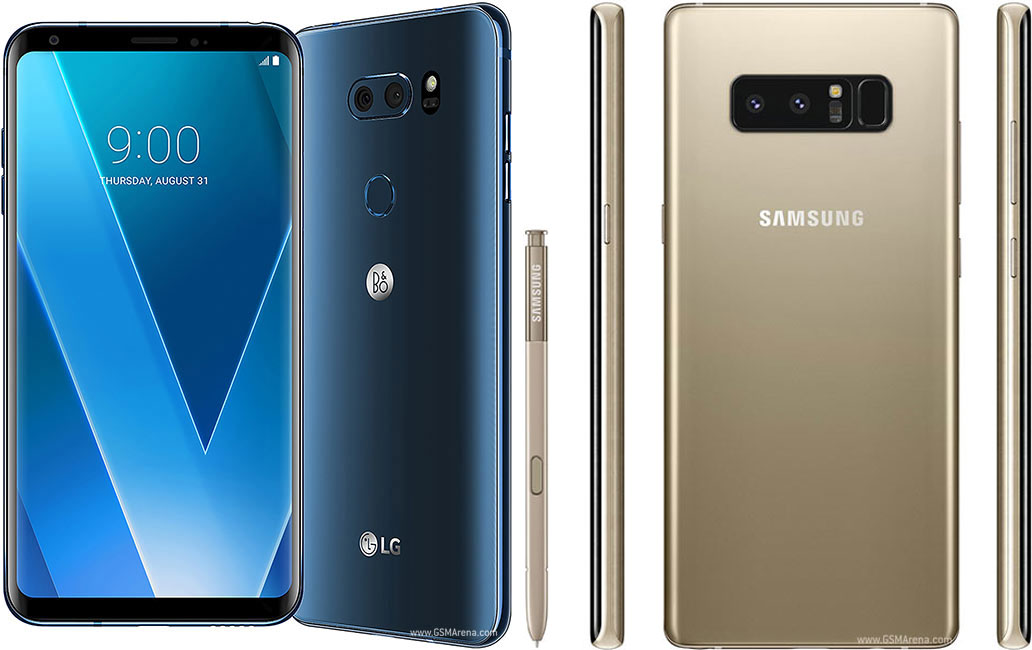 The LG V30 and the Samsung Galaxy Note 8 are both big, beautiful smartphones with fancy modern designs, dual rear cameras and the latest hardware and software — but which is worth your hard-earned money? Take a look at our full comparison below to find out.
LG V30 vs Note 8: Design
The LG V30 and Note 8 both adopt modern designs, with minimal bezels even on the top and bottom, letting the face of the phone be dominated by a screen that's at least twice as tall as it is wide. The V30 has more rounded corners when looking at the phone head on, but the Note 8's screen goes curvier on its left and right sides. Both screens are capable of HDR playback, with full HDR10 support, and reach tall 1440p resolutions: 1440 x 2880 for the V30 and 1440 x 2960 for the Note 8. The secondary 'ticker' display that appeared on the V10 and V20 has disappeared, rendered obsolete by the new taller display.
While both the V30 and the Note 8 share similarly modern tiny-bezel designs, the Note 8 is the larger of the two when it comes to screen size and overall dimensions. The Note 8 has a 6.3-inch screen and the V30 clocks in at 6 inches exactly along the diagonal. In terms of overall size, the Note 8 is about 11 millimetres wider and 1.2 millimetres thicker, but is actually a little less than half a millimetre shorter than the V30 thanks its thinner top and bottom bezels.
Both phones come equipped with a rear fingerprint reader, but the V30's is in a much easier to find position in the centre of the phone; the Note 8's fingerprint sensor is tucked up next to the camera where it can be hard to reach. However, the Note 8 also includes a secret weapon, the S Pen, which can make its larger frame an asset rather than a liability.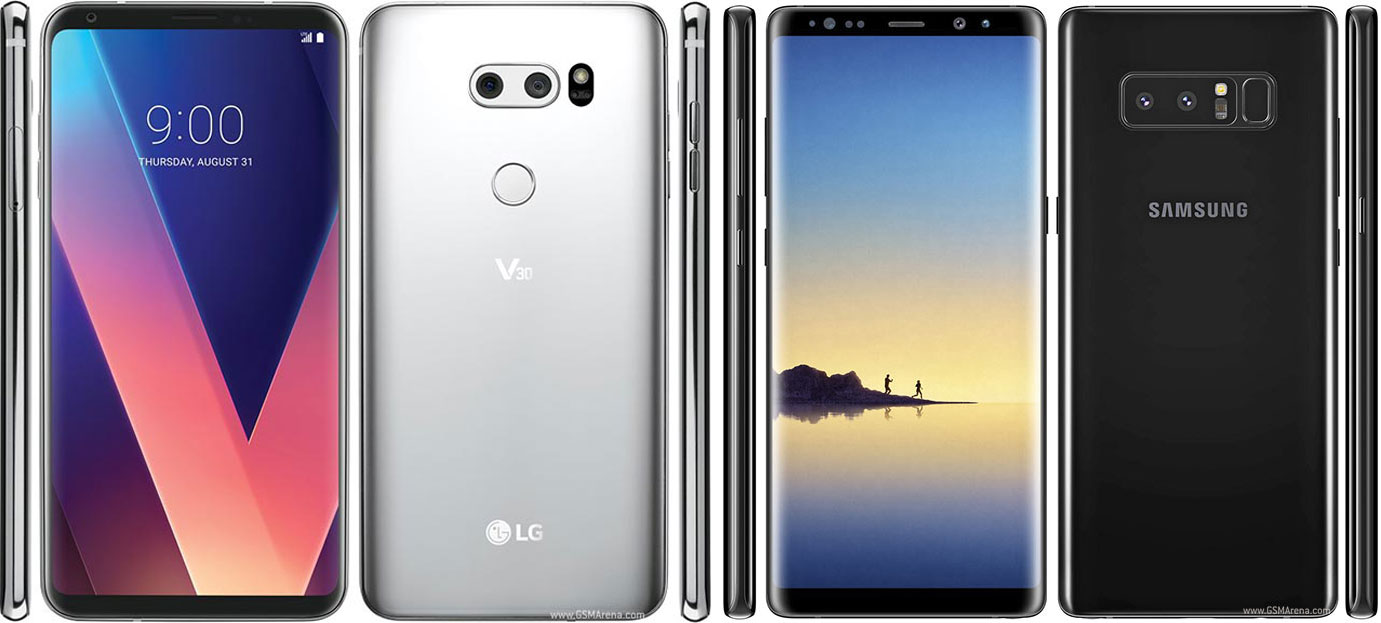 LG V30 vs Note 8: Hardware
The V30 and Note 8 differ slightly in specifications, but should offer roughly equivalent performance. In Europe, the Note 8 comes with Samsung's Exynos 8895 processor, while in the US and China it has a Snapdragon 835. The V30 comes with a Snapdragon 835 in all locations, so we should expect very similar performance numbers. This is backed by 4GB of RAM on the V30 and 6GB of RAM on the Note 8, with 64 or 128GB of expandable storage on both models.
Bluetooth 5.0, dual-band Wi-Fi ac and a 3.5mm jack are all included, giving the phones equal scores on connectivity. USB-C is used for Qualcomm Quick Charge rapid charging on both phones as well, although Samsung use version 2.0 and LG are on version 3.0. Both phones have identically sized 3300mAh batteries, too, so endurance should be relatively equal.
LG V30 vs Note 8: Cameras
The idea behind the camera setup is identical on both phones, but the actual implementation is quite different. The V30 uses dual 16-megapixel rear cameras, one wide angle with an f/1.6 lens and one telephoto with an f/1.9 lens, while Samsung uses two 12-megapixel shooters, a wide angle at f/1.7 and a telephoto at f/2.4. Up front, Samsung take the lead with an 8-megapixel shooter compared to the five megapixels on the V30.
Despite looking to be a more advanced package with better optics and higher megapixel sensors, LG's V30 is said to trail the Note 8 according to some early impressions from tech reviewers. We'll get a better idea of how the two phones compare once full reviews for both are out.
LG V30 vs Note 8: Software
The V30 and Note 8 both run Android 7, although GSMArena pegs the V30 as shipping with 7.1.2 compared to 7.1.1 on the Note 8. Both phones should eventually be upgraded to Android 8.0 Oreo, and LG generally has upgraded its phones a little more quickly than Samsung has — last year's V20 was the first non-Google phone with Android 7, after all.
Both Samsung and LG have taken it a bit easier in recent years when it comes to changing the Android interface, preferring to add new apps and make more subtle changes to the look and feel of the phone rather than harshly reskinning everything and replacing perfectly good Google apps with branded equivalents. LG's phone is likely to be a little closer to stock Android, as Samsung has many more of its own apps and services that it likes to install.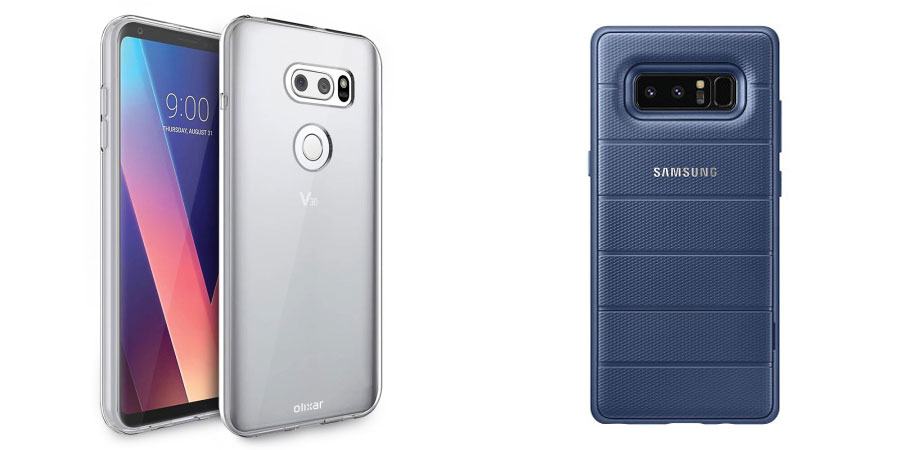 LG V30 vs Note 8: Accessories
The Note 8 is one of the biggest phone launches of the year, and that brings with it a raft of cases, covers, chargers and other accessories. LG's V30 is also being promoted heavily, but less third-party manufacturers are going to bother creating deep lines of V30 cases and accessories. Samsung has also gone further in creating more advanced accessories that go further than just protecting your phone or recharging it quickly — you'll also find a VR headset, a dock that turns a Note into a desktop-like PC, a 360-degree VR camera and much more.
However, both phones should still have a reasonable number of options. You can check out cases and accessories for both phones via the links below:
LG V30 vs Note 8: Price
The LG V30 and Note 8 are both expensive flagship phones, but the Note 8 takes the cake with its £869 sim-free asking price. The V30 isn't expected to reach anywhere near that high, probably sticking to around £600 to £700, but final sim-free pricing hasn't yet been announced.
LG V30 vs Note 8: Wrapping up
Thanks for checking out the article. Stay tuned for more LG V30 and Note 8 news, guides and accessories in the near future!