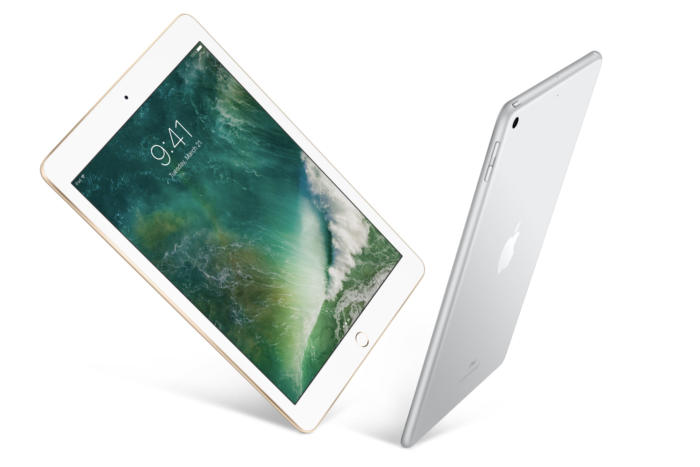 A new iPad has arrived… and confusingly for everyone, it's just called the iPad (2017). Here are five of our favourite accessories for the newest member of Apple's tablet family. Let's get right into it!
5. Olixar Folding Stand Smart Case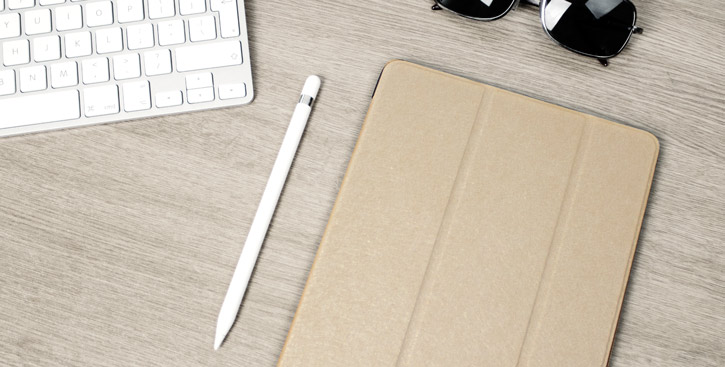 This gorgeous case is a budget alternative to Apple's official smart case. It provides a beautiful look in gold and white, with a thin design that adds minimal weight and bulk to your shiny new plaything. The case is practical too, thanks to a folding cover that works as a stand. This feature makes it easy to watch films or play games on the go — the perfect way to distract yourself on a dreary train or plane journey. The case also has sleep/wake functionality, so your iPad's screen will always go off when the screen is closed to save your battery life. All in all, a solid first port of call in your search for the perfect iPad case!
For more suggestions, see our top 5 iPad (2017) cases article or take a look at our full range of iPad (2017) cases and covers!
4. Olixar Tempered Glass Screen Protector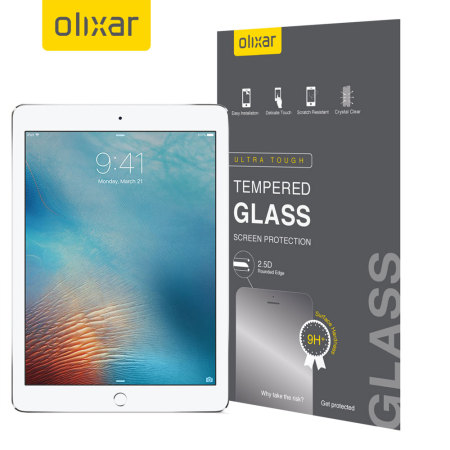 When it comes to screen protection, you can't get better than tempered glass. It costs a little extra, but you get long-lasting protection that shrugs off knocks and scratches with ease. The rigid nature of the screen protector also makes it easier to apply, ensuring you can line it up perfectly without air bubbles below. The screen protector is just a third of a millimetre thick, with a light penetration ratio of over 90% so what you're watching looks just as vibrant as before. This screen protector is the bee's knees, so don't get caught without it!
3. MacAlly iPad Charging Dock
This elegant and easy-to-use dock is the perfect way to recharge your 2017-era iPad. The dock holds your iPad at an upright angle so you can continue to use it, whether you're watching a movie or tapping away at your favourite game. The MacAlly dock also has a unique raised Lightning connector, so it will work great whether your iPad is wearing a case or not. The dock comes with a removable Lightning cable and a mains adapter too, so everything you need is in the box.
2. Adonit Mini 3 Precision Stylus

There are plenty of styluses on the market, but most of them are too big and bulky for fine detail — or like the Apple Pencil, they only work on the expensive iPad Pro. The Adonit Mini 3 is the answer: a slim stylus with a super precise tip that works on the 2017 iPad! The ergonomic triangular shape of the pen makes it comfortable to hold, while the signature disc tip makes it possible to take careful notes or draw fine details. Best of all, this shortened stylus is easier to carry with you than ever before, thanks to its built-in clip. If you've been frustrated with cheap and clumsy styluses, you owe it to yourself to try the Adonit Mini 3.
1. Olixar Ultimate Lightning Tablet Car Pack
This car pack contains absolutely everything you need to use your new iPad on the road. It comes with four products in total: a headrest mount, a dual port car charger, a Lightning cable and a 3.5mm audio cable. Together, these will let you plug your iPad into power and your car's stereo, while keeping it in a convenient position to entertain your backseat passengers. As the car charger has two ports, you'll even be able to charge your smartphone at the same time — magic! This is an alluring choice even at its RRP of £50, but you'll pay just £25 for this pack. Not bad, eh?
Wrapping up
To see our full range of iPad (2017) accessories, check out the button below!
See all our iPad (2017) accessories >>
Thanks for taking a look at the article. If you have any questions or feedback, we're happy to chat in the comments. Until next time, have a good one!