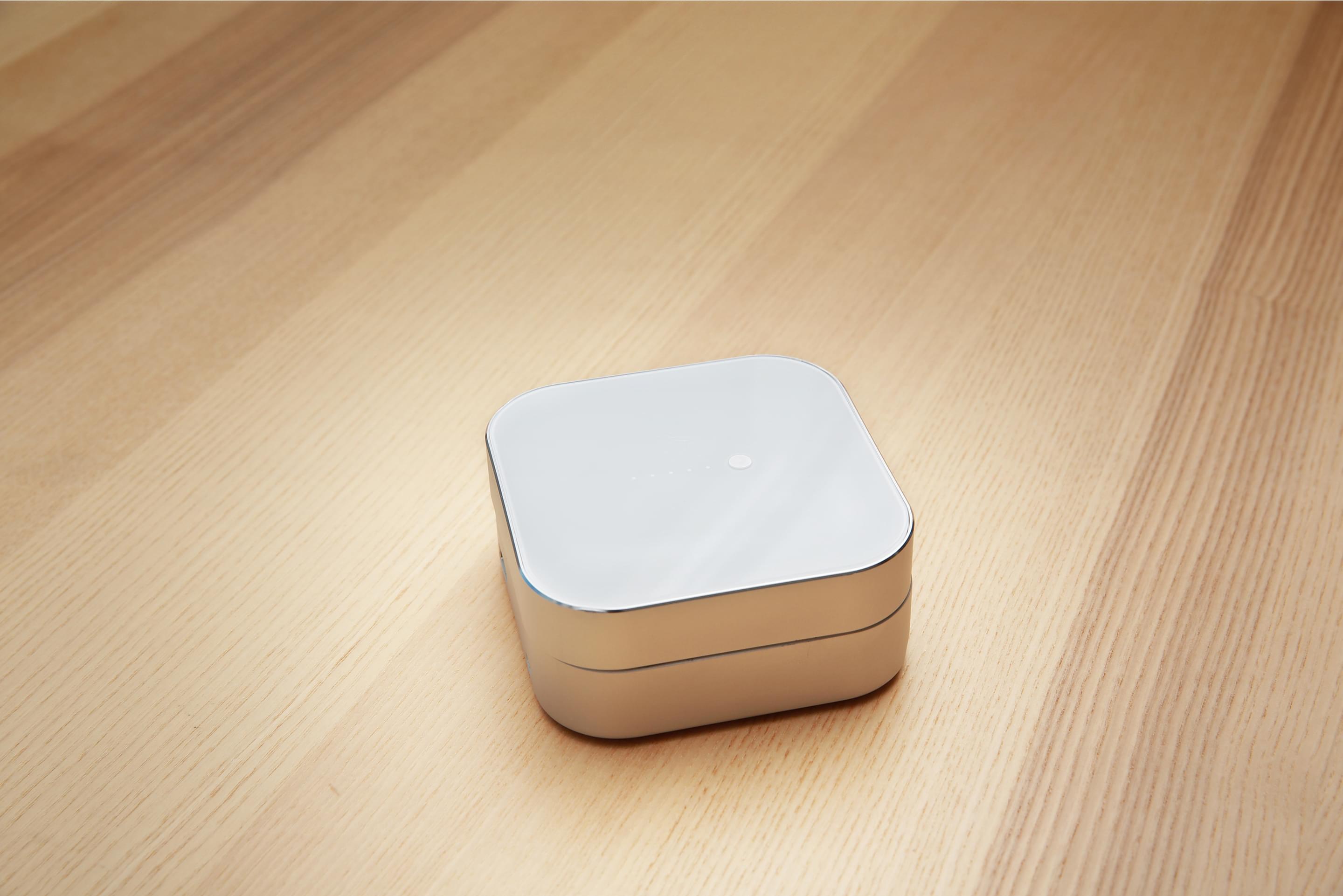 Over the past month, I've been using a novel way of keeping my Apple Watch charged: the Amber Charging Case. It's a totally portable solution to Apple Watch charging, and it has enough charge to last a full week. Let's take a closer look as I share my impressions.
Shop Amber Apple Watch Charging Case >
Design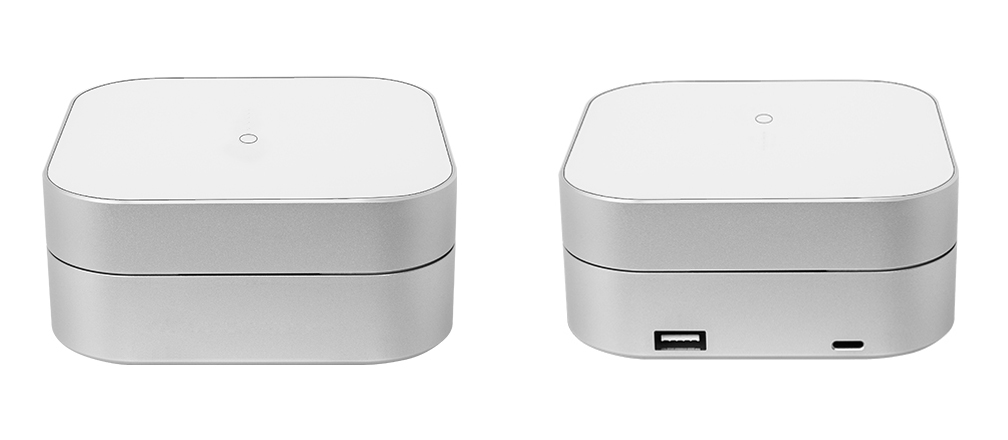 The Amber Charging Case is a rounded cuboid, made from white plastic and wrapped in silver brushed aluminium — so already it looks quite similar to a lot of other Apple products. It's featureless when viewed from the front, but there's a small button on the top that lights up white LEDs to display the remaining level of charge, and on the back there are two ports — one for charging the case itself, and the other for charging other USB devices from the case's reserves.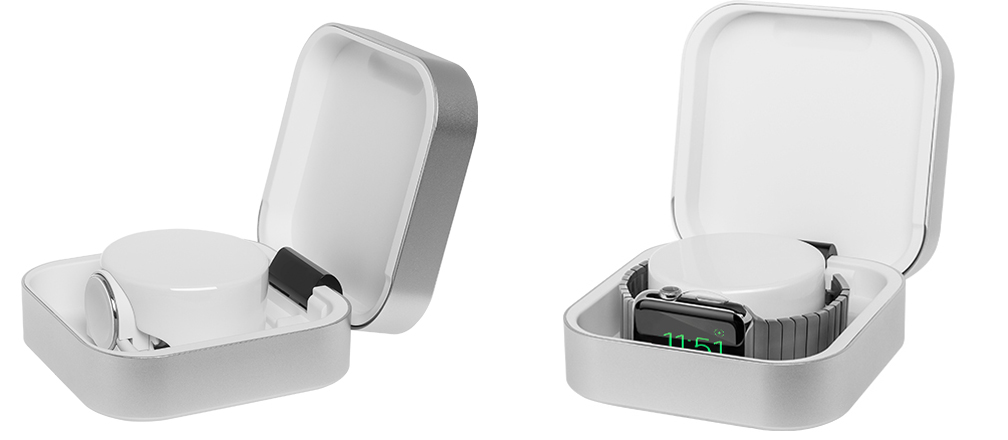 Open the box, and you'll find a raised cylinder that your Apple Watch will wrap around. Charging is done quite cleverly — you'll place the magnetic end of your original Apple Watch charger at the front of the cylinder, wind the cable inside, and plug the USB end into a port below. That's a process of only a few seconds, and once installed it can be left there indefinitely. To begin charging, press the button on top.
If you like, you can leave the box open to keep an eye on the time as it's charging up. You can also shut the lid of the box, if you're going to put your Apple Watch in a bag for travelling (or if you just don't want the distracting light while sleeping). The Amber feels very sturdy and well made in your hand, and seems unlikely to come apart any time soon.
Software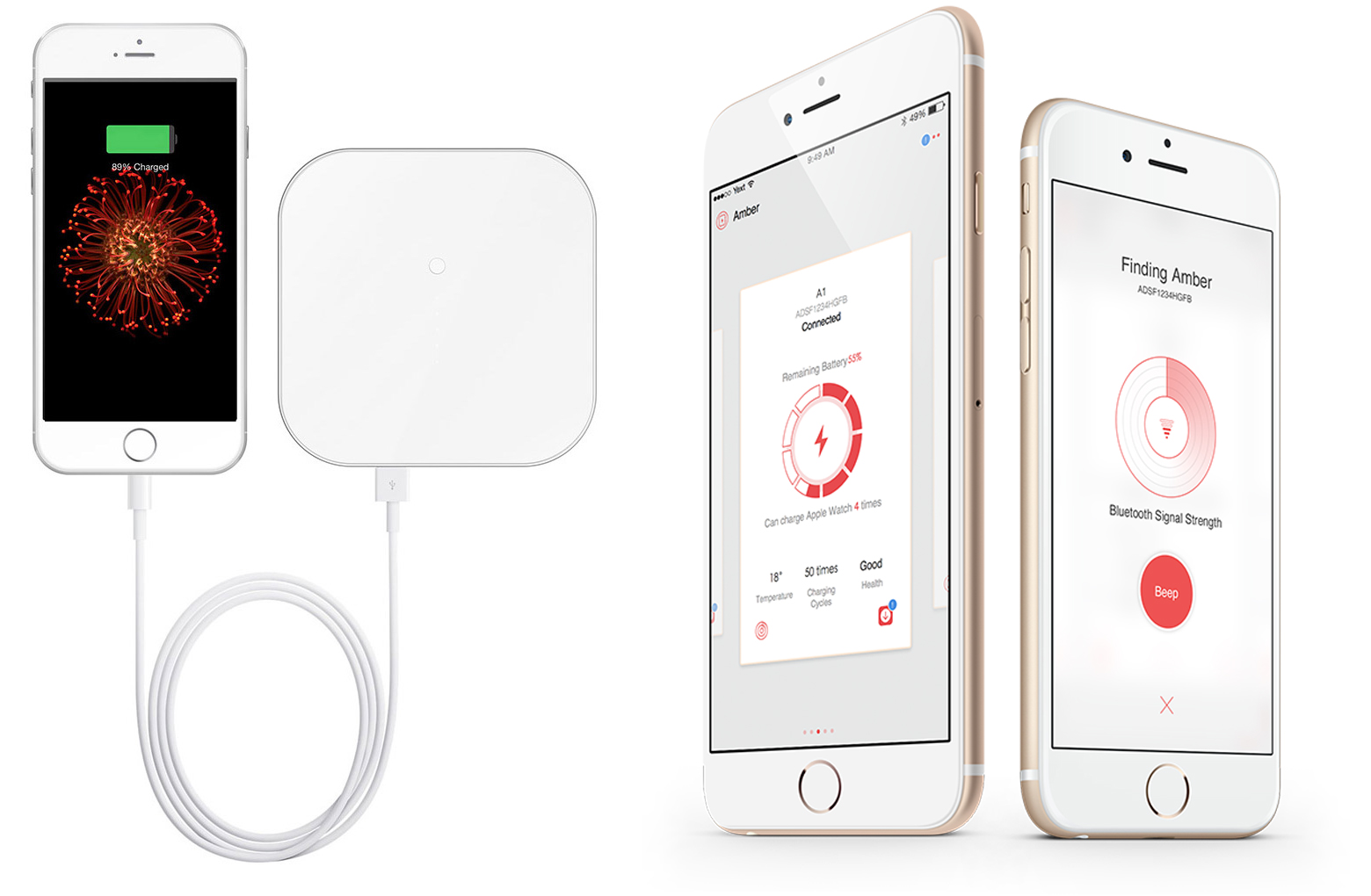 The Amber is the first Apple Watch charger I've heard of that has its own app. Once installed for free from the App Store, you can connect via Bluetooth to check the charger's remaining battery life and temperature, and even get into the nitty-gritty of charge / discharge cycles and its health status. You can opt to receive notifications when your watch is fully charged, when Amber is running out of battery or there's new firmware to install. There's even a finder mode, allowing you to locate the charging station if you've lost it somehow. Sweet.
Testing
So — let's look at charging first. The Amber's internal battery measures 3800mAh; that's massive compared to the 205mAh capacity of the 38mm Apple Watch or the 250mAh capacity of the 42mm Apple Watch. You should easily get a full week's worth of charging out of it, and that held up in my testing. It's also large enough that you can recharge your iPhone as well — the 1715mAh capacity of the iPhone 6S means it should be recharged fully twice, and there's still just enough for a couple of Apple Watch charges as well.

The Amber quickly became part of my daily routine. At home I kept it on my bedside table, and when I travelled for business or pleasure I kept it in my bag. That let me enjoy having an Apple Watch during these times, without the worry of it running out of battery in a foreign country, or having to add yet another cable to the usual infestation in the front pocket of my backpack. It's also nice to know that your Apple Watch is protected and out of sight while it's charging, instead of banging around in a backpack by itself or sitting out in the open.
Wrapping up
The Amber Charging Case is an awesome invention — it looks the part, recharges your Apple Watch without fuss and many times over, and keeps it in peak condition while you're travelling too. I've really enjoyed using it over the past month, and I'd encourage you to give it a go as well!
Amber is in stock now from Mobile Fun.
Shop Amber Apple Watch Charging Case >