You may have figured that not all HDMI adapters are compatible with your smartphone BUT that is not a problem as there are many top quality smartphone HDMI adapters that are compatible.
Not everyone has the time to switch on their laptop and connect it to the TV. Using a HDMI adapter that is compatible with smartphones allows you to project your phones display onto your TV, so that you can easily enjoy watching videos or looking at pictures on the big screen.
We'll list below some of the best smartphone compatible HDMI adapters that you can get right now.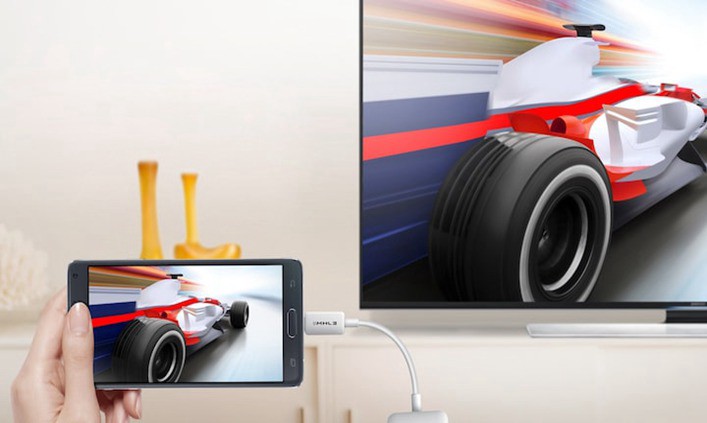 Vivanco USB-C To HDMI 4K 60Hz Adapter – White
So, first of all we have the Vivanco USB-C to HDMI 4k 60Hz adapter which is certainly compatible with smartphones as well as with TVs or laptop.
The Vivanco USB-C to HDMI adapter is quick and easy to use and connect too. With this adapter you'll be able to enjoy ultra-smooth 4k high resolution video with 60Hz video support. This means you'll have the best picture quality.
Easily connect your smartphone to your TV with this HDMI adapter and enjoy playing games, looking at photos or watching movies straight from your smartphone.
How to use:
All you need to do is connect your HDMI cable into the adapter, and then connect the other end to the HDMI port into your TV.
Next, you will just need to connect the adapter to your smartphones USB-C port, and you're all done!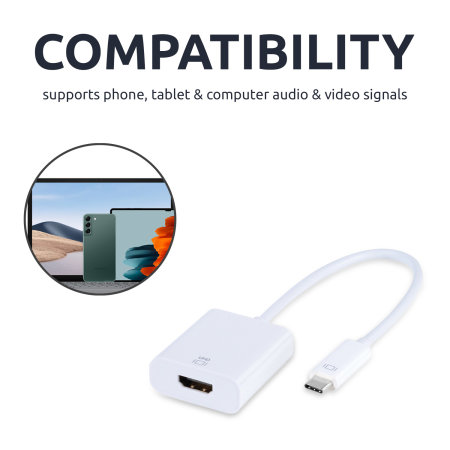 Choetech Hub-M17 USB-C to HDMI & VGA Adapter – Black
The Choetech Hub M17 USB-C to HDMI & VGA Adapter is the perfect accessory to keep, which allows you to connect your smartphone, tablet or PC to your TV.
With this HDMI adapter you wont need to install any software to use it, all you will need to do is simply plug it in and go!
The Choetech Hub-M17 provides a 4K HDMI adapter and a VGA output which both can work at the same time. Both can be used simultaneously to add external displays, TVs or even projectors!
Connect your USB-C laptop to devices with a VGA port to show content such as photos, Netflix or screen sharing. Supports HD 720P, Full HD 1080P for VGA and Ultra HD 4Kx2K@30Hz.
When two ports work simultaneously, The maximum resolution of the two is 1080P/60Hz. But 1920×1080@60Hz when using VGA alone. The HDMI adapter is lightweight and easy to carry with you wherever you need to take it.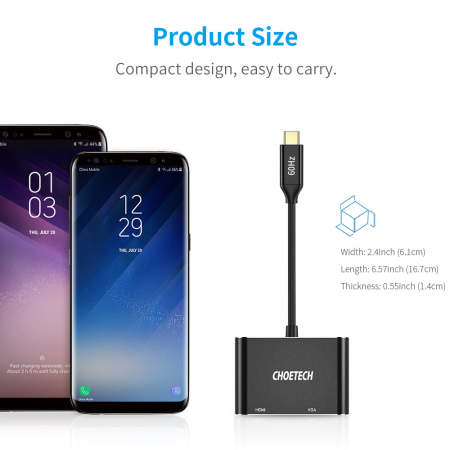 Official Samsung DeX Galaxy Range USB-C to HDMI Cable – 1.5m – Black
With the Official Samsung Dex Galaxy Range USB-C to HDMI cable, you'll be able to transform your Samsung device into a fully featured PC.
This official Samsung Dex USB-C to HDMI cables allows you to watch videos and play games from your Samsung Galaxy S10/S10 Plus/S10e, Note9, S9/S9 Plus, Note8, S8/S8 Plus, Tab S4 and Tab S6 – all on your bigger screen.
So, you can easily stream videos, play games, view photos and more from your Samsung Galaxy device to your TV, monitor or projector that features an HDMI port.
The HDMI cable supports 4K video and is also a Official Samsung accessory, meaning it is the best standard and quality that you can get!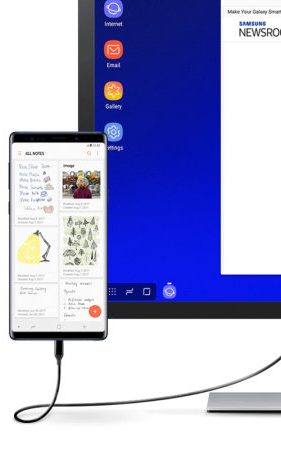 Aquarius USB-C HDMI Adapter 1080p Black – For iPhone and iPad's
Lastly, we have the Aquarius USB-C HDMI adapter which is ideal for work. This HDMI adapter supports iPhone's and iPad's.
It is easy to connect and use, all you need to do is connect the HDMI adapter to your TV and then connect the USB-C to your device.
You can easily connect your device to your TV or monitor and enjoy playing games, watching movies and more in up to 1080p display.
The Aquarius HDMI Cable provides a full 1080p HD display, supporting video resolution up to 1920 x 1080p.
Enjoy an upgraded HDMI Cable, with an advanced high-performance chip, ensuring high-speed transmission along with clarity of HD video and digital audio.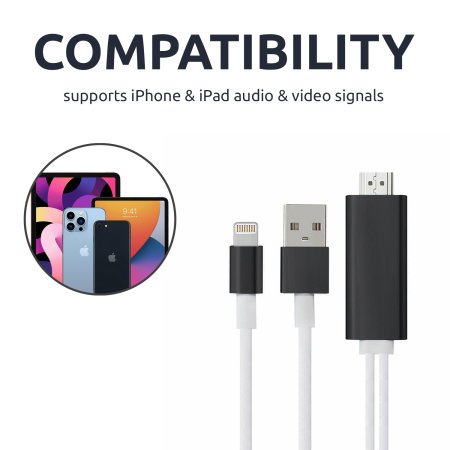 HDMI adapters that are not compatible with smartphones
Macally USB-C 3 in 1 Multiport 4K HDMI Adapter – White
This HDMI adapter although it is perfect for connecting your PC monitor or laptop to the TV, it is not compatible with smartphones, so you won't be able to connect your smartphone to your TV using this HDMI adapter.
We hope this blog was helpful for you in finding the best smartphone HDMI adapters for your device! Check out many more cool gadgets and accessories by visiting our Mobile Fun website.