The Apple MacBook Air 2021 gives us the necessary ports (Charging, DisplayPort, Thunderbolt 3, USB 4, USB 3.1 Gen 2) to complete most tasks, but we could also do with a few more.
It's that time of the year when some of us are heading off to University, going back to school or just spending more time in the office. Therefore, an easy and portable port extension wouldn't go a miss! We thought we'd share 5 of USB hubs with you today, to make multitasking from your MacBook Air easier.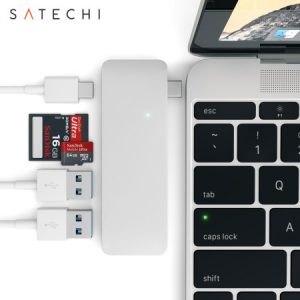 First on line up today is from Satechi. It is a discreet way to add a further: 2 USB ports, an SD card reader, an micro SD card slot and a USB – C port to enable pass through charging. So you can charge your laptop and still use the USB hub at the same time. When added to your laptop it is barely noticeable, because of it's sleek Apple like design. It is only small, so makes carrying within your bag incredibly easy. If you travel with your work or studies, this is definitely one to consider.
Price: £34.99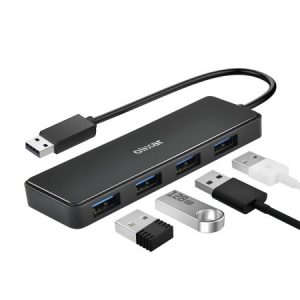 For a cheaper alternative here is Olixar's 4-port USB 3.0 extender hub. This is a practical and cost friendly option for if you are just looking for extra USB ports for your laptop. The USB 3.0 is the most universal therefore, whether it's for your memory stick, hard drive or connecting your phone extra USB ports are very much appreciated, as you'll be able to connect multiple devices at one time. To make this extension even better it has super quick speeds of up to 5Gbps!
Price: £7.99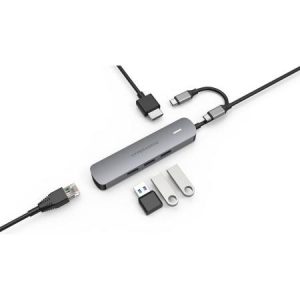 We now have HyperDrive's 6-in-1 USB charging Hub with HDMI & Ethernet port. The Gigabit Ethernet port is extremely useful for those who tend to work on the go. You'll be able to connect your laptop right to the source of the internet, for fast internet connection. You also get an additional: USB-C power delivery, 3 USB-A, 4K HDMI and a USB-C with the hub attached to your laptop. As like the Satechi adapter, this one too has been created to look similar to the look of the MacBook, meaning for it to look seamlessly good along side your laptop.
Price: £59.99


This is Goobay's premium USB-C multi port 4K HDMI & USB adapter. It is has a strong construction, to ensure that it maintains it's premium condition long after being purchased. The hub adds: 2 USB 3.0 ports, micro SD/ SD card reader slot, a thunderbolt 3 USB-C port, a USB-C port with pass through charging and a 4K HDMI port. By having a 4K HDMI port you'll be able to present your latest work in the best way possible!
Price: £59.99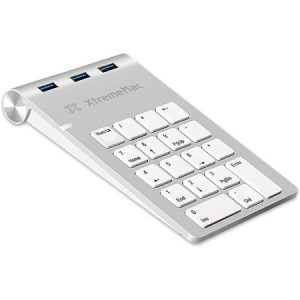 Last on our list today is something a bit different, and it comes from XtremeMac with their numeric keypad with dual USB port. It will not only add 3 more USB ports to your laptop, but also add an numeric keypad. So, if you are you someone who works with numbers on a day to day basis, then this might just make your work that bit easier.
Price: £69.99

Wrapping Up
We hope this blog has helped you on finding out the best ways to add ports to your MacBook Air. If you would like to see more accessories to help you get the most out of your devices click here. Please leave a comments below if you have any questions and we'll get back to you.