If you are upgrading to the iPhone 13 Pro Max, you are probably looking for some form of screen protection, to keep that OLED display damage free. Since the release of iPhone 12, Apple have opted to use ceramic shield glass for the screens of their devices. Which comes with the cost of a higher price when wanting to repair them, for if it was to become cracked. To avoid this bill it is vital that you protect the screen in the best way possible.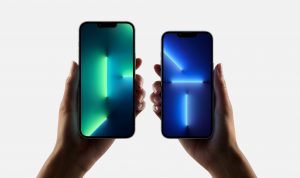 Today's blog features a few of our recommendations, on how to keep your iPhone 13 Pro Max screen protected.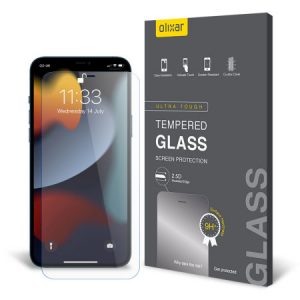 Our first choice of today is Olixar's tempered glass screen protector. Many smartphone users prefer glass over film, when choosing a way to protect their display. That is because it offers more of a defense against impacts. It has the thickness of just 0.26mm, which is super thin especially for a glass protector. You can use your device just like before the glass was fitted. The way in which you view your handset will also not be affect post application.
Price: £14.99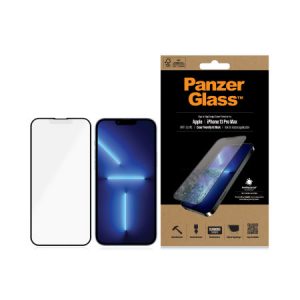 Up next is the PanzerGlass anti-glare screen protector. Not only will your display be receiving first class protection, but it will also protect your personal health. Made within the glass there is an anti bacterial technology. As a result of this the glass is able to stop harmful germs breeding on your iPhone 13 Pro Max. Our electronic devices withhold a tremendous amount of germs, as their are used frequently throughout the day. So it is only right that we keep ourselves protected when necessary. To make this screen protector even better, the anti-glare formula that is made within prevents direct reflection from sun rays.
 Price: £29.99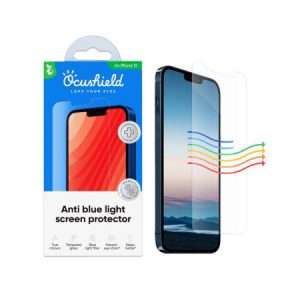 Here is yet another protector that has been created with your health in mind. Ocushield are widely known for generating screen protectors for electronic devices, of all shapes and sizes. But what makes them so special? Their products cut out 90% of blue light passing through the glass. We use are smartphones so much throughout the day; whether it is to check the football scores or scrolling media. The blue light that radiates from your display can encourage headaches and sleep issues therefore, by attaching this protector it can make your day to day like a little bit easier.
Price: £29.99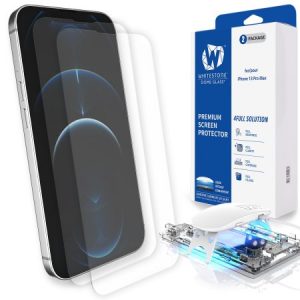 Whitestone dome glass screen protector goes above and beyond the expectations of your average screen protection. The installation process is slightly more complex. However, still only takes less 5 minutes to complete. All the steps that are include ensure that the glass is fitted accurately, and without bubbles or dust. The price of this protector maybe high, but so is it's quality. So if it is a long lasting premium protector that you are looking for, this is the one for you!
Price: £44.99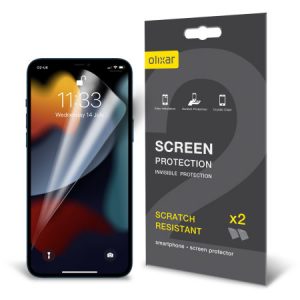 The last protector that we have for you today is yet another from Olixar. If you prefer film over glass protection, this is one we highly recommend. Despite it already having a very low cost, you not only get one protector in the pack but two. Making this an extremely great value for money way to protect your precious. One of the many benefits to attaching film to your handset is that you protect your OLED screen against scrapes and scratches, without disturbing the look of the iPhone 13 pro Max.
Price: £9.99

Wrapping Up
I hope today's blog has helped you with your search in finding a screen protector for you iPhone 13 Pro Max. If you would like to see more options head over to our website. Where you'll find plenty more to choose from. Thank you for reading.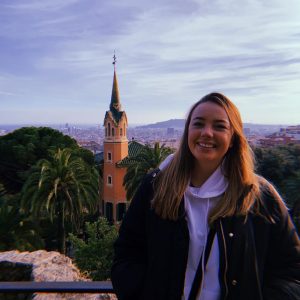 Katie Gorevan
Katie creates video content for the Mobile Fun YouTube channel, she has worked within video production for 6 years. When she is not producing video content she is more than likely listening to music, or finding other ways to be creative.