With the coronavirus taking over our travel plans the past year or two, everyone is waiting for the green light to go and see family, visit other countries or simply just want to get out about before it could be taken away. You may have forgotten what you may need after being confined to your home, so we have come up with the best travel and outdoor gadgets and accessories you will need with all different needs in mind. From protecting your phone on hiking trips to RFID Passport protection, we have everything you could need!
---
1. 
Shock & Impact Resistant Neoprene Phone Pouch with Carabiner (Perfect for Hiking and Travelling!)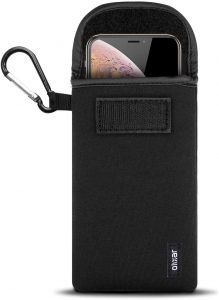 Our top travelling must-have accessory is Olixar's Phone sock with Carabiner, which allows you to keep your smartphone safe wherever you go! It is a universal design that fits most phones up to 6.8 inches, even if in a phone case, meaning double the protection!
The lightweight and tough phone sock can be used on all different holidays and weathers, from snowy mountains to the hottest desserts, all impacts will be protected. The carabiner is perfect to attach to a Waist Pouch or even your belt buckle! Being safe and secure, and not losing your prized possessions is most important on vacation!

---
2. Ultra-Slim RFID Blocking Passport Holder and Wallet (Stop Wireless Theft on your travels!)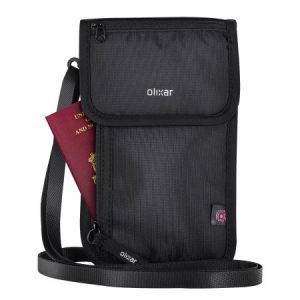 For those wanting to travel out of the country and seeing the world as it opens up, the best accessory is the Ultra-Slim RFID Blocking Passport Holder and Wallet, stopping hackers from stealing your details or even money from your credit cards at any point.
It has an integrated RFID pocket to block out any wireless theft and on top of that has 4 inner pockets and 2 outer pockets to carry all of your travel accessories. This can include your mobile phone, credit cards or camera! You will not need to lose out and enjoy your holiday!

---
3. Xplorer Universal 11-15″ Laptop & Travel Backpack (Laptop safe on the go!)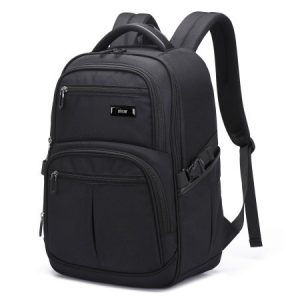 If you have to take your laptop or tablet away from you, whether it is for business or pleasure, you need to keep it safe! The Xplorer Universal 11-15″ Laptop & Travel Backpack is perfect for that, with 45L capacity, you can bring all your necessities on your travels! It is a universal fit for Laptops or tablets up to 15.6″, so make sure to check if it has a Laptop Case for double safety.
The Laptop backpack has multi-compartment pockets including an anti-theft zip pocket ideal for storing your passport, wallet or other travel necessities. It features 13 compartments and pockets including 2 water bottle holders for those long hikes! A bag for every occasion!

---
4. Portable UK to Euro Mains Travel Adapter Plug (Keep your electricals powered up abroad!)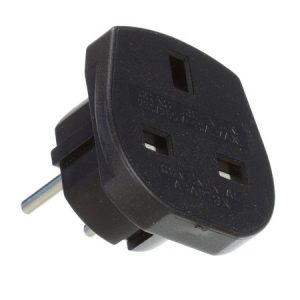 When travelling to other countries you may find yourself forgetting the basics and cannot charge your phone or even your hairdryer. We have you covered with our Portable UK to Euro Mains Travel Adapter Plug, to make life much easier.
It will work with a variety of powered products, such as laptop chargers and phone chargers, to hair accessories, you will not be left in the lurch to expensive airport prices.

---
5. The Ultimate GoPro 9 in 1 Accessory Starter Pack (Record every moment!)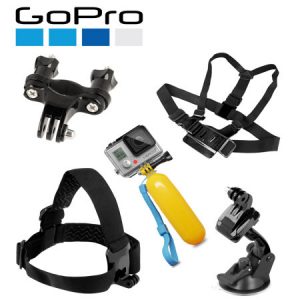 Be prepared for any type of adventure, whether it is deep water diving to extreme BMX tracks, capture every moment with The Ultimate GoPro 9 in 1 Accessory Starter Pack! If you own a GoPro and are having the adventure of your life which you wish to save, this 9 in 1 pack will have everything you need and more.
The accessories include Tripod Adapter, Surface J-Hook, Floating Handle Grip, Monopod / Extendable Selfie Stick, Suction Cup Mount Holder (Much like a Car Phone Holder), Bike Handle Mount, Chest Mount Harness, Head Mount Strap and Wrist Mount. You can get all the angles from your GoPro to make your friends jealous!

---
Wrapping Up
We hoped you enjoyed our 5 best travel accessories that you need in 2021! If you want to know more about any of the products mentioned in this blog or to see even more products available, please click here! Alternatively, check out our video below on more important travel accessories!
---
Georgia Ryall
Georgia Ryall is the Amazon marketplace apprentice, soaking up all the information like a sponge! After studying Media & Communications at University, is now stepping out to the digital marketing world and wants to learn it all! A huge lover of digital marketing, movies, and gaming (particularly her PS5!)
---