Now that lockdown is finally coming to an end, we can travel to other places around the country to see family members or even go on a mini-break with our family. For these long or new trips, you may need navigational help but don't wish to kill the bank for a Tom-Tom. You can use your phone as a Sat Nav and easily use your car's vent with a Car Phone Holder! There for convenience, so residue on your windscreen or dashboard and perfect eye view for whenever you need it. There are many on the market, so here are our top 5 Vent car phone holders!
---
1. 
Magnetic Phone Air Vent Mount for Car (Like magic, will attach to your vents!)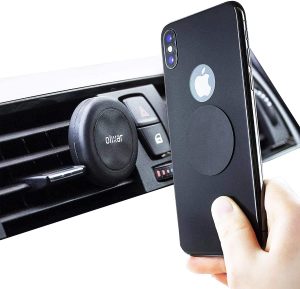 If you are looking for a car phone holder to help you answer calls and get directions easily, the Magnetic Phone Air Vent Mount will be the perfect accessory to get you around this summer. This car phone holder works with all phones and phone cases, so no matter what brand whether it is Apple or Samsung, you can easily slide your phone onto your car vent.
Our favourite for 2021 is the Magnetic Car Phone Holder that is elegant and strong, ensuring no sticky residue or ugly look in your car. It also allows you to have a portrait or landscape viewing, whether it is easier to plug in your charging cable or a bigger image for your directions!

---
2. Mini Portable Air Vent Smartphone Car Holder (Small and Sturdy keep your phone safe!)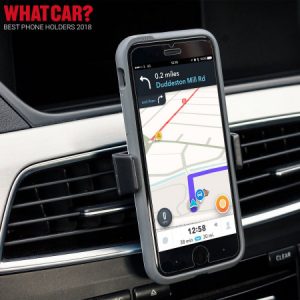 If you want a simple, sturdy design to place your smartphone onto your car vent, then the inVent Mini Portable vent smartphone car holder, may be the one for you! This also can double as a viewing stand, whether in your car or out of, as it is so compact and light to travel with.
This is also a universal car mount that will work with all smartphones, in or out of a phone case! It works with all vent and car types, allowing 360-degree rotation, so whether the passenger wants to direct you on your travels, there is always that option!

---
3. MagSafe Compatible Wireless Charger & Car Holder (Charge and use safely in your car!)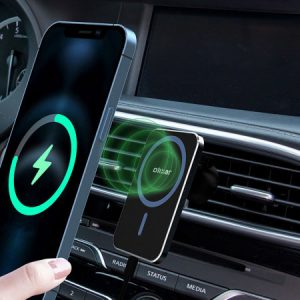 If you have a MagSafe compatible smartphone and want a car phone holder to charge your phone while being held on your car's vents, then Olixar's MagSafe Compatible Wireless Charger & Car Holder is the one for you! Giving you a seamless drive and charge experience, without the crazy charging cable tangle in your car!
It will also work if you have a Magsafe case so you can keep your style and protection! View your phone in portrait or landscape mode for your convenience, whether it is for the driver's directions or entertaining the children with a movie.

---
4. Auto-Grip Universal Smartphone Car Holder (Save the fiddling around, makes it easy!)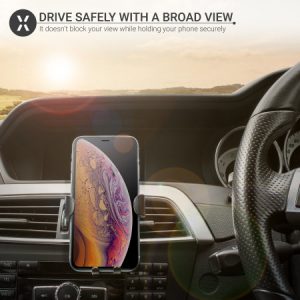 This one-hand mounting phone mount gives you the extra grip you need to feel secure that your phone will stay safe when driving bumpy roads. That phone mount will be the inVent Auto-Grip Universal Smartphone Car Holder. The auto-grip means that it will tighten and secure your phone when placed in, so it will be unable to fall around your feet.
The car phone mount is also universal for all smartphones and phone cases, so if your phone is a plus or smaller, it will grip to fit it. It also works with most cars and vents, so if you change your car and your phone, this sturdy accessory will follow you in all those changes!

---
5. TriMount Windscreen, Dashboard & Vent Smartphone Car Holder (The options are endless!)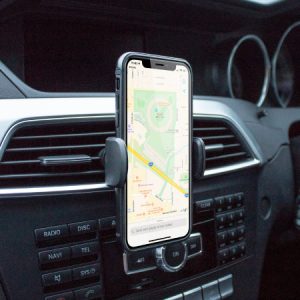 If you like to have options and unsure if you would prefer your phone on your dashboard, windscreen or your vents, then the trimount smartphone car holder is the perfect accessory! It is one of the most popular car phone holders in the Mobile Fun brand and shows the reason why with its security on your phone and working on almost any part of your car!
This car mount also works with all smartphones and with a phone case if that is what you choose. It is easy to clean which is important in the virus state of the world and how dirty our phones can get!

---
Wrapping up
We hoped you enjoyed our top 5 Vent Car Phone Holders to buy in 2021! If you want to know more about any of the Car Phone Holders mentioned in this blog or to see even more products available, please click here! Alternatively, watch the video below for more information!
---
Georgia Ryall
Georgia Ryall is the Amazon marketplace apprentice, soaking up all the information like a sponge! After studying Media & Communications at University, is now stepping out to the digital marketing world and wants to learn it all! A huge lover of digital marketing, movies, and gaming (particularly her PS5!)