Are you the lucky owner of an Oculus Quest 2, and a PC gaming setup? Learn how to bring both together to create a beautiful gaming marriage, that even your family in Whiterun would be envious of. Unlock SteamVR gaming and the brilliant games library that comes with it, for hours and hours of Virtual Reality entertainment. There are three key stages which I will outline. Which include checking your PC's compatibility, downloading the right software and buying a cable.
---
1. Buy an Oculus Quest 2 Link Cable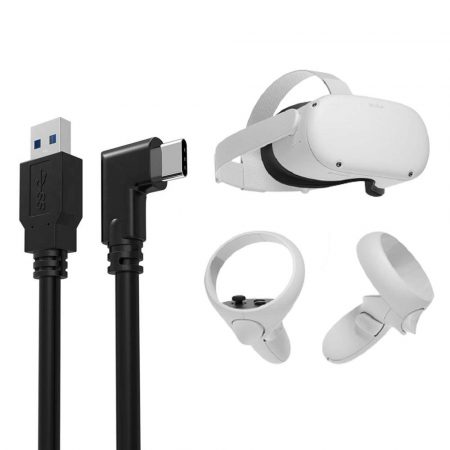 Olixar Link Cable for Oculus Quest 2
Retails at £19.99 (£40-50 cheaper than the Official Oculus Link Cable)
Features a 90 Degree right-angle USB C, which means the Oculus link cable will not stick out whilst in use with the Quest VR headset.
This cable features USB 3.2 and has a high-speed data transfer rate of up to 5Gbps. (In real terms this means it has no issues with image quality, latency, and stability
10 Foot Long (3m), which is an ideal length to create ample room for gaming.
The Oculus App features a connection quality test and the cable passed with flying colours.There are a lot of cables out there and it can be a minefield. A wired connection creates a simple and stable connection and this Oculus Quest 2 Link cable is our preferred option for connecting the Oculus Quest 2 to a PC gaming setup.

2. Check your PC meets the minimum requirements 
In addition to your Oculus Quest 2 VR headset, you'll also need a PC capable of running VR games.
Take a look here to see if your computer meets the minimum requirements for Oculus Link. You can also check your hardware in the below graph.
If it meets the minimum requirements you are good to go!

3. Download the right software
Download the official Oculus Quest app, which is the software that will run Oculus Link and allow you to play PC VR games on your headset. You can get it here. It is listed as "Oculus Link setup software".
You will also need to download Steam and install SteamVR.
---
Wrapping up
I hope that you now have everything at your disposal to Connect your Oculus Quest 2 to your PC for Steam VR Gaming. If you would like any more information on the products featured and to see more please visit here
---
Spencer Saunders