If you have upgraded your gaming set up to include an Oculus Quest 2, you will see the amazing technology available to take you to new worlds that feel real to everyone, young or old. However, you may have come across some issues that take from your experience that can be fixed with some simple VR accessories! Issues broadening from scratching on your headset or steaming up the googles, we will show your our favourite product to fix that and the benefits that come with that.
---
Oculus Quest 2 Lens Protectors & Face Cover For Glasses Wearers (Protect all lenses!)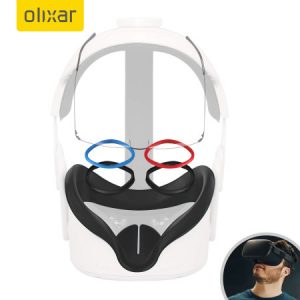 Glasses wearers know all too well that the lenses have to be protected, which are also included on any VR Headset that you buy. To protect the lenses on your Oculus Quest 2, the Olixar Lens protectors & Face Cover for Glasses will do the trick! With such a simple design, this will improve many factors and enhance the game, whether that be athletic. This facemask and lens protectors will give your headset better protection, Improve hygiene, enhanced wear & field of view, boosted gaming experience, protect your lenses, and overall very easy to install.
We will go over all of the points and what we found to be the best outcome for this product and show the best Oculus Quest 2 Accessories you will ever need. A no-brainer to ensure a longer, better game and family time.
---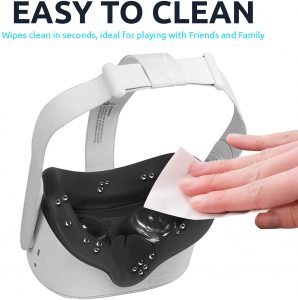 This 8 pack of Lens protectors means the family can come around with the easily sanitizable lens protectors will stay unscathed and stay safe when you are gaming. They are very easy to wipe, this is amazing when it comes to sharing with viruses to worry about, or simply to prevent foggy glasses. The headset cover has a built-in nose pad to also help improve hygiene and stop misting up the goggles. The Oculus Quest 2 face pad that sits on the VR Headset prevents sweat from building up inside the delicate foam interior, no matter who intense your Beat Saber sessions are!
---

Whether it is the lens of your glasses or the lens of the VR Headset, they need to be protected to be scratch-free! The rubber lenses create a barrier between your glasses and the Oculus Quest 2, as to not damage or scratch either. They prevent a hefty fix fee for either, so you can see the clearest element on the screen and have the VR gaming experience of a lifetime!
---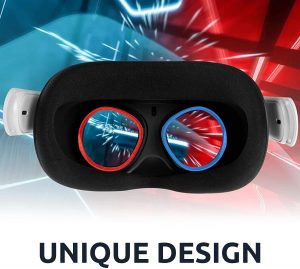 The face cover included in this pack gives a soft silicone press in between the sturdy Oculus Quest 2 headset, so wearing it will be much more comfortable. The high-quality cover provides anti-slip and sweatproof additions so you can play for hours without any discomfort. The rubber lens protectors also remove any additional pressure on your glasses, meaning you can play for hours. With it not being bulky, leaves plenty of room for headsets, to fully engage in immersion.
---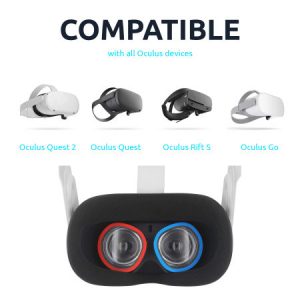 While this product is mainly thought to be the perfect combination product for the Oculus Quest 2, it also fits perfectly with some other VR devices. If you have other products, such as the Oculus Quest, Oculus Rift S, or the Oculus Go, it will also give you all the benefits mentioned above. With the amazing deal including an 8 pack of lens protectors, you can share them out with all your gaming devices or even with your friends! This allows many different products to be covered with safety!
---
With all of these amazing additions from Olixar's Oculus Quest 2 Lens Protectors & Face Cover For Glasses Wearers (or not glasses wearers), what are you waiting for?! Not only will it protect you for all the amazing virtual reality adventures ahead, but you will also have a 2-year warranty if it is not up to your standards, or somehow breaks mid-workout!
If you wish to see any more Oculus Quest 2, or virtual reality in general, accessories we have to offer. Please visit here, to see our premium additions to make your gaming even better!

---
Georgia Ryall
Georgia Ryall is the Amazon marketplace apprentice, soaking up all the information like a sponge! After studying Media & Communications at University, is now stepping out to the digital marketing world and wants to learn it all! A huge lover of digital marketing, movies, and gaming (finally owns a ps5!!)