With summer quickly approaching, you should get ready for road trip holidays to the likes of Cornwall beaches and the Welsh forest. However, forking out for expensive Sat Navs seems pointless when all smartphones have maps! Use one of these Car phone holders, whether it be on your dashboard, windscreen or on your vent, we have it all…
---
1. Phone Holder for Car Windscreen, Featuring a Long Arm (Bends to your most comfortable viewing!)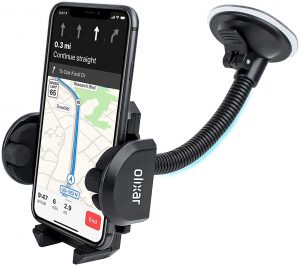 If you are looking for a sleek Car Phone Holder for Car journeys and you don't know your way, this is the one for you! The long arm allows for all riders to be able to read the directions and can be back seat drivers on your holiday!
Our favourite for 2021 is Olixar's Phone Holder for Car Windscreen is easy to use and is able to use with all new and old smartphones. If you have an iPhone 6 or iPhone 12 Pro Max, in or out of a phone case, it will adjust to fit your phone! Travel without getting lost, or play entertainment for the little ones.

---
2. inVent Gravity Auto-Grip Universal Smartphone Car Holder (Keep your phone close in the vent!)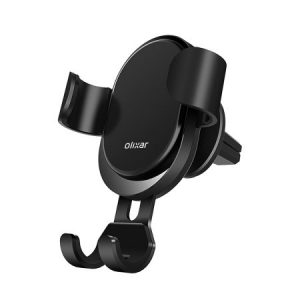 If you are unsure of windscreen car phone holders and it leaving any marks, the next best thing is one that slots right into your vent! This is best shown with Mobile Fun's inVent Gravity Car Phone Holder! This means it can be close to the driver so anyone short-sighted and needing to see directions!
With the easy design to be able to mount and dismount with one hand, it also allows for space to continue to charge your phone while on the go. Keep your maps or entertainment flowing and not worry about losing your battery!

---
3. GripMount Pro Case Compatible Universal Car Holder (Can be stuck anywhere on your dashboard!)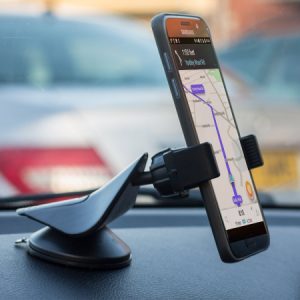 If you want options or change your mind about where you want your phone to be, then pick the GripMount Car Phone Holder, as it can be stuck almost anywhere in your car, including the dashboard! It will not harm any element of your car and is safe to use.
Wherever it is placed, the Car Phone Holder has a 360-degree swivel so can be moved to be best viewed by the driver when looking for directions. It is also universal so works with all SmartPhones regardless if it has a Phone Case on it or not!

---
4. CD Slot Mount Car Holder (Rather listen to DAB anyway? Get use out of your CD Slot!)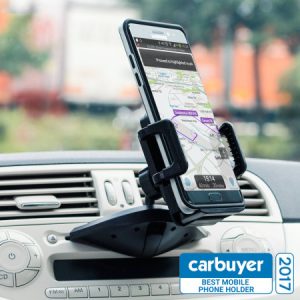 Another option is to get use of out of your old car's CD slot to mount your phone for optimum viewing! Try this out and recycle your old CDs for Mobile Fun's CD Slot Car Phone Holder! What is even better is that you can still use your CDS, or room to attach any headphones for music!
It is a universal phone car holder, so will fit all phones and cases (up to 11cm), so will keep your style while keeping your phone safe even on the bumpiest rides!

---
5.  Magnetic Windscreen & Dash Mount Car Holder (Enter the future with no grip mounts!)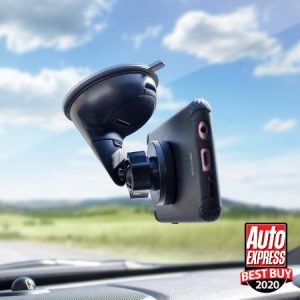 Are you looking for a seamless, easy to install car phone holder? Then grab the award-winning Magnetic Windscreen or Dash Car holder for a futuristic feel to cradle your phone!  With strong magnetic in place, you can feel safe that your new iPhone 12 Pro Max (even in a case) will be held safely.
The new Car Phone Mount can be used in a variety of places but car Vents. However, the positives are that it is not invasive with the clunky grips, so plenty of space for chargers to be attached to your device can continue to give you traffic warnings on your journey!

---
Wrapping up
We hoped you enjoyed our top 5 Car Phone Holders to Buy in 2021! If you want to know more about any of the Car Phone Holders mentioned in this blog or to see even more products available, please click here! Alternatively, watch the video below for more information!
---
Georgia Ryall
Georgia Ryall is the Amazon marketplace apprentice, soaking up all the information like a sponge! After studying Media & Communications at University, is now stepping out to the digital marketing world and wants to learn it all! A huge lover of digital marketing, movies, and gaming (yearns for a PS5).