Samsung Galaxy A72 – Features & Key Improvements

Samsung haven't let off the gas in 2021 and have continued to update their Galaxy A range with the Galaxy A72. This new mid-range smartphone improves on the popular A71 in various areas including an improved 90Hz fast display refresh rate for the 6.7″ Super AMOLED display.
Another significant area of change and improvements is with the camera module on the Galaxy A72. Samsung have included Optical Image Stabilisation, in addition to improves to the telephoto lens which will certainly provide higher quality photos. In addition to the expected software and performance upgrades, the Samsung A72 features a huge 5,000mAh battery which is compatible with 25W fast charging, however it's worth noting the charger which comes in the box is only 15W.
In terms of launch colours, the Samsung Galaxy A72 is available in Awesome Black, Awesome White, Awesome Violet and Aweseome Blue.
What's in the box of the Samsung Galaxy A72?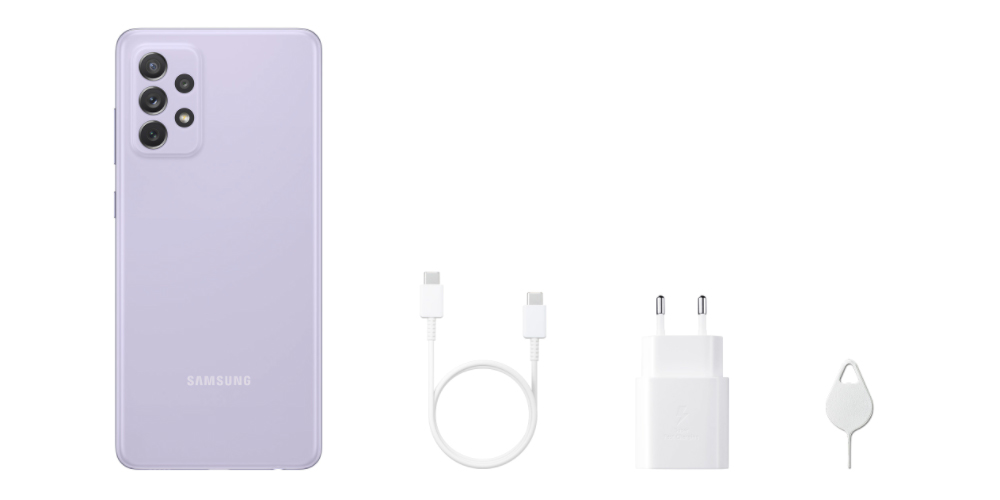 Please note – The above image is for illustration purposes and the charger which is in the box, will be dependent on your region.
What's included:
Samsung Galaxy A72
USB-C to USB-C cable
15W mains charging adapter
Guides
Sim ejection pin
Unlike their S21 Series earlier this year, Samsung have continued to include a mains charger within the box, which to some will be welcomed news. However it's worth noting that the charger included in the box with the A72 has an output of 15W, meaning if you want to make use of the 25W fast charging funcition, you'll require a fast charger.
In addition to the standard documents and sim ejection pin, Samsung have included a USB-C to USB-C cable too.
Samsung Galaxy A72 Accessories
Apart from the mains charging adapter and USB-C cable, you may want to pair your Samsung A72 with a number of other accessories to enhance your user experience of your new smartphone. Here at Mobile Fun, we stock a wide range of accessories from the best brands for the Galaxy A72 including:
Wrapping Up
Thanks for reading this article of what's in the box of the Samsung Galaxy A72. We hope that you found this useful and if you have any questions, please leave a comment below and we'll get back to you.
---
Amit Patel