Samsung Galaxy A52 5G & 52 4G – Features & Key Improvements
As with the Galaxy A51, Samsung have unveiled the Galaxy A52 with both 4G and 5G variants. Building on from the predecessors, the Galaxy A52 and A52 5G are great all-rounders, featuring quad lens cameras with Optical Image Stabilisation, an improved 6.5″ Super AMOLED display with 90hz refresh rate and even a 3.5mm headphone jack.
What's in the box of the Samsung Galaxy A52 5G & A52 4G?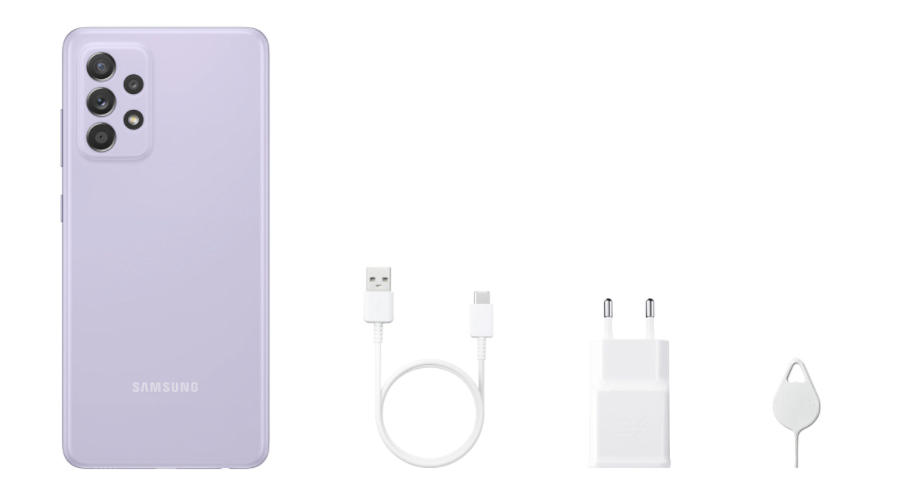 Please note – The above image is for illustration purposes and the charger which is in the box, will be dependent on your region.
What's included:
Samsung Galaxy A52 5G / A52 4G
USB-A to USB-C cable
15W mains charging adapter
Guides
Sim ejection pin
Some will be happy to hear, Samsung have decided to include a mains charging adapter within the box, something which they decided to remove from their S21 Series handsets. Within the box is a 15W charging adapter, however to make use of the A52 5G/A52 4G's fast charging function, a 25W fast charger is required.
In addition to the standard documents and sim ejection pin, Samsung have included a USB-A to USB-C cable too.
Samsung Galaxy A52 5G & A52 4G Accessories
Apart from the mains charging adapter and USB-A to USB-C cable, you may want to pair your Samsung A52 5G or A52 with a number of other accessories to enhance your user experience of your new smartphone, including a case, screen protector, wireless charger and much more.
Wrapping Up
Thanks for reading this article of what's in the box of the Samsung Galaxy A52 5G/A52 4G. We hope that you found this useful and if you have any questions, please leave a comment below and we'll get back to you.