If you've bought the new iPhone SE 2020 or are planning on doing so, you'll certainly want a high quality screen protector to keep the display protected and so we've chosen the best to safeguard your iPhone SE.
1. Olixar iPhone SE 2020 Case Compatible Tempered Glass Screen Protector
First up we have the Olixar Case Compatible Tempered Glass Screen Protector. As the product title suggests, the screen protector has been thoughtfully designed to work with a variety of cases from thin silicone cases to tough protective cases. As it's made from reinforced glass, you can expect the screen protector to safe guard your iPhone's display against scratches and accidental drops.
2.  Olixar iPhone SE 2020 Film Screen Protector 2-in-1 Pack
Another from the Olixar screen protector range. This twin pack of film screen protector is perfect for those iPhone SE 2020 users which aren't a fan glass screen protector and prefer a much thinner protector. Made from TPU to be extremely thin, once applied this screen protector will be barely noticeable and will continue to provide crystal clear clarity from the iPhone SE's 4.7″ touchscreen.
3. OtterBox Alpha iPhone SE 2020 Glass Screen Protector
Another tempered glass screen protector to be featured however with a difference. This protector includes OtterBox's Alpha Reactive Touch Technology to ensure the that iPhone SE 2020 retains it's touch sensitivity. Furthermore the screen protector will provide protection against scratches, knocks, drops and on the off chance you do drop your phone and the screen shatters, you'll be glad to hear that the glass will stay intact and not into tiny sharp pieces which can be damaging to your hand.

4. Whitestone Dome Glass iPhone SE 2020 Full Cover Screen Protector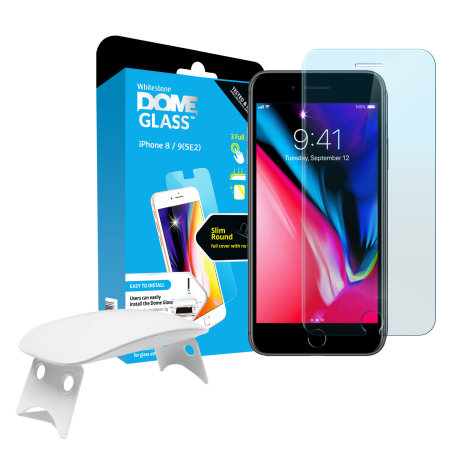 Unlike most screen protectors on the market, Whitestone combine a proprietary UV adhesive with a UV lamp to ensure the screen protector has a perfect fit. In addition to this, Whitestone Dome Glass will cover the iPhone SE 2020's entire display for a full edge to edge fitting. Even though this screen protector makes use of a UV adhesive and requires a much more tricky installation process, it will still maintain perfect touch sensitivity and will bring about the added benefit of reducing harmful blue light by 25%.

5. Olixar iPhone SE 2020 Edge to Edge Tempered Glass Screen Protector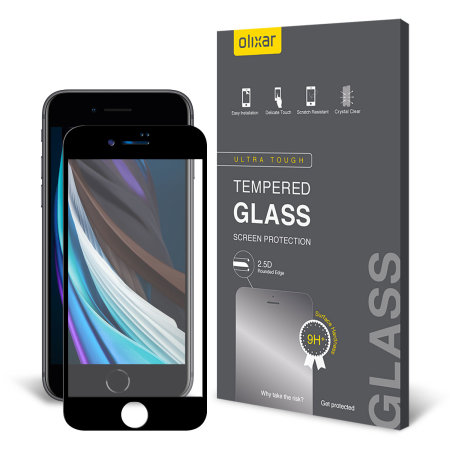 The final screen protector to be featured is this Edge to Edge Tempered Glass Screen Protector from Olixar. Designed to provide full coverage of your iPhone SE 2020's display, once applied this screen protector will not be noticeable and provide a seamless fit. As with other tempered glass screen protectors, this will safe guard against scratching, drops and shock. In terms of case compatibility, it's worth noting tough and protective cases may cause the screen protector to crack or lift on the corners. Due to this, we suggest only using thin and flexible cases such as the Olixar Ultra-Thin iPhone SE 2020 Gel Case to ensure the screen protector does not face any unnecessary damage.

Wrapping up
We hope you found this article useful and found the ideal iPhone SE 2020 screen protector that meets all of your requirements. If you'd like to see further articles about the iPhone SE or useful how to guides, then please click here.
---
Amit Patel