USB-C is better than traditional USB in all ways except one: it has caused laptop makers to remove all other ports on their latest models! Before, you could expect to find several USB ports, video ports, and maybe an SD card reader and an ethernet port if you were lucky. Now, some MacBooks and Windows laptops come with USB-C ports only!
Thankfully, it's easy enough to pick up a USB-C multi-port adapter that adds these missing ports back.
There are a wide variety of such hubs available, so we're going to go through and recommend hubs that fit into four simple categories, based on the particular ports you need. We'll begin with the simplest options, before going through to the more comprehensive options. Let's get started.
---
1. Pure Expansion: USB-C to USB 3.0 hub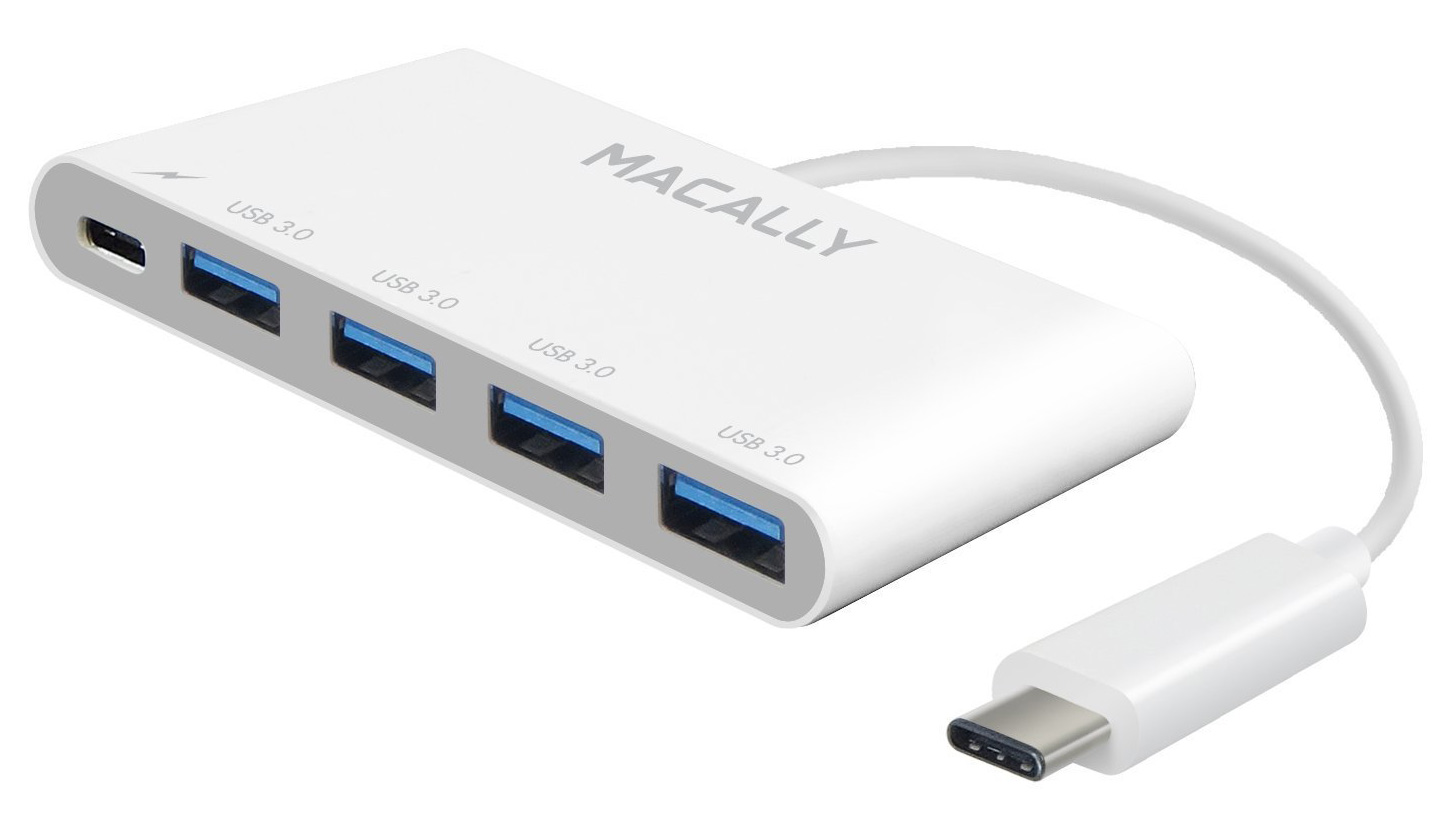 RECOMMENDATION: Macally USB-C Hub with 4-port USB
4x USB 3.0 + USB-C Passthrough
White colour w/ cable connection
We begin with this inexpensive USB-C hub from Macally, which transforms a single USB-C port into four full-size USB 2.0 / 3.0 ports. You also get a USB-C passthrough port, allowing you to still connect a USB-C peripheral or a charging cable to the port you're using for the adapter. The small size of this hub makes it a portable choice, too.
---
2. Network Pro: USB-C to USB 3.0 + Ethernet hub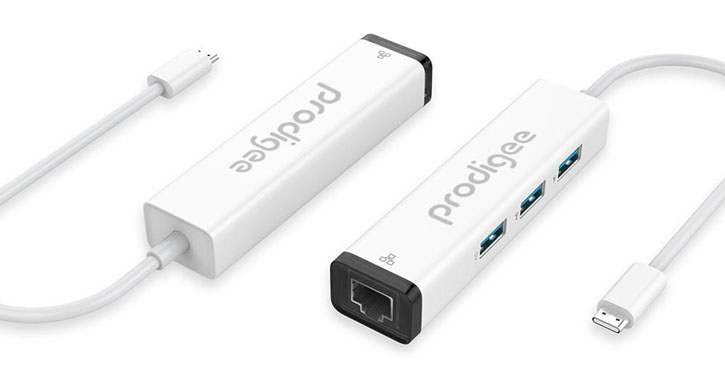 RECOMMENDATION: Prodigee USB-C Hub with 3x USB + Ethernet
3x USB 3.0 + gigabit ethernet
White colour w/ cable connection
This pocketable adapter adds three full-size USB 3.0 ports to your device, plus an ethernet port for a fast and stable wired internet connection. That's perfect for connecting to the internet at work, in your hotel or at home for maximum speeds and minimal latency. As well as laptops, you can use this adapter with smartphones and tablets running Android or Windows.
---
3. The Classic Laptop: USB-C to USB 3.0 + SD Card hub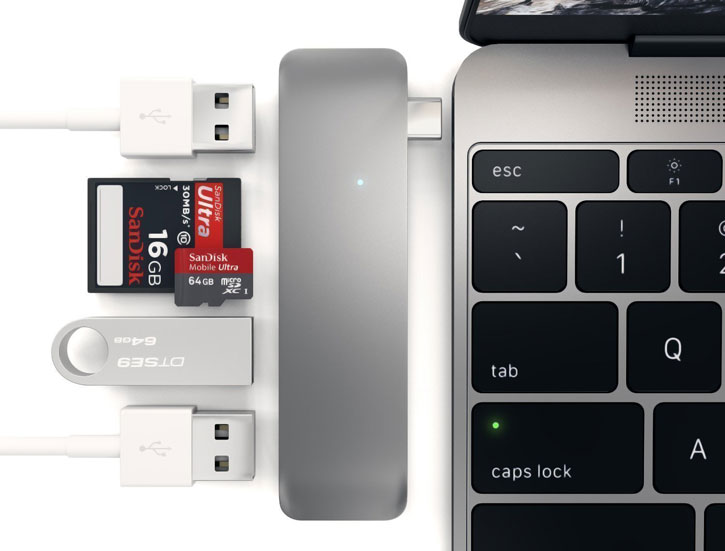 RECOMMENDATION: Satechi USB-C hub with 3x USB + card readers
3x USB 3.0 + SD card reader + Micro SD card reader
Space Grey colour w/ direct connection
These hubs give back the ports you would most often find on the MacBook and other laptops: three USB ports, an SD card reader and a bonus, a Micro SD card reader. Our favourite is this popular option from Satechi, which comes in a fetching Space Grey colourway and fits flush to the new MacBooks. It'll also work with other USB-C devices, including Windows laptops and smartphones. There's an LED indicator to let you know it's connected properly, and thermal management ensures rapid transfer speeds even in warm conditions. For the price, you won't find better than this!
---
4.The Kitchen Sink: USB-C to USB 3.0 + HDMI + SD Card + Ethernet hub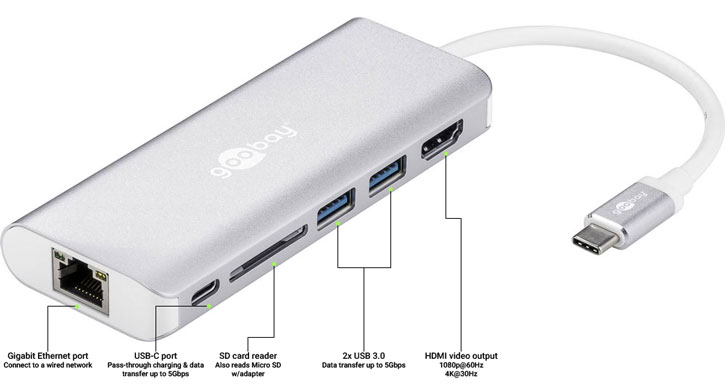 RECOMMENDATION: Goobay Premium USB-C hub with 4K HDMI, etc.
4K HDMI, 2x USB 3.0, Ethernet, SD card reader, USB-C
Silver colour w/ cable connection
When you want everything in one adapter, this is the one to choose. Most notably, this USB-C hub supports 4K video over HDMI, allowing you to connect external monitors easily. You also get an SD card reader for transferring photos and videos, a gigbit ethernet port to connect to wired networks and two USB 3.0 ports for connecting peripherals. All of that in one device at a very reasonable price — not bad, right?
---
Wrapping up
I hope you've found this roundup helpful. If you have any questions or comments, I'd appreciate you getting in touch via the comments below.
Didn't find quite what you were looking for? Check out our full range of USB-C hubs here!
Thanks for checking out the article and stay tuned for more accessory recommendations in the future!