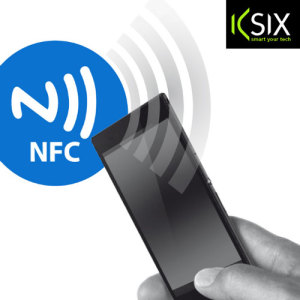 NFC is becoming a common inclusion even on low-end and mid-range Android and Windows phones these days, offering an easy way to make contactless payments in restaurants, stores and more.
However, NFC can do much more than that — you can also use it to share messages, URLs and other information whenever someone taps their phone to a label — like these ones from KSIX.
Here are ten ways you could put an NFC label to work — take a look!
Share your business card, including your website and all of your contact details, with just a tap (and no trip to your local print shop!)
Send customers to your website, Facebook page or Twitter feed without needing to type in your long URL
Get your phone ready for a drive, by enabling GPS, disabling WiFi and starting your navigation or music app of choice by using Trigger and putting an NFC label in your car holder

Allow your friends, family or customers to connect to your WiFi without needing to type in a weird hexadecimal password (or indeed, anything at all)
Rickroll passersby by putting your NFC label in a public place
Share a secret code to advance a scavenger hunt or pass messages discretely
Pair automatically with your favourite Bluetooth speaker
Start your running playlist and turn off notifications before stepping out the door
Turn on your PC remotely (this one is complicated to set up, but awesome)
Integrate with If This, Then That to do almost anything when you tap; the only limit is your imagination!
I hope you found these suggestions helpful. If you've found any great uses yourself, let us know in the comments below!