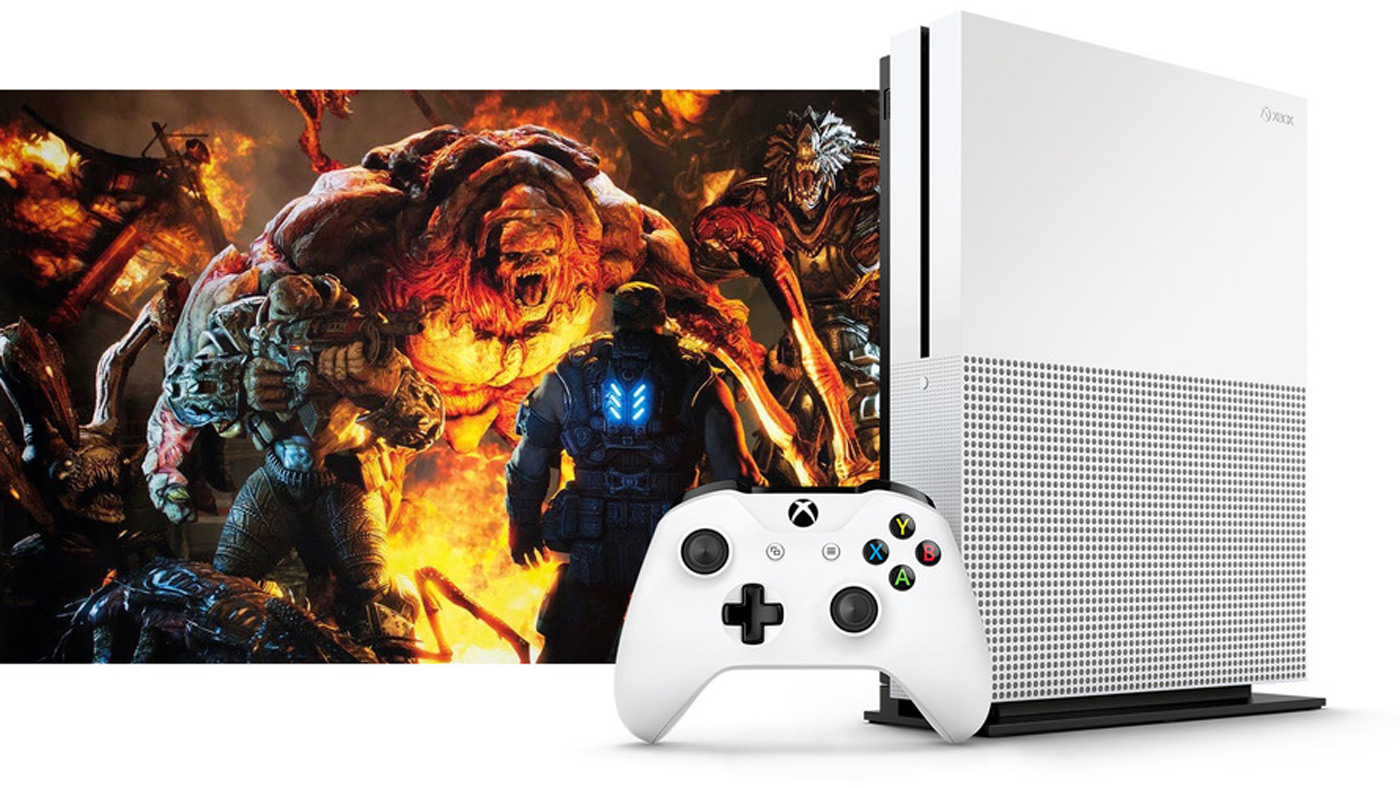 A new Xbox One is coming soon. The Xbox One S, also known as the Xbox One Slim, was revealed this weekend ahead of Microsoft's E3 press event tonight.
The leaked photo shows a radically thinner console than the original Xbox One; according to rumours the new console is 40% smaller than its predecessor. It has a new design too, which looks much more advanced than the vanilla version but retains different textures on each half of the unit. The controller has also been 'streamlined', and the console comes with a vertical stand for better showing it off. Finally, the console's power supply is now integrated inside the unit, dispensing with the massive power brick that the launch Xbox One toted.
The Xbox One S will also come with some new features, most notably the ability to play 4K and HDR (high dynamic range) video, likely pointing to the inclusion of a specialised 4K-capable decoder chip. This has been available from launch on the PlayStation 4, so it makes sense for Microsoft to catch up with their biggest competitor, especially as 4K TVs and monitors become more widely available.
4K gaming won't be possible on the Xbox One S, but this capability is expected to arrive on the next Xbox console (Project Scorpio) and the next PlayStation 4 (Neo), as both consoles are rumoured to include much more powerful hardware capable of outputting games at the demanding 4K resolution.
Finally, a new 2TB hard drive should come standard in the refreshed Xbox One, compared to the 1TB drive in the original launch version of the Xbox One. It's not known whether this will be a hybrid drive or a standard mechanical drive, but smart money is on the latter.
Following the release of the leaks — which do look terrifically likely to be accurate — a Microsoft spokesperson likely became the first to release a statement comprised solely of an shrug emoji:

Thanks, Microsoft.
Apart from revealing the Xbox One S, Microsoft are expected to announce a whole bunch of new games, hardware and software capabilities, so it should be a good one to watch. Tune into Microsoft's E3 press conference from 5:30PM BST at the official Xbox site.
For more on what to expect at the press conference, read our Microsoft at E3 preview right here!
Thanks for checking out the article, and let us know what you think of the new Xbox One S in the comments below!