The LG G5 will be unveiled in just over a week at Barcelona, and we're happy to announce the first official case for the phone: the LG Quick Cover case. This case's flip cover has a window for seeing the time, calls and other notifications, while still ensuring full protection of the screen. We're also happy to announce the UK price for this G5 accessory: £34.99.
Shop for the official LG Quick Cover Case >
As well as being able to see calls, texts and other notifications, you can also respond without needing to flip back the cover. A touch-sensitive area of the case allows you to accept or reject calls, just as you would on the screen below. The semitransparent mesh looks cool too, suddenly glowing into life when a call is received.
The Quick Cover Case offers a similar design to LG's own past cases, along with similar cases from Samsung and other manufacturers. Last year with the G4 we saw a unique circular aperture in the front cover, but this year it's back to the more common rectangle. That should be a better fit for displaying textual information, although you do lose out on the cool look of an analogue clock.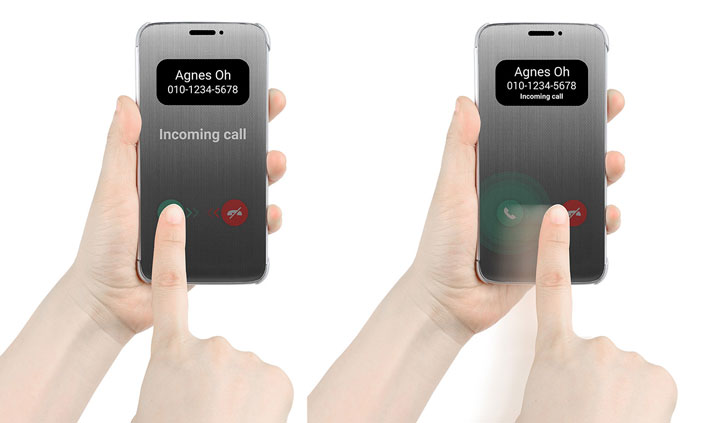 The case boasts a durable construction, with high quality synthetic materials used to ensure a long-lasting, hard-wearing case. The Quick Cover also fits the phone exactly, both in size and style, so you're assured of a great look and feel.
The LG G5 Quick Cover is available for pre-order now, and we'll continue to add more G5 cases and accessories in the run-up (and aftermath) of the announcement at MWC. For more details or to place an order, please visit the product page below!
Shop for the official LG Quick Cover Case >