For me, summer is the season of cycling. With the beautiful British weather™ upon us, it's high time to leave your stuffy houses and get on the bike paths. We've partnered with Tigra to offer a cool way of holding and charging your phone while you're biking. Take a look!
The BikeConsole system mounts onto your handlebars, holding your phone in an easy-to-read position for use with fitness, music or GPS navigation apps. The console is weatherproof, protecting your phone against rain and dust, and can be adjusted to sit just where you want it. The screen remains fully usable inside the case, and there are even cutouts for the camera, the headphone jack and your charging port.
Power is the second half of the equation. This is provided by a battery pack, which holds enough charge to more than double your battery life (depending on model), or a dynamo which produces power as long as you keep pedalling.
All in all, it's a very clever system. Let's take a look at how it works for different phones.
iPhone 5S Tigra Kit
If you've got an iPhone 5 or 5S, then you can buy the entire kit as a single product: the Power Plus Bike Mount. This includes the mount and a battery pack, everything you need to get started.
Choosing a BikeConsole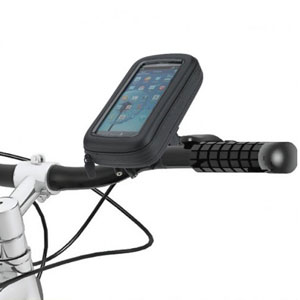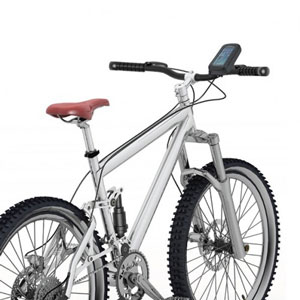 If you've got a different phone, then you'll need to pick up a BikeConsole to fit your phone, then your choice of batteries. If your phone's screen is 4.8″ or smaller, then choose the 4.8″ Bike Mount. If it's between 4.9″ and 5.5″, then the 5.5″ Bike Mount is the one that you want. Of course, phones can be bigger or smaller for a given screen size, so please check the compatibility tab on the product pages linked to make sure your phone fits.
There are two types of battery – the 2300mAh Battery Pack sits behind the BikeConsole, and is a safe default choice. The other option is a 2600mAh PowerPack, which mounts to your bike's frame and provides a little more power. You could even get both, if you wanted extra power.
Getting unlimited energy
Of course, there's a nice alternative to relying on battery power – producing your own energy through pedalling. The BikeCharge Dynamo attaches to one of your spoked wheels, and begins to draw power when you hit around 5 km/h. The faster you go, the more power you'll generate, up to 20 km/h. That's just under the average cycling speed, so you'll be able to generate quite a bit of energy even at a moderate pace. The power is used to charge your phone and can also power an LED bike light. It's a clever system, and means that for as long as you can pedal on, you'll have power.
All product links
Conclusion
All of these bicycle accessories just make me want to go cycle somewhere, so I think I'll do just that. Thanks for reading the article, and be sure to let us know if you have any questions or comments.