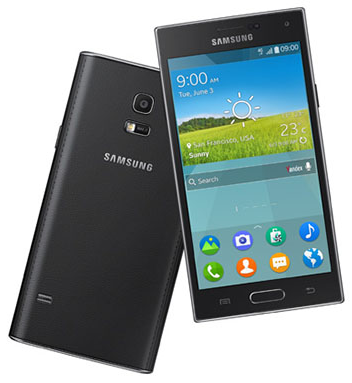 While Samsung is well known as one of the biggest Android device makers, it's spent the past couple of years making its own open source mobile OS called Tizen. Tizen made an appearance on Samsung's second generation smartwatches this year, and now Tizen is coming to a shipping smartphone for the first time. That smartphone is the Samsung Z, and it'll be available sim-free and unlocked from Mobile Fun.
At first glance, the Samsung Z is just another Galaxy series smartphone. There's the familiar Samsung logo at the top, the same hardware button at the bottom flanked with two capacitive buttons for back and menu. Looking at the specs there isn't much of a difference either – there's a 4.8-inch 720p screen, 2.3GHz quad-core processor, 1 GB of RAM, 16 GB of internal space and a microSD card slot. There's even a sensor suite to rival that of the Galaxy S5, including fingerprint sensor and heartrate monitor, along with the now standard 4G LTE connectivity.
But start to use this phone, and you'll see some differences thanks to the Tizen mobile operating system on board. The overall look is similar to Samsung's TouchWiz UI on Android, but as you dig deeper differences begin to appear. The dock is the most obvious change, holding up to 8 icons and swiping up to reveal the app drawer. The interface also changes its appearance based on the wallpaper you choose, a nice touch. The phone also boots much faster than your typical Android or iPhone.
The apps are somewhat different too. All of Samsung's are represented here – S Health, S Voice, S Translate, etc – but there are also thousands of apps in the Tizen store. Many of Tizen's apps are essentially web apps that use HTML5 and WebKit, making for a relatively fast and fluid experience. Most importantly, it makes developing for Tizen easy – an important hurdle given the much smaller size of the Tizen market. There are also some 'native' apps, which offer slightly better performance at the expense of slightly harder development. As a user, you should find all the basics covered although many of the big names aren't represented here.
So that's the Samsung Z – the first Tizen smartphone, and a must-have for anyone developing for the OS or just curious about how it's turning out. For more information on the Samsung Z, including live pricing and availability information, please visit the product page linked below:
Thanks for checking out the article and have a great weekend ahead!