The Xperia Z1 Compact is to be released later this month, but we've already begun to receive the first selection of accessories for the new phone. In this article, we'll share the top 5 cases that'll be available by the time the phone is released at the end of this week.
5. Muvit Bimat Back Case
The Muvit Bimat Back Case is a dual material case, offering a moderate amount of impact protection at a low cost. The case is available in four colours to match the Xperia Z1 Compact's four colour options. That means you can choose a perfectly matching case, or a different colour for a two-tone effect.
4. Flexishield Case
The vunerable Flexishield is perhaps the best-selling case on Mobile Fun, thanks to its winning combination of minimal bulk and a low price. While the protection you get here is mostly focused towards resisting scratches than serious impacts, you'll be able to keep your phone looking good for longer. Available in a clear option so your chosen colour can shine through, as well as a bunch of new colours like pink, purple, blue and black.
3. Muvit Easy Folio Leather Style Case
Our second Muvit case of the day is this horizontal flip case, again available in the four colours of the Xperia Z1 Compact: pink, lime, white and black. This case offers a leather look and feel, as well as a flip cover that will protect the screen from scratches and knocks. A simple yet classy case.
2. Case-Mate Tough Case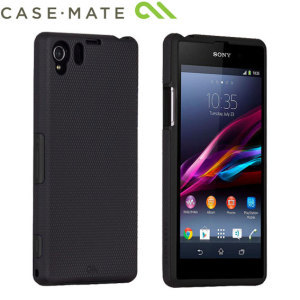 If you're looking for top-notch protection, then the Case-Mate Tough Case is your best shout. The Tough Case combines a silicone inner layer with a durable ABS plastic shell on the top, making for comprehensive protection against knocks and scratches. The case also has a grippy textured finish, ensuring that you don't drop your phone in the first place.
1. Roxfit Gel Shell Case
This Sony Xperia Z1 Compact case is one of the best we've stocked so far, providing both good protection and a slim build. The back is also clear, allowing you to show off your colour of choice with aplomb. The case uses rubberised corners to dissipate impact damage, making it a good choice for anyone that's worried about dropping their phone. All in all, a solid case choice that comes in at a very reasonable price.
Conclusion
That's all for now folks! We'll be sure to bring you word of more Xperia Z1 Compact accessories as they hit our shelves. Until next time, thanks for reading and farewell!