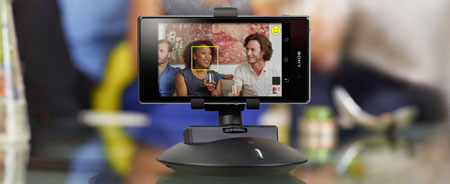 It seems like a good day for weird accessories today! After covering the incredibly cool FLIR One Thermal Imaging Case, we're now taking a look at something slightly more practical: the Sony Smart Imaging Stand. This is a rather cool accessory that turns your Sony smartphone into an autonomous camera, designed to capture your friends at the perfect moment.
The Smart Imaging Stand is really easy to use. You place your smartphone into the clip, like you would with a dock or car holder. If you have NFC, then your phone will automatically pair with the Stand. If not, then you'll have to make the connection yourself over Bluetooth. Once that's done, start the Smart Imaging app on your phone and you're ready to go.
There are a couple of different modes available in the Smart Imaging app. Sense Imaging is a fun mode where the phone will detect faces, rotate and tilt to place the face in the shot. When the subject smiles, a photograph will automatically be taken. Another option is video tracking, where you can move around the room while the Stand keeps you in focus and in shot. Of course, you can also use the Stand as a tripod, ideal for shooting images with long exposure times or time lapse photography.
The Smart Imaging Stand is compatible with all Android 4.0+ smartphones, with additional optimisations for Sony Xperia smartphones like the Xperia Z, Z1 and Z1 Compact. For more information, visit the product page linked below.
Thanks for checking out the article and be sure to let us know what you think in the comments below!