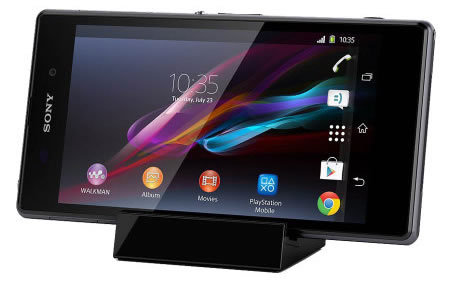 We first highlighted the Sony Magnetic Charging Dock DK31 in our look at the best accessories for the Sony Xperia Z1, and now we're happy to announce that this awesome charging dock is now in stock – and we're the first to have it!
The DK31 is made by Sony themselves, ensuring perfect compatibility with the Xperia Z1. The dock also matches the look and feel of the Xperia Z1 exactly, with beautiful glossy black plastic construction.
With the Xperia Z1 in the dock in landscape mode, you'll be able to watch movies, play games and keep an eye on incoming notifications. That's ideal for your desk, and you may even want to take the dock with you for use on tray tables on trains or aeroplanes.

The DK31 is a clever dock that uses a magnetic connector, making it easy to place the phone in the dock and take it out again. Because you're using the magnetic connector, you'll also find that you don't have to undo the flap that covers the micro USB port, saving you that extra bit of time and hassle. This also leaves the micro USB port free, ensuring that you can use it for data transfer or to connect USB peripherals at the same time.
The DK31's final feature is that it can be used with or without a case. Interchangeable adapters make it easy to switch over to cased operation, giving you maximum flexibility and minimum grief.
This is the best charger available for the Sony Xperia Z1, and a must-have for any desk. For more information or to place your order now, check out the Sony Magnetic Charging Dock DK31 product page.
Thanks for having a look at the charging dock and be sure to let us know what Xperia Z1 accessories you could really do with! You can always reach us via the comments below.