It's getting easier and easier to charge your Qi-enabled smartphone, but most manufacturers aren't including the technology in their phones. To combat this, we've started a range of Qi internal wireless charging adapters. These slim accessories let you use wireless chargers, without requiring you to change your back cover or use a case. Today, we're unveiling our Qi Internal Wireless Charging Adapter for the Samsung Galaxy Note 3.
This is the easiest way to add wireless charging to your Galaxy Note 3. 
All you need to do is remove the back cover of your Note 3, then attach the adapter to the metallic prongs you'll find next to the battery. The coils of the Qi adapter will sit between the battery and the rear cover, meaning your Note 3 will stay as thin as ever.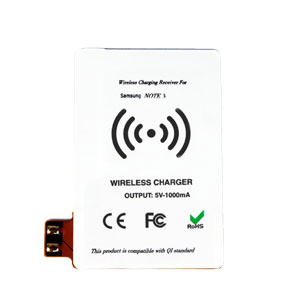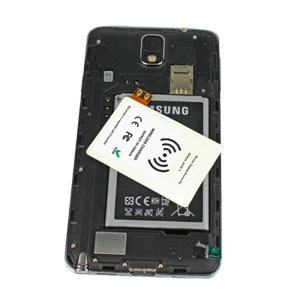 Once the Qi adapter is installed, you can use your Note 3 with any number of Qi-compatible wireless chargers. I'd recommend the stylish 
Qi Wireless Charging Orb
 (which comes in a number of colours!), or the 
Qi Universal Charging Plate
 if you're on a stricter budget.
There is one downside to this internal Qi adapter, though. The positioning of the adapter interferes with the NFC adapter that's on the battery, meaning that NFC may not work consistently or at all. Still, considering I've used NFC precisely once with my Galaxy S4 in five months (to pair it with my smartwatch), that's not much of a loss.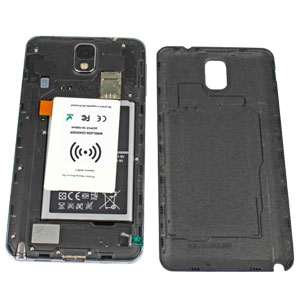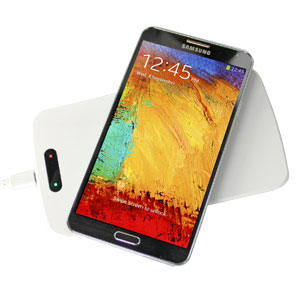 So there you have it – the cheapest, easiest way to add wireless charging to your Note 3, without needing to add a bulky replacement cover or case to your phone. For more information or to order, please visit the product page linked below. You can also check out our full range of
Note 3 chargers
.
Thanks for checking out the article and be sure to let us know what you think of it in the comments below!