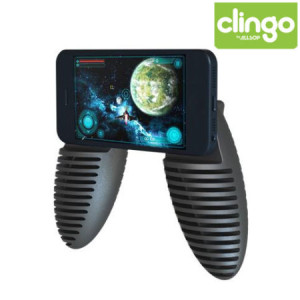 The Clingo Game Pad is a very unusual product, but I like it. From the name, you'd expect a Bluetooth game controller or something similar, but in actuality the GamePad is a little simpler – but no less useful – than that. The GamePad is instead just a physical adaptation, adding some much needed controller-style handles to your smartphone. This makes it a lot more comfortable to hold your phone during long gameplay sessions.
The GamePad works due to the use of Clingo's trademark sticky substance to temporarily adhere your smartphone to the top of the Game Pad. You just stick it on, then pull it off to remove it – simple. The generous spacing at the top of the pad ensures that it can be used with any smartphone, from the iPhone, to Androids, Windows Phones and even BlackBerrys.
The Clingo material is extremely strong and yet doesn't leave any residue behind. It stays sticky for a long time, and you can use plain old water to remove any bits of fluff that get stuck to it over time. It's pretty remarkable stuff, so you can see why Clingo have spun it into a full range of products, including a lot of Mobile Fun favourites like the  Clingo Universal Tablet Stand and the Clingo Vent Mount.
Anyway, back to  the Game Pad. It's a nice way of getting that traditional controller stance on your mobile. A lot of mobiles are a bit awkward to hold for gaming, so it's nice to have the option to add the grip where you need it. And since it isn't an actual controller – you'll still be using the on-screen touch controls – it doesn't ever need to be plugged in, recharged or have the batteries changed.
All in all, if you're looking for a cheap way to add a bit of comfort and flexibility to your portable gaming sessions, then the Clingo Game Pad is just what you need. Have a look at the product page below for more information and photos!