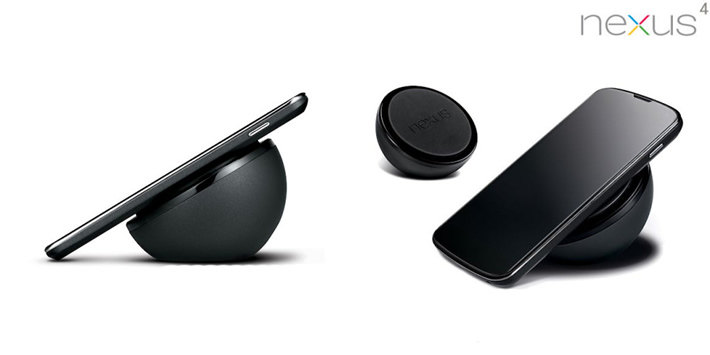 Better late than never right? The Google Nexus Charging Orb is finally available in the UK. The Charging Orb is probably the nicest wireless charger that's been released so far, but it's taken some time between the initial announcement with the debut of the Nexus 4, and its actual availability in the UK this month.
This elegant wireless charger supports the Qi standard, making it ideal for the Nexus 4 and new Nexus 7. It can also be used with a wide range of devices that either come with Qi wireless charging built in (like Lumia 820 and 920 Windows Phones) or have wireless charging accessories available (like the Samsung Galaxy S3 and S4).
The wireless charger provides 1A of power just by touching your Qi-compatible smartphone to  the sloped stand, ensuring rapid charging. There are no wires between the phone and the charger, so you're able to easily pick up the phone whenever you need to take a phone call, use an app or leave the room. Without the hassle of plugging and unplugging, you'll be free to use your phone or tablet whenever you need it, without the risk of forgetting to plug it back in when you're done. Of course, the Charging Orb also has some great safety features – it'll automatically stop charging when your phone is fully charged.
The Nexus Charging Orb is a great first-party accessory for the Nexus 4 and now for the new Nexus 7, so if you're still on the hunt for a quality wireless charger then it should be at the top of your list. We wish it was here earlier, but just think of it as just in time for the Nexus 7 2!
Are you still interested in the Nexus Charging Orb – maybe as the perfect charger for the new Nexus 7 2? Let us know what you think in the comments below! Thanks for reading the article and have a great afternoon!