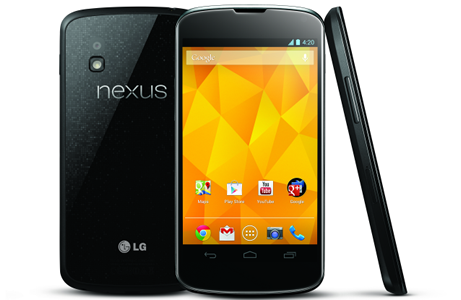 The Google Nexus 4 was meant to be announced last week at a star-studded Google event, but ran into a few issues as the event was meant to be held on a pier in New York City the day that Hurricane Sandy hit. Google cancelled the event, but announced the devices anyway – and so now we have a new Nexus phone officially confirmed, the Nexus 4.
Built by LG in cooperation with Google, the new phone has a look similar to the Samsung Galaxy Nexus, the previous Nexus phone, but with a Gorilla Glass back and the hardware of the newly released and powerful LG Optimus G. Despite having the same hardware and coming with the latest version of Android, 4.2, the Google Nexus 4 is much cheaper than the Optimus G, Samsung Galaxy S III or HTC One X – just £239 sim-free from Google for the 8 GB version, and £279 for the 16 GB model.
Let's have a look at that hardware, before we cover the new software features in Android 4.2. The Nexus 4 is powered by a quad-core Snapdragon S4 Pro processor running at 1.5 GHz. This is backed with 2 GB of RAM, the aforementioned 8 or 16 GB of storage, and a 2,100 mAh battery. The display is a 4.7″ IPS display running at 1280 x 768, with a true RGB pixel arrangement that is judged to be superior to the Galaxy Nexus' RGBG Pentile arrangement.
The camera has been upgraded from the Galaxy Nexus, sporting an 8 megapixel sensor on the back and 1.3 megapixels on the front. The Nexus 4 also has impressive connectivity options, including Slimport HDMI, Bluetooth 4, NFC and Wi-Fi N. Finally, the Nexus 4 sports built-in wireless charging, with a Wireless Charging Orb accessory or any other charger that supports the Qi standard.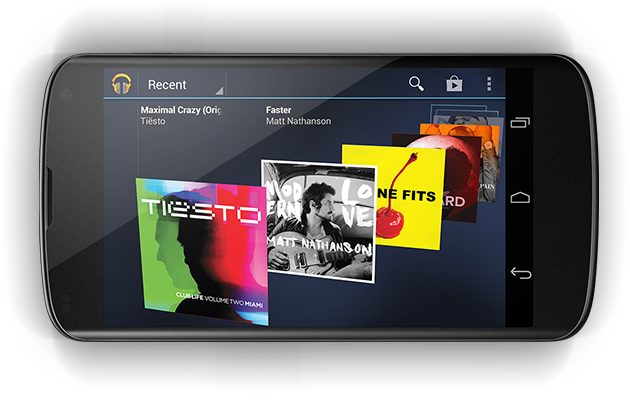 On the software side of things, we have Android 4.2 Jelly Bean. The latest version isn't enough to get a different name from 4.1, but still includes quite a few different upgrades. Google Now has been updated to pull information from your email to give you more relevant and timely notifications. The camera app now has a Photo Sphere mode, which allows you to take 360 panoramas similar to what you'd find in Google Street View. The notifications menu now can be pulled down with two fingers to access a quick settings menu. Finally, the new OS adds Swype-like 'gesture typing' support, where you glide your fingers between letters instead of tapping each individually.
All in all, an impressive Android phone that's more powerful than phones that cost twice as much. There are a few potential downsides though – one is that the onboard storage isn't augmented via a micro SD card – instead, you have to rely on online cloud storage and streaming options. The second is that the phone doesn't support LTE. While LTE is currently only available on expensive contracts in the UK, this might impact those that want their phones to remain reasonably future-proof.
Still, I can see the Nexus 4 being a great choice for quite a lot of people. I'll be picking one up, that's for sure!
Here at Mobile Fun, we're preparing for the launch of the phone in our normal way – by making sure we've got loads of Google Nexus 4 accessories ready to go! We've heard some reports of the Gorilla Glass backing being scratched and shattered, so we expect Google Nexus 4 cases will be quite essential. We'll also have a range of other protective and functional items, including Google Nexus 4 chargers, screen protectors and covers.
For more information on the Google Nexus 4, check out Google's official pre-order page or ask a question below. Thanks for reading and be sure to let me know what you think of the phone!