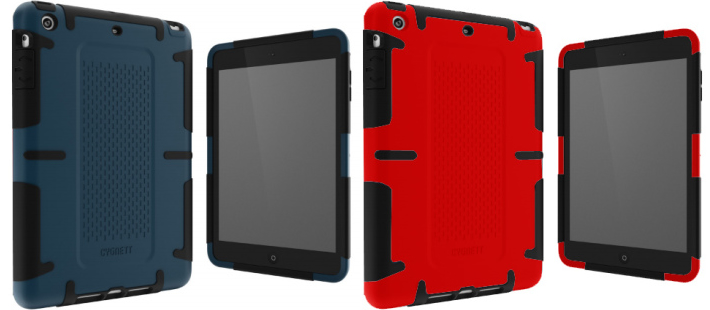 The Cygnett WorkMate Pro is a new, super-protective case for the iPad Mini.
It falls on the more armoured scale on iPad Mini cases, sporting a fair amount of protection for your iPad Mini. It is built with layers of silicone combined with a high quality polycarbonate shell to prevent damage occuring when the iPad Mini is accidentally knocked or dropped. The unique layered construction allows the case to withstand more abuse than similarly sized cases with a more pedestrian build. The screen is also protected by the case's lip around it, somewhat eliminating the need for an iPad Mini screen protector.
Cygnett proved this with their iPad Mini Drop Test video, which is embedded below:
While the WorkMate Pro works hard to protect your Mini, it doesn't add too much bulk. The case has been designed in order to accentuate the curves of the Mini, rather than wrapping it in padding. This interesting looking design adds protection without ruining the Mini's appearance or making it too heavy. Indeed, the iPad Mini has been criticised by some for its cold and sharp form; this case makes it much more comfortable to hold in your hands. The added texture also makes dropping it harder to do in the first place.
With the case installed, you can still easily reach all of the iPad Mini's ports, buttons and cameras. The volume and home keys are also supplemented by a raised area, ensuring that they remain easy to press while the iPad Mini is within the WorkMate Pro. Even the iPad Mini speaker remains easily audible.
The WorkMate Pro Case is available in two colours, Slate Grey and Red. The red version is still in stock, while the Slate Grey version will be available for purchase again in four to eight days from the publication of this article. As always, please check the product pages linked below for the latest pricing and availability information.
Thanks for reading this article. Be sure to let me know what you think of the case, and feel free to share any questions you might have. You can reach me in the comments below, or on Twitter @mobilefun. Have a good afternoon!