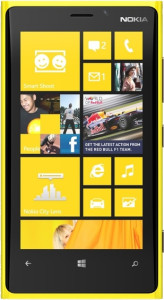 Last week Nokia revealed their first flagship Windows Phone 8 handset, the Lumia 920. The new phone takes full advantage of the wider range of hardware support in Windows Phone 8, with upgrades across the board to make an extremely compelling handset.
The Nokia Lumia 920 is powered by a Snapdragon S4 dual-core processor running at 1.5 GHz, the same as the US versions of the Galaxy S III and HTC One X, the most powerful Android phones. The display is also marvellous and should have the highest pixel density of any phone when it is released, thanks to its 4.5″ PureMotion HD+ display running at a 1280 x 768 resolution.
The Lumia 920 is also the first Windows Phone to ship with PureView technology, including optical image stabilisation and impressive low-light performance. The Nokia Lumia 920 also supports high speed LTE data networks, and will launch with LTE on the EE network in the UK. All of this is powered by a roomy 2,000 mAh battery with wireless charging capabilities out of the box.
Of course, with any new phone comes new accessories from Mobile Fun. As well as the standard Nokia Lumia 920 cases and covers, we'll have a full range of Nokia Lumia 920 screen protectors, car kits and chargers.
Of course, as we bring new accessories online we'll be sure to let you know! If you've got any questions or comments be sure to let me know in the comments below or talk to me on Twitter @mobilefun.