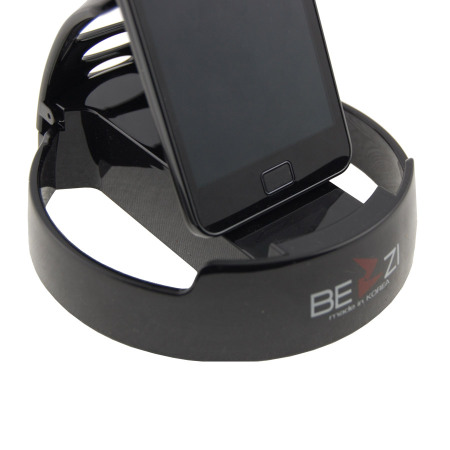 If you've got a Samsung Galaxy smartphone or tablet, then Zenis have just the desktop dock for you. It's called the Desktop Dock and Stand for Samsung Galaxy Handsets, and as the name implies it will keep your Samsung smartphone charged up and all listed Samsung devices standing tall.
Pretty much any Galaxy handset with a 5 pin micro USB dock at the bottom of the device will work; see the full list below. As well as using micro USB to charge and sync your device, there's also a 3.5mm audio jack passthrough that ensures easy connectivity to your speaker system.
The case is stylish and looks great with its circular base and graceful support curves, but it's also quite portable. It folds up easily, allowing you to toss it in your bag without it taking up a lot of space. The design is also wide enough to accommodate phones and tablets that are in cases, so you don't have to remove your case whenever you want to dock your device.
The Zenis Galaxy Desktop Dock is compatible with the following phones and tablets:
Galaxy Nexus
Galaxy Note
Galaxy Note 2
Galaxy S I
Galaxy S II
Galaxy S III
Galaxy Tab 7.0
Galaxy Tab 7 Plus
Galaxy Tab 2 7.0
Galaxy Tab 7.7
Galaxy Tab 8.9
Galaxy Tab 10.1
Galaxy Tab 2 10.1
Galaxy Note 10.1
For more information on this cool dock for Samsung fans, check out that box on the upper right! If you have any questions about this SGS3 charger or any of our other products, let us know on Twitter @mobilefun or in the comments below!