Today we'll be having a look at the differences between two of the biggest phones of the past two years: The Samsung Galaxy S III and its predecessor, the Samsung Galaxy S II. Both have proved extremely popular so far, but will the Galaxy S III go on to sell as massively as the S II did last year? I think so, because these two phones really are galaxies apart. Let's have a look!
Hardware
The most obvious difference between the Galaxy S2 and the Galaxy S3 is that of hardware.
Where the Galaxy S2 was quite big for its time at 4.3″ diagonal, the Galaxy S3 takes this even further at 4.8″ diagonal. That extra half an inch of screen real estate unlocks the door to a 720p HD display, a massive increase in screen quality from the Galaxy S2. The Galaxy S3 also brings a lot more firepower to bear, courtesy of a home-grown quad-core CPU.
| | | |
| --- | --- | --- |
| | | |
|  Display Size |  4.3″ |  4.8″ |
|  Resolution |  800 x 480 |  1280 x 720 |
|  Pixels Per Inch |  217 |  306 |
| | | |
|  Processor |  Exynos 4210 |  Exynos 4412 |
|  Cores |  2 |  4 |
|  Clock Speed |  1.2 GHz |  1.4 GHz |
| | | |
|  RAM |  1 GB |  1 GB |
|  Internal Storage |  16 / 32 GB |  16 / 32 / 64 GB |
|  Micro SD |  up to 32 GB |  up to 64 GB |
| | | |
|  Battery |  1650 mAh |  2100 mAh |
| | | |
|  Dimensions |  125.3 x 66.1 x 8.5 mm |  136.6 x 70.6 x 8.6 mm |
|  Weight |  116 g |  133 g |
As you can see, there's a fair amount of difference between the two phones – almost everything has been upgraded in the Galaxy S III to exceed the standards of the day – the Galaxy S3 compares favourably to the HTC One X, Lumia 900 and iPhone 4S too (click here for a more detailed comparison).
Another big difference between the two phones is their look – while the Galaxy S2 has a more standard design reminiscent of the iPhone, thanks to Apple's legal teams the Galaxy SIII looks like an entirely new creation, with a much more rounded look and unique colour choices of 'pebble blue' and 'marble white'. You can see this quite clearly in the image below (credit to Android Authority).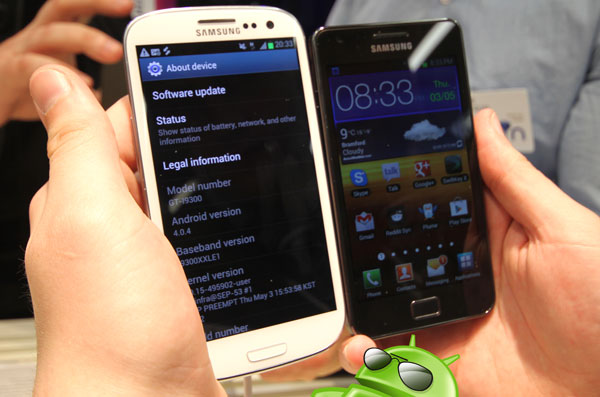 Software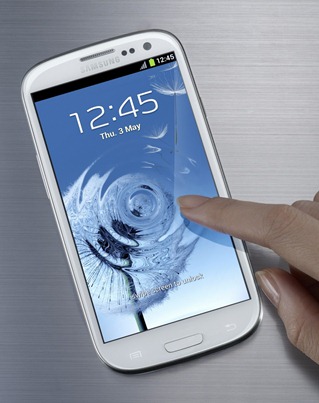 Another big way the S3 offers an upgrade over the old model is in software.
Firstly, the Samsung Galaxy S3 ships with Ice Cream Sandwich, Android 4.0. The Galaxy S2 shipped with Gingerbread, Android 2.3. There's as big a difference between those versions as the 1.7 gap suggests; Ice Cream Sandwich is worlds ahead in terms of usability, the strength of the included applications and the overall design language.
While the Galaxy S2 has since been upgraded to Gingerbread, Samsung have taken a much more additive approach to the Galaxy S3, with dozens of new features not found anywhere else.
For example, you can watch picture-in-picture videos while playing games, taking notes or surfing the web – a feature Samsung calls Pop Up Play.
Another feature called Smart Stay uses the front-facing camera to ensure that the display never dims or locks when you're looking at it.
S Voice is a Siri-equivalent for Android that looks more polished than anything we've seen before.
S Beam combines NFC and WiFi to transfer files between phones at high speeds with just a touch.
For more information, check out our coverage of the Galaxy SIII announcement.
Accessories
Finally, we can't help but mention some of the Samsung Galaxy SIII accessories that should really go beyond what was available for the Galaxy S II. As well as the normal plethora of Samsung Galaxy S3 cases, there'll be wireless charging, a Wi-Fi display hub, an HDTV dongle and even a Galaxy S3 C-Pen stylus.

Conclusion
So as you can see, there's a much bigger difference between the Galaxy S3 and Galaxy S2 than you might have thought. The mobile industry moves at a breakneck pace, and nowhere is this more evident than with the next Galaxy superphone.
Got any questions or comments? Please talk to us via the comments below, or say hello via Twitter, Facebook and Google+.