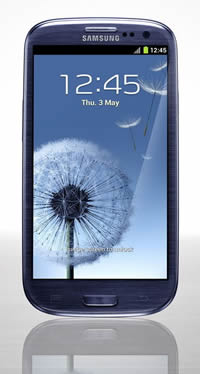 The next Galaxy has just been announced… the Samsung Galaxy S III. The S III looks to be the strongest Android phone released this year, with a rather innovative human-centric, nature-inspired design on top of some very impressive specifications.
The sim-free Galaxy S III will be available from Mobile Fun on May 29th, and we'll also have a wide range of accessories. Let's have a look at what's been announced!
Hardware
It all starts with the 4.8″ Super AMOLED display that runs at 1280 x 720 pixels. That's wrapped in a minuscule bevel that allows for a phone that's only a millimetre taller than the Galaxy Nexus, despite including hardware buttons and a slightly larger display. The chassis itself is available in 'pebble blue' or 'marble white' – the first time in a long time I can think of a flagship phone not coming out in black.
Inside, you'll find a quad-core Samsung Exynos 4212 quad-core processor running at 1.4 GHz, a full 1 GB of RAM, and either 16, 32 or 64 GB of internal storage. This can be upgraded by another 32 GB via micro SD – a very rare thing to find in a flagship phone these days!The 2100 mAh battery is also removable, which again will come as a relief to many.
On the camera front, there's a 2 megapixel unit on the front and 8 megapixels on the back.
Software
The Galaxy S III runs Ice Cream Sandwich with a heavy dose of TouchWiz on top. Unlike HTC's mostly stylistic touches, TouchWiz seems to add quite a few unique features that are in line with its 'designed for humans' tagline.
Smart Stay uses the front-facing camera to monitor your eyes, ensuring that if you're looking at the phone it won't dim. There's also S Voice, a Siri-alike that can provide context-aware responses to natural language commands. S Beam is an upgraded version of Android Beam, working through NFC together with the on-board wireless in order to transfer files at high speeds at a touch.
Pop Up Play is an amazing form of multitasking, allowing you to watch video anywhere on the screen while using other apps – a new spin on picture-in-picture that actually looks jolly useful. There's also AllShare Cast that allows you to send media like videos or pictures to compatible displays (or dongles that hook up to any HDMI-enabled display). Finally, there's Group Cast which shares your phone's screen with other people on the same network, allowing for easy collaboration.
Accessories
You'll be able to get all of the official Samsung Galaxy S III accessories first from Mobile Fun. We've got eighteen products in all. The coolest has got to be the Samsung Galaxy S III wireless charging dock – the Galaxy S III is the first handset to ship with this capability built in. For Samsung Galaxy S III cases, we've got TPU Cases in four colours, a Bumper Case twin pack, and a Flip Cover in four colours. We've also got replacement Samsung Galaxy S III batteries and a number of docks for the desk and your car too.
Signing off
So that's it then – the end to months of rumours and speculation. I think Samsung really delivered tonight; I went in feeling that they couldn't live up to the hype, but they managed to pull some truly crazy software features that should really set apart the phone from its Android rivals as well as besting the One X in the performance department.
What is your impression of the Samsung Galaxy S III? Let us know via the comments below!