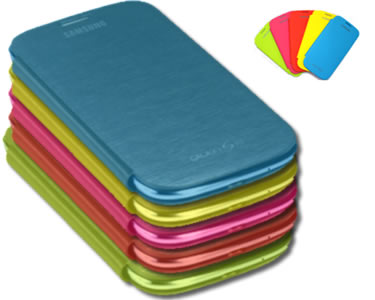 As the Samsung Galaxy S III keeps ticking along towards release, we're starting to get more information about the
official Samsung Galaxy S III accessories
 that we'll soon be stocking.
These are the Genuine Samsung Flip Covers, which are now available in five new colours – Light Blue, Lemon Yellow, Orange, Pink and Mint. We're already seen these in Chrome Blue and Ceramic White, so now there's a great amount of colour choices available.
The small image in the upper right is the official image that we were provided with, but as it was a little small we've taken the liberty of mocking up what these cases should look like on a larger scale. Expect vibrant colours and high quality, as these are genuine Samsung Galaxy S III cases.
These flip covers replace the back cover of the Galaxy S3, allowing you to add significant protection and a splash of colour without significant bulk. As always, these flip covers include cutouts for all buttons and features, so you can easily take a photo, adjust the volume or charge your phone without taking the cover off.
For more information, please check out the product pages listed below or ask us a question via the form below. Thanks for reading!