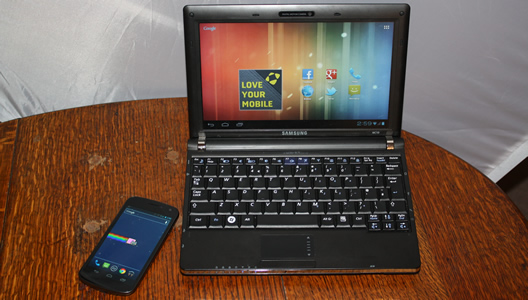 Why would you ever want to install Android on your netbook?
Well, surprisingly Android works really well as a mobile operating system even on a laptop. It's free unlike Windows or Mac and it's sleeker and easier to use than Linux. The Android marketplace has become very large now, and most applications that you like on your Android mobile will work on your netbook too. Of course, with a netbook you lose the touch screen, but you gain a keyboard, touchpad, plenty of USB ports and a microSD card slot. It seems a fair trade, and if you've got a netbook on hand then it's definitely worth a try.
I'll be going over exactly how you install the operating system onto your netbook, and how it all looks when it's up and running!
How to install Android 4.0
1. Download Android 4.0 to your main computer
The first thing you need to do is visit the Android x86 download page and choose the right ISO file to download. Ice Cream Sandwich is near the bottom of the list, with its section titled "Android-x86-4.0-RC1". You're given a few different options, so go with whatever sounds closest to your platform – I went with "Asus Eee PC family" and would recommend this for use with a netbook. The installation process isn't difficult or long, so don't be afraid to try a different ISO later if the first doesn't work. Just download the file to whatever PC you're using – it needn't be the one that Android will be installed on.
2. Copy the ISO file to a USB drive
Once you've got the ISO downloaded, you'll need to get it onto your netbook. As most don't come with CD drives, the best way is to download a tool called UNetbootin. Once you've downloaded the tool, just run the file and you'll see the screen below.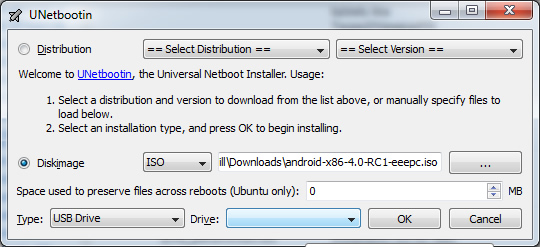 Click on the button with the three dots on the right side of the window and select the ISO file you've downloaded. Then, select the drive that you want to copy the ISO file across to. Expect to lose everything on the USB drive that you select, so tread carefully and make sure you copy off anything you want to save first!
Once you're confident about your selection, hit OK. A window will pop up for a short time while the file is copied across, and then once the operation is complete you'll be informed and asked if you want to restart your computer. Hit 'No', then eject the USB drive.
3. Prepare the netbook
Now that you've got the ISO file onto your USB, you're almost ready to go. If there are any files that you would mind losing on your netbook (like pictures, documents or videos) then be sure to back them up now. Your data on these drives should be preserved, but there's always a chance of something going wrong so it's better to be safe than sorry.
Plug in the USB drive and power on the netbook. You'll need to press a key (likely Delete or one of the F keys, e.g. F1) in order to choose which device to boot from – here you want to select the USB drive from the list. If you don't have the option to get a boot menu, you'll need to go into the BIOS and change the boot order, such that the USB drive will come before any other device.
4. Boot into the installer
There's a good step by step guide here, but here's the short version:
Once you've set your boot order and inserted the USB, you should be booting into the graphical installer for Android x86. This menu will give you the option of booting directly into Android 4.0 without installing it, so you can try it out without messing around with your drives. For the purposes of this tutorial though, we'll assume you want to install it permanently so choose that option.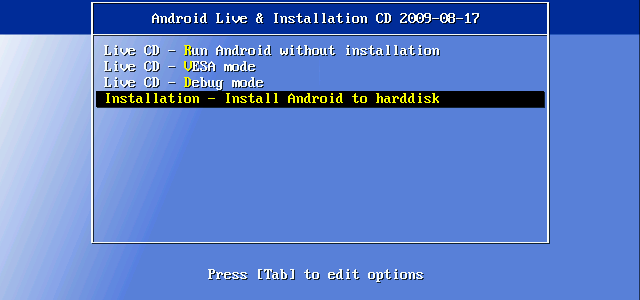 Here you'll have to select a drive to install it to – you can choose any EXT3/EXT2 (Linux) or NTFS/FAT32 (Windows) partition. You shouldn't need to format (e.g. delete and wipe) the drive you're installing to, but it's worth having your files backed up regardless.
Once you've selected a drive, you'll be asked to choose a size for the install. Go ahead and choose the maximum size (which I believe is 2048 MB). This will take some time depending on the speed of your hard drive, so this may be a good time to make a cup of tea. You're also able to make a virtual SD card at this time, and after this you'll be asked to reboot. Do so, and remember to take out the USB drive when the machine powers off.
5. Android!
Now you should be able to boot into Android. Choose the first entry in the boot menu, and your netbook will start to run Android. There'll be some exciting white text on a black background, followed by the glowing Android logo, and then finally the OS itself and its 'Welcome' screen. You'll be asked to connect to a wireless network and sign into your Google account, as well as a few other basic questions about the current time and so forth. With these completed, you'll finally be onto the Android desktop!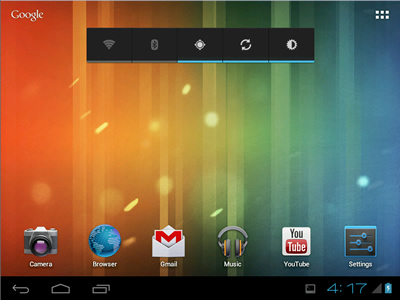 In our next article, we'll have a look around our new Android x86 installation, and show off a few of the unique apps that come with it, so stay tuned for that.
As always, feel free to ask questions or leave comments in the section below. You can also contact us on Twitter or Facebook.
Edit: I've written up a FAQ (frequently asked questions) article. Read it here.
It's also worth noting that we're not responsible for any damages or disasters that occur through following these directions – things can always go wrong, so back up your files before installing Android 4.0.