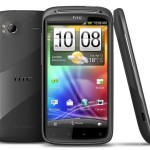 With all the love that the Samsung Galaxy S2's been getting, you'd think it was the only great Android phone on the market. That's far from the truth of course, and one phone a lot of my friends have been asking about is HTC's latest flagship phone, the HTC Sensation.
The Sensation's certainly well deserving of their attention, sporting a massive 4.3″ screen as well as the beautiful HTC Sense UI and excellent build quality that have made HTC famous. Even the most well-made phone can still be damaged by scratches and falls though, so it's best to protect your shiny new friend with a well-chosen HTC Sensation case. Here are five of the best.
5. Case-Mate Gelli: A Softer Touch. £14.95
Our second entry from Case-Mate on this list; this case is a gel-based construction that offers significant shock and scratch protection through its use of a strong but light and soft plastic-like material.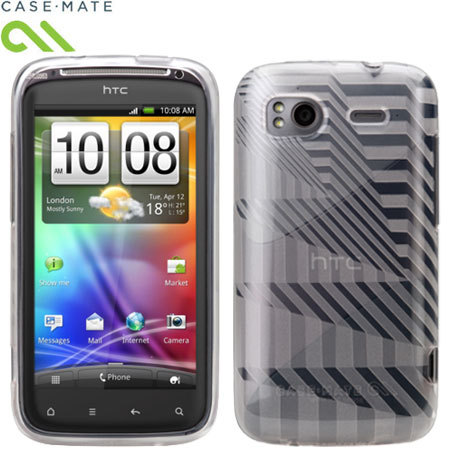 This case protects of all of the vital components, including the HTC Sensation battery, as well as leaving the right holes so that you can use the camera and all the buttons. It's also quite thin and flexible, meaning you can attach any number of HTC Sensation accessories (e.g. an HTC Sensation car holder)
The back of the case features a distinctive geometric design that look even nicer in bright colours, like Orange or Purple. It's a very eye-catching design that'll also mean you'll never lose your phone in a pile of technology again. Overall, it's an excellent case and a great one to end on.
Check out the Case-Mate Gelli product page.
4. Tune Belt Sport Armband: A Sporty Spirit. £16.95.
This case is definitely not like other HTC Sensation cases; this one is a specialised armband that will hold your HTC Sensation tightly whilst you're jogging. It keeps everything in place by completely encasing the phone in a tough neoprene, but also lets you use your touchscreen behind water-resistant plastic.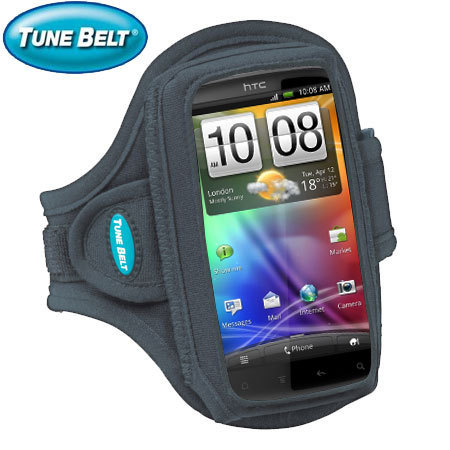 It's a cool piece of kit, and seems expertly designed for the jogging market. As well as the tight, comfortable fit, water resistance and protection the armband offers, this particular model has been custom-designed to fit the HTC Sensation.
If you're a keen sportsmen, this seems like the perfect product. For those of you that don't jog, perhaps you might want to take it up!
Check out the Tune Belt Sport Armband product page.
3. Flexishield Skin: The Clear Sheer Option. £9.99
The Flexishield Skin is a cool one, being essentially a full body screen protector. It's probably the thinnest 'case' that you can get, as it's formed of HTC Sensation covers for each side of the phone, offering full scratch protection.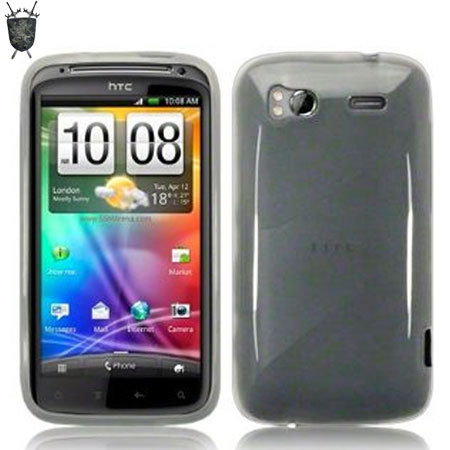 The skin is surprisingly durable, and comes in exactly the right shape to fit the Sensation. Each port has carefully had a space left for it too, so you can use the camera and all the buttons without the hassle of taking the phone out of the case.
The Skin offers an incredibly thin look; it's a simple premise but it's so well executed that it deserves a spot on our top five list as one of the best HTC Sensation skins.
Check out the Flexishield Skin product page.
2. Krusell Orbit Flex: Good & Simple Leatherwork. £19.99
If you're looking for a more stylish and classically appealing Sensation leather case, then the Orbit Flex from Krusell is a good place to start. The whole affair is made from top quality leather, offering maximum protection from scratches and minor impacts.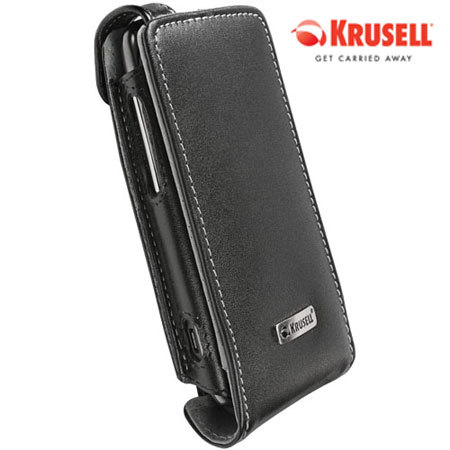 There are two memory card holders in front cover, making this an excellent example of a HTC Sensation Cover. The entire front lid is actually detachable, meaning that if you're planning on extended usage of the screen you can strip away the unneeded bulk, then easily re-assemble for complete protection. Another added bonus is the inclusion of a removable belt clip, so you can easily keep your Sensation at your side.
It seems the complete package: style, protection and features. Not a bad haul!
Check out the Orbit Flex product page.
1. Case-Mate Barely There: The Skinny Sensation. £15.95.
Barely There gets its name from its form factor; it's a simple back-and-sides deal that protects the essentials with a hard plastic shell while leaving the front of the phone unobscured.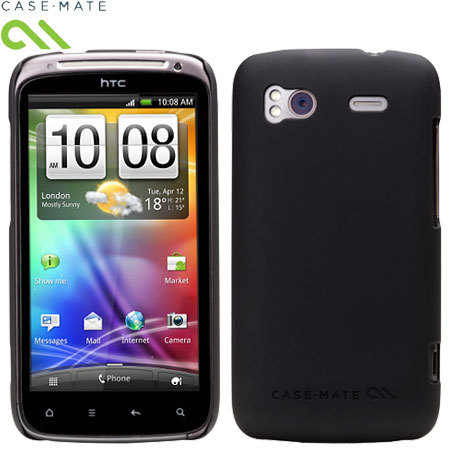 It's a popular solution, and works well as long as you pick up an HTC Sensation screen protector as well. The case will protect against scratches and minor impacts to the covered areas, although obviously the screen will be left exposed.
The HTC Sensation is a great looking phone that you'll want to show off, so if your Sensation leads a safe life then the Barely There is an excellent choice, and takes our top spot this time around.
Check out the Barely There product page.
Conclusion
I hope you've found this useful; if you've got any questions about our roundup or the HTC Sensation please let me know on Facebook, Twitter and even me personally on Google Plus. You can also use the comments below. Catch you next time!