Finding the best Car Phone Holder that will fit your vehicle, aesthetic or needs can be a difficult task, with the hundreds on the market promising many factors. From whether you want a Dashboard Car Mount, to a Windscreen Car Holder to many more, we will break down the benefits of the different car phone holders on the market for you to choose from. Fit the holder that melds into your life perfectly and will enhance your driving experience exponentially.
---
1. 
Olixar Car Phone Holder with Dual Attachment for Windscreen or Dashboard (Choose your placement)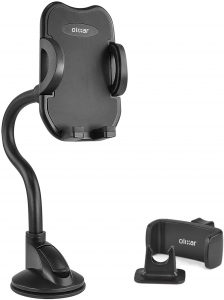 If you are unsure about whether the dashboard or windscreen is where you want your smartphone to be, you should get yourself Olixar's Car Phone Holder with a stabilizer! This car holder comes with attachments to ensure that it will fit any size car and a stabilizer to prevent any shaking that can come from driving on rocky roads. This means if you use your phone as a satnav or a dashcam, your phone's imagery and video will be clear throughout the drive.
This car phone mount will fit any sized smartphone, even if they are in a bulky phone case for extra protection throughout your drive. Whether you pick the windscreen or dashboard, the long arm that is attached is flexible allowing for your phone to be at the perfect angle for you or even entertainment for the passenger.

---
2. TriMount Windscreen, Dashboard & Vent Phone Car Holder (Choose the Best View for you!)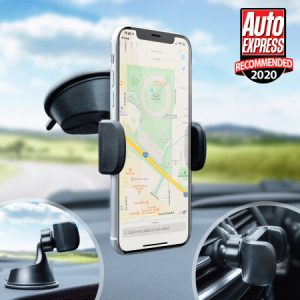 If you truly can't decide or like to change your mind on a whim, then the TriMount Windscreen, Dashboard & Vent Phone Car Holder may just be the one for you! This unique car phone holder is a unique interchangeable design, so you can use it on almost any surface in your vehicle. The kit includes a suction cup that has a super strong hold to any flat surface in your car. The included vent clip allows you to fit most car vents, ensuring a strong and stable hold on your smartphone.
This universal car mount allows the majority of smartphones with the clamp to expand from 52mm to 78mm. With the holder stretching up to the maximum of 85mm, so if your phone has a thick phone case or upgrade to a bigger model, you can keep the same car holder. It also gives you 360-degree rotation allowing you or any passenger in the car to see the phone, whether it is for satnav or hand-free calls.

---
3. inVent Mini Portable Universal Air Vent Smartphone Car Holder (Keep your windscreen clear!)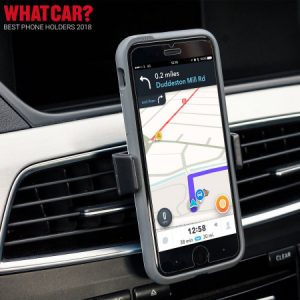 If you don't like the idea of having your smartphone on your dashboard or windscreen potentially distracting you on your drive, then a vent car phone holder may be the better choice. The Air Vent Smartphone Car Holder is a small and handy gadget that will attach to any type of vehicles air vent which will keep your phone secure throughout the drive. It gives you 360-degree rotation both clockwise and anti-clockwise, and use your phone in both portrait and landscape mode for your preferred viewing.
The vent car phone mount is pocket-sized to fit into your bag to use on holidays and business trips. The vent holder will fit all smartphones from a width of 55mm up to 90mm, which means it will fit most smartphones, in or out of a phone case. It can double as a travel stand where you can watch your favourite movies on the train or hands-free video calls with friends.

---
4. Magnetic Vent Mount Universal Smartphone Car Holder (One-Handed Mounting!)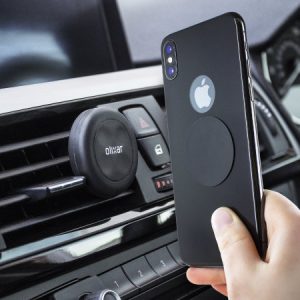 If you don't like to fiddle around with clamps and fit your phone into the holder as you go and leave, then a magnetic car holder may be the choice for you. Olixar's Magnetic Vent Car Holder with the included magnets will ensure you can simply place your smartphone to the holder and be on the go as fast as possible. It will mount onto any vertical and horizontal vent blades and is very easy to put onto the vents. This mount also gives you 360 degrees giving you the perfect angle, so you can stay up to date on traffic updates and the satnav directions.
This car phone holder is a cradle-free design so will be sure to fit any smartphone, in or out of a phone case, regardless of the size. The car phone holder can be used outside of the car as a desk stand with your smartphone, whether it is on the train on the go, or as an office staple, it will give you a hands-free viewing of your phone. With the given magnets, you can move between Olixar's other magnetic range, without having to change magnets or case.

---
5. 15W Wireless Charging Windscreen & Dash Car Holder (Charge and Drive!)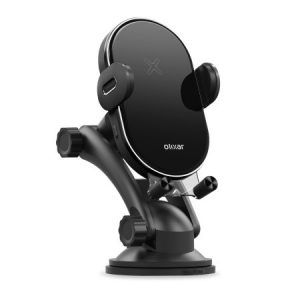 Losing your phone battery mid-road trip and relying on Google maps? This is a worry for the past with Olixar's 15W Wireless Charging Car Holder, which allows you to charge your phone wirelessly while having the smartphone mounted at the perfect view. The wireless charging element works with any Qi-enabled smartphone and allows you to place it in either landscape or portrait mode depending on your want. It is a sleek design that will fit the look of any car's design and will look attractive to fit your smartphone.
A universal design, the car holder fits all smartphones up to 110mm wide, including devices with bulky cases on them. This will ensure that any device that allows for wireless charging can be used in this car phone mount. Inbuilt in the holder includes overheating protection, airflow bumps and incorporated vents to keep your smartphone protected and the battery will be in better condition for longer. No messy charging cables to mess up the look of your car either!

---
Wrapping Up
We hoped you enjoyed our blog on the 5 of the Best Car Phone Holder for Hands-Free Driving! If you want to know more about any of the products mentioned in this blog or to see even more products available, please click here!
Alternatively, check out our video below on some of the amazing car phone holders!
---
Georgia Ryall
Georgia Ryall is the Amazon marketplace apprentice, soaking up all the information like a sponge! After studying Media & Communications at University, is now stepping out to the digital marketing world and wants to learn it all! A huge lover of digital marketing, movies, and gaming (particularly her PS5!)
---