Having a laptop is a staple for any student or working individual of the 21st century, and we are still learning how best to look after or enhance our piece of tech. Getting a laptop can be a very expensive ordeal from hundreds to even thousands of pounds (especially for the MacBook lovers!) so getting the right accessories is important. We have the list of your must-need products from Laptop Stands to protection with a USB C Dust Plug.
---
1. 
Olixar USB C Dust Plug For Laptops, MacBooks, Smartphones, Tablets & PC Ports (Protect your Device!)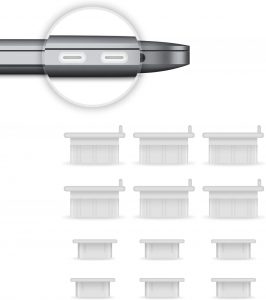 Our top laptop accessory in 2021 to recommend is Olixar's USB C Dust Plug For Laptops which will allow you to protect your laptop for longer. Consisting of six USB-C caps and six USB-A caps, this multipack allows you to protect multiple devices that you own and/or share with your friends and family. Protect your laptop against dust, liquid, dirt and crumbs after daily use and travelling with it. Outside disturbances such as those can ruin the inside of your technology slowing it down or even worse, fully breaking it down.
The USB C dust plug is very easy to insert with its flexible silicone construction so it will not damage the inside of your laptop at any time. With the two sizes of USB C and USB A, they can be used with a multitude of devices from laptops, MacBooks, smartphones and tablets to name a few. Protect all of your devices to save an expensive repair fee.

---
2. Mini Foldable Laptop & Tablet Stand (Prevent Neck Cramp!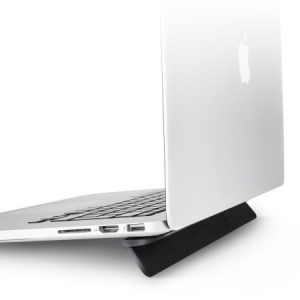 Do you work long hours on your laptop? Sick of the neck cramp from looking down for hours on end? This product is a must-have for you! Purchase the Mini Foldable Laptop & Tablet Stand which will work to elevate your laptop exactly as you need it! There is no need to put off working now as this laptop stand helps alleviate pains no matter where you are working on your device. It has a non-slip design so your laptop will not slide on your table, even if you are a fast typer.
The laptop stand is a foldable, lightweight design that means you can carry it with you on your travels if you are needing to work on the go. The fact that your laptop is lifted means it allows your device to cool down easier, especially if you have an older model or using it for many hours at a time. It is a universal design and can be used with any device that is between 11 and 15″, including tablets and MacBooks.

---
3. Xplorer Universal 11-15″ Laptop & Travel Backpack (Work on the Go!)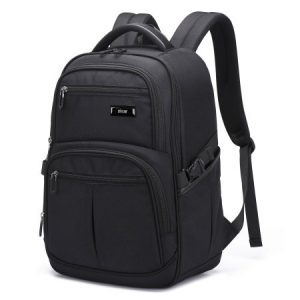 If you find yourself on the go but want a bag that can carry your laptop amongst other of your possessions, the Xplorer 11-15″ Laptop & Travel Backpack is a must-buy! It contains a 45L capacity so can take some heavy objects on your back, regardless of business or pleasure. It is lightweight before you even put objects in, making it more comfortable on your shoulders and back. It is water-resistant, so don't stress about getting caught out in the rain with your electricals in your backpack. Designed to be breathable yet ergonomic, the back and shoulder straps have mesh to keep you cool on the go.
The laptop bag has a dedicated laptop or tablet slot inside, which is padded to keep your device safe from jostling around getting bashed. It features 13 compartments and pockets including two external drink holders to ensure they do not take up space inside of your bag. This gives you peace of mind that your drink will not fall and spill on your charging cables and electronics. There is an anti-theft theft zip pocket on the back, which is perfect for the likes of passports and wallets. There is an in-built luggage belt which can be attached to your suitcase or other bags if you are travelling.

---
4. Compact 4-Port USB 3.0 Extender Hub For Laptop & PC (All the Plug-ins!)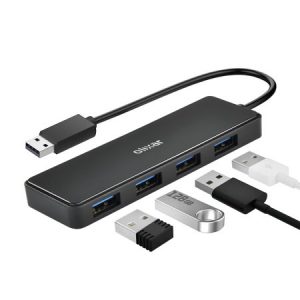 Do not be limited by the ports in your laptop and enhance your work speed with the 4-Port USB 3.0 Extender Hub For Laptop & PC! Featuring four USB-A ports, you can ensure that you will not run out of space for everything you need to plug in. It is a slim compact design It will not take up much space in your workplace and is lightweight and will fit into your bag to use on the go. It is designed to allow users to access all 4 ports simultaneously with safe and full usage.
The USB hub is incredibly versatile and works for all laptops and PCs so you can switch between devices. Expand your input and output on your laptop and plug in the likes of memory sticks, phone charging cables, keyboards and more! It enables the USB hub to sync data at super speeds up to 5Gbps, it's fast enough to transfer an HD movie in seconds.

---
5. Dual Screen Laptop Connector Clips for Smartphone & Tablet (Work Faster not Harder!)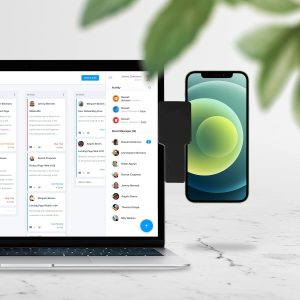 Save money from buying an expensive second monitor and reduce your working time with the Dual Screen Laptop Connector Clips for Smartphone & Tablet! With strong rubberised grips, the clips will ensure your smartphone or tablet will not fall off of your laptop when both are in use. There is cable management, even if in landscape orientation, so you thread the phone's charging cable and not have your device die mid-work.
The laptop phone holder is compact and lightweight means it will not damage your laptop and can also be easily taken on the go and be used in your work office or travelling. There is a universal smartphone or tablet compatibility which means it can be used with any smartphone or tablet within the 5 – 9 mm, even if the device is in a thick case. It also works with all laptops, with the clips stretching to fit most laptops, including Dell and MacBook.

---
Wrapping Up
We hoped you enjoyed our blog on the 5 Best Laptop Accessories 2021! If you want to know more about any of the products mentioned in this blog or to see even more products available, please click here!
Alternatively, check out our video below on the dual-screen connector clips and how to make your working space more time-efficient.
---
Georgia Ryall
Georgia Ryall is the Amazon marketplace apprentice, soaking up all the information like a sponge! After studying Media & Communications at University, is now stepping out to the digital marketing world and wants to learn it all! A huge lover of digital marketing, movies, and gaming (particularly her PS5!)
---