So far the Samsung Galaxy Z Flip 3 is offered in 4 colours, Cream, Phantom Black, Green, and Lavender. However if you purchase it from Samsung you get some exclusive colour choices, these include a grey, white and pink, all with the phantom black aluminium sides.
So let's have a look at these colours in more detail and see which cases are going to be best to show off your Samsung exclusive colours.
The exclusive colours that are only available on the Samsung website in my opinion look fantastic. I really like the two coloured look and think it looks a lot better than if the whole phone was in just one colour.

Now if you go to the trouble of getting one of these amazing exclusive colours you are going to want to show it off in the best way possible, below are my picks for the best cases to protect and also showcase your Samsung Galaxy Z Flip 3.
Let's start with this from LoveCases, because its a clear case so you still get to see the great colour phone that you've picked, but with the added graphics on this one you'll also see colourful leopard print over the top. This is only one great design by LoveCases.
Next is Samsung's official ring case in clear. The case is completely clear so you can still see the great colour without sacrificing protection but it also has a ring on the back that you can put your finger through to prevent drops or other accidental damage.
For the last case on the list we have a simple clear case by Olixar. It offers 360 degree protection for your phone while still being able to show off the exclusive colour you got your Z Flip 3 in.
I hope you enjoyed reading about all the different types of clear cases available for the Z Flip 3.
For more Samsung Galaxy Z Flip 3 5G Cases or other accessories, please visit Mobile Fun.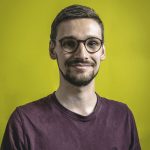 Mark Holmes
Mark is our Product Marketing Specialist with a background of 7 years in marketing. When not researching about the latest tech gadgets to make his life easier he is most likely watching Formula 1.