Driving is one of the most popular activities around the world, allowing you access to places you have never been and family you haven't yet seen. While your car boot has been created to hold your large luggage, you may forget about the little items such as your smartphone, house keys, loose change and more. We have gathered the best Car Accessories to help keep your possessions safe and insight! From Car Phone Holders to a Dashboard mat, you can choose your favourite!
---
1. 
Olixar Dashboard Sticky Dashboard Mat – 
Holds Phones, Keys, Coins and more (Keep within sight!)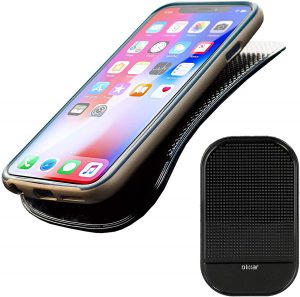 Keep your smartphone where you can see it and know it is in safe hands with Olixar's Sticky Dashboard Mat! This accessory stops your items from sliding across your dashboard, or even worse, dropping and hiding under your car seats. It is very sticky so you do not have to worry about it losing grip and allowing your items to fall. It does not leave any sticky residue on your car's dashboard and can be used many times.
The dashboard pad is very flexible and will fit the curves of your vehicle's dashboard, whether you have a van or a sports car, it will hold your smartphone at even the extreme angles. If you feel the dashboard mat is losing its strength, you can run it under cold water to bring it back to its full potential. You can use your smartphone, keys, coins and more, making it one of the best Car Accessories!

---
2. Non-Slip Sticky Dashboard Mat With Phone Holder (Keeps Many Items Safe!)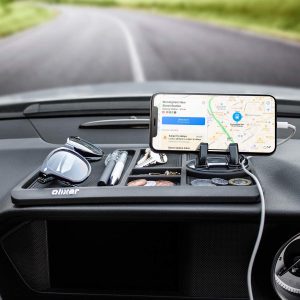 If you take many items on the road with you and wish to keep them safe, the Dashboard Mat With Phone Holder is the perfect purchase for you! With separate departments, you can keep your and your friend's possessions safe from even the bumpiest roads. It is an adhesive-free design with a stronghold so will not move whilst also not leaving behind a sticky residue. It will fit the curves of any vehicle, so you can bring it with you even if you change your car.
The dash mat also has an integrated phone holder, which will also hold your phone even if it is in a bulky phone case. You can use this as a sat nav or as a dash cam, whilst on the road. If you feel it starts to become less of a stronghold, you can run it under cold water to bring it back to its full potential once again.

---
3. CargoNet Universal In-Car Smartphone Holder & Storage Pocket (Get More Car Storage!)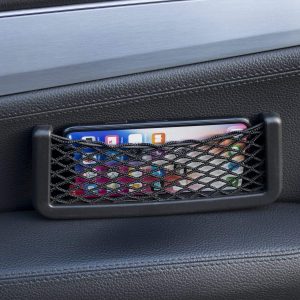 Add more storage to your car to keep your personal possessions safe during a road trip with the In-Car Smartphone Holder & Storage Pocket! It has a strong adhesive hold wherever you need to stick to in your car, from the back of your car seats to your car boot! It is an attractive design, fitting the aesthetic of any car and allowing for a smart design.
The car net pocket is extremely simple to set up with ultra-strong adhesive strips that can be placed onto the car accessory to then be placed within your car. You can secure any of your belongings within this storage, with smartphones, face masks, wallets and sunglasses to name a few. No more losing your items just as you need them!

---
4. Adhesive Phone Grip Holder & Stand (A stand for all occasions)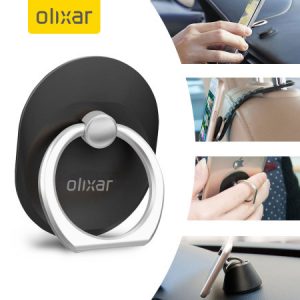 Make your smartphone the number 1 feature of your car with the all-new Phone Grip Holder & Stand! Keep your phone safe whether it is on your car's dashboard or on your work desk, you can have your phone displayed in front of you at all times. The ring stand can also be used as a finger loop, allowing you to grip your smartphone with extra safety.
This ring stand allows you to use your phone as a satnav or as a dashcam, being in eyes view when you need to glance over safely. It is very easy to dock your ring loop into the provided base, which has a strong adhesive docking when driving around. It will fit any phone, even in a bulky or slim phone case! As long as there is 45 x 35mm space, you can fit your device with ease.

---
5. 15W Wireless Charging Windscreen & Dash Car Holder (Charge & Drive!)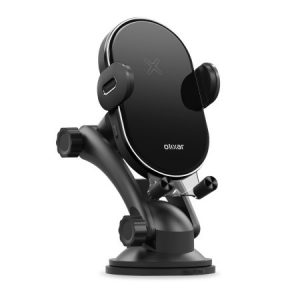 The final way we have to recommend on how to keep your smartphone safe while you are driving in your car is the 15W Wireless Charging Windscreen & Dash Car Holder! Having your smartphone in a car phone holder is a very safe mode to keep your phone in eye view while it is secure for the bumpy journey. You can have your device in landscape or portrait mode with ease, depending on your needs. The design of this car phone holder is sleek and attractive, making your car look its best when you have friends there.
The wireless charging car mount provides overheat protection with the in-built airflow to keep your phone cool during long use! Save the messy charging cables and allow this fast charger to charge any smartphone that allows Qi-enabled charging. Keep your car looking clean while keeping your phone filled with juice. This car holder fits any smartphone up to 110mm wide, including those in bulky phone cases or bigger phones such as the iPhone 12 Pro Max!

---
Wrapping Up
We hoped you enjoyed our Blog on how to keep your smartphone safe in your car! If you want to know more about any of the products mentioned in this blog or to see even more products available, please click here!
Alternatively, check out our video below on some of the amazing car accessories that are a must need on your next road trip!
---
Georgia Ryall
Georgia Ryall is the Amazon marketplace apprentice, soaking up all the information like a sponge! After studying Media & Communications at University, is now stepping out to the digital marketing world and wants to learn it all! A huge lover of digital marketing, movies, and gaming (particularly her PS5!)
---