Whether you are getting a new car, or want to pimp out your older model, there are many Car Accessories that allow your car to perform or look even better. From Car Phone Holders to allow you to find your way, to extra car storage to keep your personal items safe on the road trip. We will show you the best products that will enhance your driving experience, and you will never be able to look back…
---
1. 
Olixar Car-Net Pocket for Phone, 2 Pack, Use as a Car Mask Holder (Extra Car Storage for You)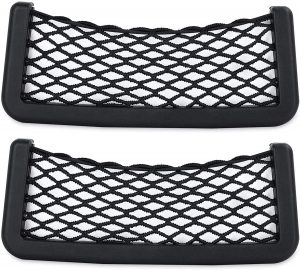 Our top Car Accessory favourite in 2021 is Olixar's Car-Net Pocket for Phone, making sure you do not lose items in your car, which can be a big issue after a sharp turn. This purchase includes a two-pack, including the new improved super stong adhesive allowing you to store your belongings on any surface of your car. With coronavirus still brewing, you can use one of the car-net pockets as a face mask holder to never be without one when out and about.
The Car Storage will stick anywhere in the car from the back of your car seats, car doors to your car boot making sure your items are accessible to anyone in the car. It is super easy to fit, whether in your car or use as an office accessory, with a simple adhesive strip and placed exactly where you want it to be.

---
2. Universal Headrest 7-10 inch Tablet Mount (Keep the Kids Entertained)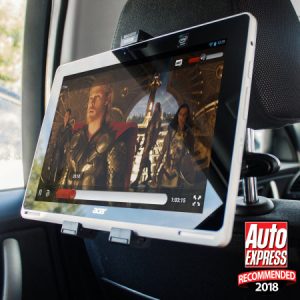 Our next suggestion of a must-buy for your car is the Universal Headrest 7-10 inch Tablet Mount! Recommended by the true experts of Auto Express, it is a sturdy tablet holder to keep everyone entertained on long journeys. It is a sturdy fit so will not drop your device, even on sharp turns and bumpy roads. It allows you to move your device 360 degrees in the mount, so everyone can get a good view, no matter where they are sitting or for the smaller children needed a lower view.
The Tablet Car Holder also works for gaming devices such as Nintendo Switch, so you can play your favourite games as you drive to your next location. It fits any device between the sizes of 7 to 10 inches, even in an iPad Case or more! It is very easy to use and can be mounted onto the holder in seconds, even one-handed while keeping your device as safe as possible!

---
3. Olixar MagSafe Compatible Wireless Charging Car Holder – Black (Charge and Drive!)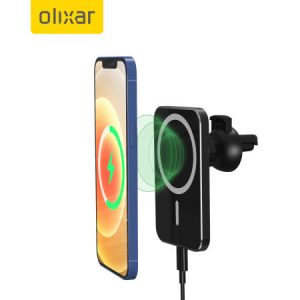 This is for Apple iPhone users only I'm afraid but grab yourself a car accessory that will ensure you do not get lost again. Buy yourself the MagSafe Wireless Charging Car Holder and avoid awkward situations leaving your phone dying of juice and confusing setups. Save the charging cables messing up the look of your car and get a wireless charging car holder so your phone doesn't die when using Google Maps. It is a sleek look and can match the look of your new iPhone.
This wireless charging car holder is perfectly matched with Apple official Magsafe Cases for the fastest charging speed, or without a case on at all. Make sure your phone is Magsafe compatible before trying this car phone holder. It is a vent car phone holder so will not obstruct your view and is at the perfect eyeliner to not cause distractions.

---
4. Non-Slip Sticky Dashboard Mat With Phone Holder – Black (Keep your Items Safe!)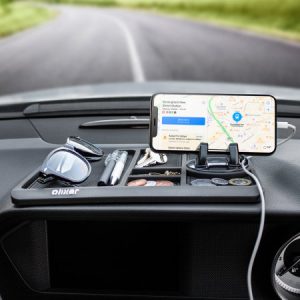 If you need a place to keep items safe and accessible in your car then the Dashboard Mat With Phone Holder is the perfect addition to your car. It is a flexible dashboard mat that fits the curves of your dashboard perfectly and can be reused to last forever. A simple rinse of cold water and left to dry naturally will bring it back to its natural form. It is an adhesive-free silicone mat that will not leave any residue or marks on your car while not moving off of your dashboard.
The dashboard mat has a built-in car phone holder so you can keep your smartphone safe while also getting directions or using your phone as a dashcam. There are also plenty of compartments for items such as change, keys, glasses and more. It enables you to grab your needed items when you need them on the go.

---
5. RFID Car Key Signal Blocking Pouch – Rose Gold (Keep Away the Hackers!)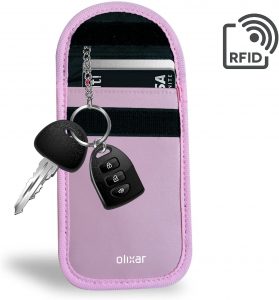 Thieves are getting smarter with new contactless technology such as keyless cars and contactless credit cards and can be hacked without you knowing. RFID technology now helps to protect you and your items. Our top choice is the Rose Gold RFID Car Key Signal Blocking Pouch, which can protect multiple items at once. It is a stylish and durable pouch that can fit into your handbag easily and is the perfect gift for those who just got a keyless Mercedes!
Keep your home fobs, car fobs and contactless cards with the main pouch pocket and twin pockets. When closing the pouch with your items inside, ensure there are no gaps when closing the velcro to ensure all the signals are blocked. Ensuring you keep your pouch out of the water, the signals will be blocked and none of your items will be stolen.

---
Wrapping Up
We hoped you enjoyed reading about the Best Car Accessories in 2021! If you want to know more about any more Car Accessories that were mentioned in this blog or to see even more products available, please click here. Please view our video below to see more about Car Phone Holders that are the best in 2021!
---
Georgia Ryall
Georgia Ryall is the Amazon marketplace apprentice, soaking up all the information like a sponge! After studying Media & Communications at University, is now stepping out to the digital marketing world and wants to learn it all! A huge lover of digital marketing, movies, and gaming (particularly her PS5!)
---