With the uprise of digital technology, manual work for near enough anything has become minimal. From Keyless cars to pinless cards, everything can be done with a tap of your finger. While this is amazing for ease of life and technological advances, it leaves people vulnerable to hackers, stealing your money or car right from your driveway. We have curated the best RFID accessories that will protect your personal items, to even your house with house fobs being hackable. Protect yourself, and save a lot of stress and money in the long run.
---
1. Olixar Keyless Car Signal Blocker Pouch – RFID Faraday Bag (Protect your Car from theft)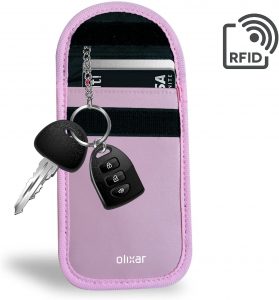 Our favourite RFID accessory of 2021 is a product that will protect multiple products at once whilst also being small and portable to travel with. This is the Olixar Keyless Car Signal Blocker Pouch Bag, which allows you to protect your credit/debit cards, apartment fobs and/or keyless car fobs from being hacked by thieves. We have created a pink faraday pouch to fit in your lifestyle, so you can keep your items safe, even while on a night out.
The signal blocking pouch is lightweight and durable, so it will last for years and you will not have to worry when getting a new contactless card. It provides 2 pockets, a large one for keys and a smaller one made for your payment cards. Protection that suits your lifestyle is key! The perfect purchase when out in large groups such as festivals.

---
2. RFID Genuine Leather Card Case & Holder (Premium Protection for your money!)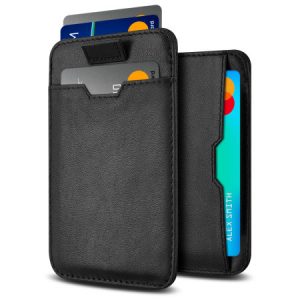 Need to get your dad a birthday present? Know someone who needs a wallet and needs to protect their credit cards? The RFID Genuine Leather Card Case & Holder will be the perfect gift! This RFID wallet is capable of holding 6 to 8 cards so if you have multiple debit cards, they will all be protected. The real leather case allows for a premium wallet that can be used in all everyday outings while ensuring no fraud occurs.
This card case is lightweight and compact, not taking up half as much room in your bag or pocket, meaning there is no weight. There is also a pull-out tab for extra accessibility if you usually struggle to get the cards out of wallets. Protection against RFID theft is impossible with this signal blocking case and is a top RFID accessory.

---
3. RFID Carbon Fibre Card Case With Money Clip (Supports many contactless cards!)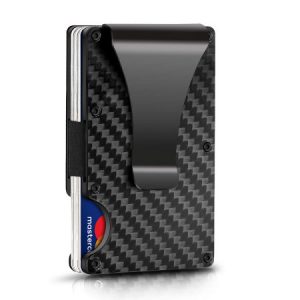 For those who have many debit and credit cards who wish to be protected from fraud, the RFID Carbon Fibre Card Case With a Money Clip, keeping them all together. It is a sophisticated cardholder that can hold up to 10 cards, so you do not have to remove any from your existing wallet. It has been created as super lightweight, so it is perfect for everyday use with the built-in RFID technology.
The RFID cardholder has a carbon fibre effect, which could match perfectly with your carbon fibre phone case. The added money clip allows you to keep any notes safe, while you keep your digital money safe. A stylish wallet that protects all of your online accounts is a perfect match with any individual.

---
4. Hard Shell RFID Accordion Card Wallet for 10 Cards (Hardcore protection for all your cards!)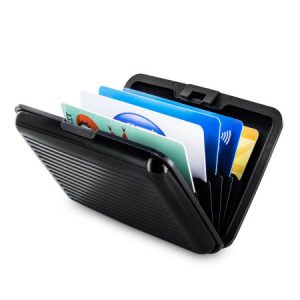 If you want protection against everyday life, on top of RFID theft, the Hard Shell RFID Accordion Card Wallet for 10 Cards, is a perfect choice. It has a hard casing to protect anything you put in there, from cards, keys or loose change! While being a hard shell wallet, it is super lightweight, making it an essential travel accessory. The casing is impact and weather-resistant aluminium, so no matter where you are and what the weather is, your personal items are protected.
The stylish, slick wallet allows easy access to your cards with the accordion-style slots to ensure you get to your cards anytime. Identity theft will be a worry from the past with the RFID fraud technology layers, denying scanners access to the chips in the cards, so you can be assured to be safe.

---
5. Ultra-Slim RFID Blocking Passport Holder and Wallet (Take to the skies with extra protection!)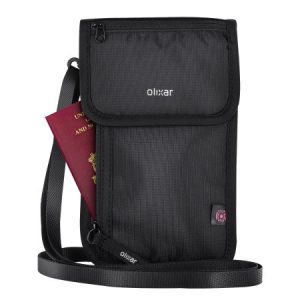 For those with wanderlust and a desire to protect their data and personal items, the RFID Blocking Passport Holder and Wallet will be a must-have for you. While it may be smaller than your expected travel bag, this signal blocking pouch can carry your passport, your keys, debit/ credit cards and more! In fact, the pouch consists of a velcro strap, four inner pockets and two outer pockets for these specific items. There is an adjustable and detachable neck strap, so you can wear/ carry it however way you wish.
The RFID pouch is the perfect travel accessory for those who like to protect their items on holiday. It is also used in commuters and daily use. The tough ripstop polyester provides water resistance and durability, so it can withstand the harshest of weather and climates and will not break down.

---
Wrapping Up
We hoped you enjoyed our 5 best RFID Accessories in 2021! If you want to know more about any of the products mentioned in this blog or to see even more products available, please click here! Alternatively, check out our video below on more amazing RFID products!
---
Georgia Ryall
Georgia Ryall is the Amazon marketplace apprentice, soaking up all the information like a sponge! After studying Media & Communications at University, is now stepping out to the digital marketing world and wants to learn it all! A huge lover of digital marketing, movies, and gaming (particularly her PS5!)
---