Apple has always killed the game, from smartphones to their very own MacBooks and has recently branched into audio in the past few years. The Apple Airpods have been very popular from the first generation all the way to the pro, making music from your iPhone sound as good as a live concert. We have compiled the best Airpod Accessories, from ensuring you don't lose them to protecting your charging case! Read on to find out more…
---
1. 
Olixar Strap For AirPods, Anti-Loss Cable (Never lose your AirPods again!)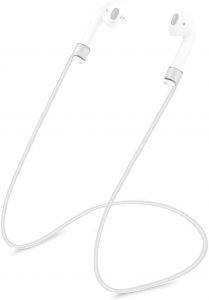 Our top favourite for 2021 is the Olixar Strap For AirPods, ensuring you never lose them again, whether you are exercising or travelling and don't have to fork out for new ones. The Airpod strap is lightweight and tough, so will sit comfortably on your AirPods, making for an easy listening experience. No tugging at your ear from being too heavy but durable no matter what the weather.
Olixar's Airpods Strap is compatible with Airpods 1 and 2 (not Airpods Pro, unfortunately), with the simple elegant design working perfectly together. The Airpod cable itself is tangle-free so not an annoying fight to unwind the cable to go for a morning run. It can be wrapped around your Airpod case if you wish to keep them together.

---
2. Soft Silicone Apple AirPods Ear Hook Covers – 5 Pack (Increase your comfort!)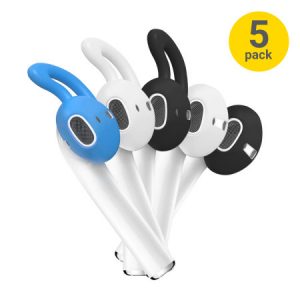 The perfect accessory to buy for those who love to listen to music for long periods of time, to decrease discomfort is the Soft Silicone Apple AirPods Ear Hook Covers which come in a pack of 5! 3 of the Airpod covers have hooks and the other 2 do not, so you always have the choice of styling. You have a choice of 3 colours, black white and blue so you can complement your earphones to your personal style.
This Airpod Accessory protects your earphones against all types of surface damage from dust, debris and even some little drops. The built-in "rabbit" ear hooks are designed to fit the shape of your ear to ensure they will not fall out, even when doing rigorous activities, which can happen with many wireless headphones.

---
3. Soft Silicone Apple AirPods Waterproof Protective Case (No more damage to your Airpods!)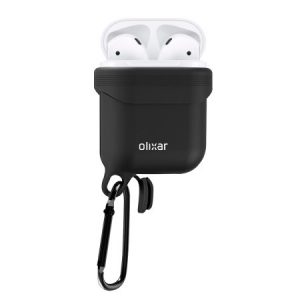 If you want to keep your Airpods and Airpods case safe from daily damage or even water, the Soft Silicone Apple AirPods Waterproof Protective Case may be the purchase for you. This could be a gift for your clumsiest friend with protection against scratches and scuffs, plus waterproof if it falls into a sink! The added bonus of the carabiner, means additional protection being able to clip it to your belt loop or a running belt.
The sleek lightweight Airpod case has cutouts perfectly aligned with the lightning charging point and LED indicator, so you will not be deprived of its amazing features. The security brought by the Protective Airpods Case is compatible with Airpods 1 and Airpods 2, so you do not need to worry about which generation you have.

---
4. Soft Silicone Replacement Tips For Apple Airpods Pro – 3 Pack (Get the perfect fit!)

If you need replacement tips for your old ones or if the ones you have simply do not fit your ears, Olixar's Soft Silicone Replacement Tips For Apple Airpods Pro will have you enjoying your music again! The Airpod tips are made from soft silicone so not only will they be comfortable inside your ears, but they will also keep your audio output to a normal standard, so no dulled music!
The Airpod Pro replacement tips have 3 different sizes, one in small, one in medium and one in large so you have the choice, and can even share with your friends! They are almost identical to Apple's tips, so get yourself a bargain!

---
5. UAG Ration AirPods Max Carry Case & On/Off Smart Feature (Premium & Luxury Protection!)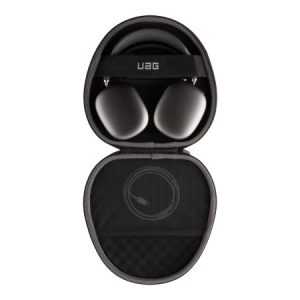 If you are looking for a smart case for your Apple Airpods Max, that can do everything (even turn your Airpods on and off, the UAG Ration AirPods Max Carry Case is a must-buy! The case is made from premium ballistic nylon, meaning it is both weather and water-resistant, so no damage will ruin your earphones! The case also includes a handle, making it easy to grab and go if you are travelling on your next adventure.
The Airpod Max Case has a mesh pocket inside to store your lightning cables if you need to charge at your next location, ensuring your AirPods and case, never run out of juice. UAG has created the only non-apple case to turn your AirPods Max on and off. So, if you want a sleek, premium case to do it all, this is a no brainer!

---
Wrapping up
We hoped you enjoyed our 5 best AirPod accessories in 2021! If you want to know more about any of the products mentioned in this blog or to see even more products available, please click here! Alternatively, check out our video below on more amazing Airpod accessories or hacks!
---
Georgia Ryall
Georgia Ryall is the Amazon marketplace apprentice, soaking up all the information like a sponge! After studying Media & Communications at University, is now stepping out to the digital marketing world and wants to learn it all! A huge lover of digital marketing, movies, and gaming (particularly her PS5!)
---