The much anticipated PlayStation 5 has now been released and is packed full of amazing features, however, Sony has left out an important one; the ability to connect any Bluetooth Headset, including regular headphones and earphones.
From the factory, only the Official Sony headset and a number of officially licensed third-party headsets have the ability to connect via Bluetooth. However, there's no need to despair as there is a quick and easy solution, which is also cost-effective in the form of the Olixar PS5 Wireless Bluetooth Headset Dongle.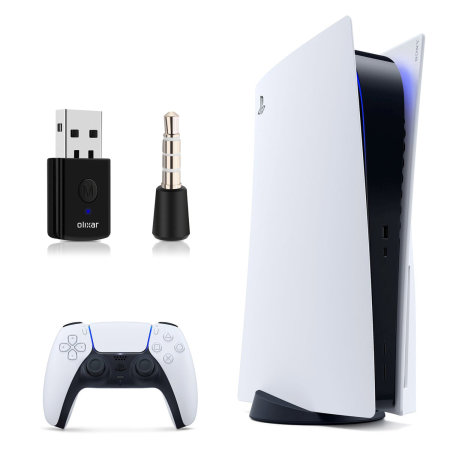 ---
How does the Wireless USB Dongle work?
Within the pack, Olixar has included a USB dongle that slots into the PS5 and a 3.5mm microphone jack, which plugs into the PS5's DualSense controller. As both are plug and play, there isn't any long and unnecessary software installation to be done. Simply pair your Bluetooth headphones/earphones with the dongle and you'll be ready to sit back and game comfortably, without straining your eyes.
In terms of size, Olixar has made the dongle and 3.5mm microphone adapter small and lightweight. As a result once connected you'll barely notice that either of them are there. Additionally, the 3.5mm adapter does not hinder the use of the DualSense controller in any way.

As the Olixar Bluetooth Headset Dongle is universally compatible it will work all Bluetooth-enabled headphones, earphones and earbuds including Apple AirPods and Samsung Galaxy Buds.
Instructions
Plug the Bluetooth Dongle into one of the PS5's USB-A ports (either on the front or back)
Press and hold down the button on the dongle.
Wait for the Dongle to flash blue quickly, this indicates pairing mode.
Turn your Bluetooth Headphones on and put them into pairing mode also.
Your Bluetooth Headphones will now pair with your PS5, indicated by the solid blue light on the dongle.
Now insert the Microphone adapter into your controller's 3.5mm port.
Your PS5 will now display a message confirming this connection.
Your Bluetooth Headphones will now be fully connected, allowing you to listen and talk while you game.
Please note, to make changes to volume levels, outputs, effects etc, users will have to go through to sound settings on the PS5.
Where to purchase?
The Olixar Wireless Bluetooth Headset Dongle for the PlayStation 5 is in stock and available to purchase from Mobile Fun now.

Wrapping Up & Recommendations
Thanks for reading this guide on how to connect Bluetooth headphones to the PS5. We hope that you found this useful and if you have any questions, please leave a comment below and we'll get back to you.
If you'd like to check out further posts on the PlayStation 5, please click here.
---
Amit Patel