The newly released OnePlus warp charge 30 wireless charger provides astonishingly quick 30 watt charging speed to those who own a OnePlus 8, which can charge the device from 0% to 50% in just 30 minutes. Although the 30 watt charging is not accessible for those who do not own this device it is still capable of charging other handsets, just not as quickly.
After 90 minutes of charging an S20 Ultra it had only charged up to 33%, which admittedly is not that fast. However as this charger is designed like a stand, you are able to still view your phone's incoming notifications and even take video calls during this time, giving you the opportunity to continue working. Having this situated on your desk will keep your working environment neat and organized as a result of having no loose cables.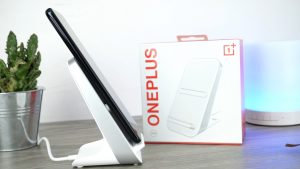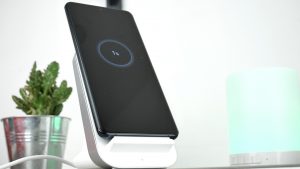 The cable that powers the device from the mains is attachable which could be considered a slight hindrance if the cable was to become damaged as you would have to replace the entire device. However, a positive to this is that you will not misplace the cable as it will always be attached.  
On the bottom of the device there are two rubber pads with the purpose of eliminating any chance of your desk or the charger becoming scratched when in contact with a surface. The lip that the phone sits on when charging supports a rubber curved pad. This amplifies the grip for when your phone is situated onto the charger.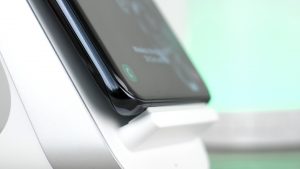 There is a vent located on the back of the device to ensure it does not overheat, preventing any chance of the wireless charger becoming broken due to being used often. Making the charger great value for money as it will have a long life. 
When purchasing an official product you can feel assured that your device is being charged in an efficient and safe way especially if you have the OnePlus 8, as this charger has been engineered specifically for your handset to get the very best charging results. 
Overall this form of charging is a safe and simple way to charge your phone. However, it is definitely more useful to those who own a OnePlus 8 Pro as you will be able to get the full potential of this charger, which is insanely quick charging. Having an efficient charger will make your life easier as you will not be needing to wait around too long for your phone to charge.